Long-standing challenges remain for growing businesses in Liverpool City Region
Entrepreneurs from across Liverpool City Region believe recruitment and support for businesses are among the biggest barriers to growing innovative companies in the area.
A dozen entrepreneurs and advisors discussed the challenges at a virtual round table hosted by TheBusinessDesk.com and sponsored by DTM Legal and Sedulo.
While there was optimism about the opportunities for the post-pandemic recovery, long-standing issues for Liverpool remain a concern, starting with attracting talent.
Phil Whitehurst, partner at DTM Legal, said: "I genuinely think Liverpool is a fantastic place to live and work and yet we struggle to attract people here. In my own business, if we want to recruit, it'll either be someone who lives here already, or has moved away and worked elsewhere and we bring them back – a boomerang.
"Actually getting someone outside the region to come and work is difficult for some reason. I haven't got the answer, but if we can crack that one, I think that makes the biggest difference."
Evoke Creative's Dean Ward also finds it difficult, because of where they are based in the city region.
"I've got a lot of positives – we love being here – but the one thing that we do really struggle with is recruitment," he said.
"Even trying to get people from Liverpool to the Wirral is like saying you're on the moon. Location is probably against us as well – we've got a lot of digital businesses and tech businesses in the area, the draw of Manchester, and those large corporations like Moneysupermarket and the banking sector outside of Chester. They take a massive amount of the local tech talent."


Stuart Dutton from Sedulo, who is leading on the firm's expansion into Liverpool, explained that this has been his biggest headache in establishing a base in the city.
He said: "It's more about the external perception of Liverpool. We were told we would struggle, that it's very parochial. We've experienced completely the opposite and we've been welcomed with open arms.
"There has been a struggle, though, with regard to recruitment. Despite signing a 10 year lease at Exchange Flags – we've committed to the city – we're still struggling to get that recruitment over the line."


Supporting talent is also an issue, to ensure that entrepreneurs are supported in the right way to help their businesses fulfil their potential.
Sean McGuire, chief executive of financial education business Ambitious Minds, said: "I think the biggest change I'd like to see is the development of a more entrepreneurial culture of which I think entrepreneur education is an incredibly important part.
"There's an assumption that people who've got a brilliant business idea and have energy, enthusiasm. eagerness also understand the market, understand the language of finance and its complexities, for example. Very often they don't. That's a big missing gap and they can fail for for reasons that we could put right really with the planned program of entrepreneur education."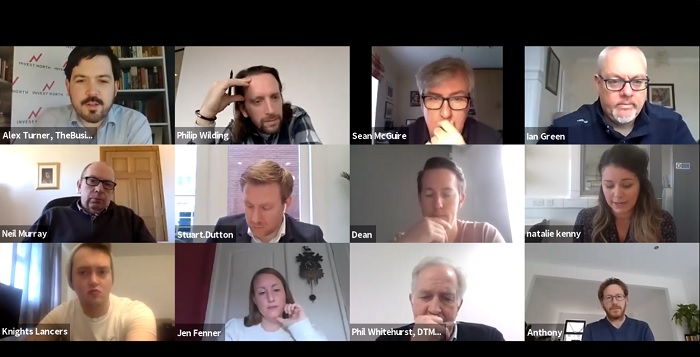 DefProc's Jen Fenner added: "It really is that support for growth. It's not just about the funding, I think it's also about making sure that the knowledge is there for how to grow because I think Liverpool's a very tricky place to grow. You haven't got lots of infrastructure that you can just move into and there are lots of different challenges."
Locky Indigo, the founder of hospitality staffing business Knights Lancers, said: "One of the key aspects for us is going to be funding. We're a very new business and as we come out of the lockdown, we have a lot of things planned. We're going to be expanding into London.
"Because of those expansions, the amount of funding that we're going to have available and what we've already got is going to be the difference on how fast we can scale up and actually support all the businesses when within the hospitality industry."
Dr Natalie Kenny, chief executive of fast-growing BioGrad Group, added: "We've done well out of the pandemic, there's no doubt about that. For me, I think the city region needs to step up and support the funding gap for smaller hospitality-based businesses.
"A CBILS loan isn't enough. If you have not been trading for a year, why should you have to take out a loan to keep your business? Through the pandemic, that they've just lost everything. I'd like to see more funding, not loans, from Liverpool City region for those smaller businesses."
Neil Murray, chief executive of Impact Data Metrics, made the case for collaboration, arguing that "Liverpool needs to realise it can't do all this stuff on its own".
He said: "It's not going to solve the funding problem on its own, it's not going to solve the skills piece on its own, it's not going to solve the collaboration piece on its own. It needs to look more broadly, and start to collaborate with other cities and other people for the greater good of the businesses.
"If you can deliver a solution for a growing business that enables it to continue to grow – not necessarily all in Liverpool, but a big chunk of it will stay in Liverpool, and it will continue to grow in Liverpool and deliver that benefit."