Manchester Airport owner welcomes 'traffic light' system but calls for more clarity on restriction free travel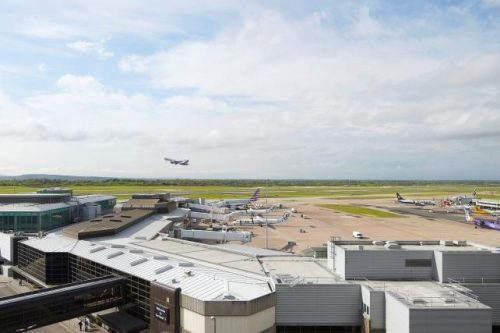 The group which owns Manchester Airport and Stansted has welcomed the government's plans to introduce a "traffic light" approach to restarting international travel but said the measures didn't go far enough.
On Monday, the government set out plans to restart international travel, using a "traffic-light" system as the country cautiously emerges from lockdown.
The announcement comes as the UK has set a tentative date of May 17 to relaunch international travel.
The traffic-light system of green, amber and red was confirmed in a brief update on the work of the Global Travel Taskforce, one of four 'roadmap reviews' set up by the government.
This will see the introduction of a green list of countries to which holiday traffic is permitted without quarantine restrictions, but with pre-departure Covid-tests required before travellers return to the UK and a second test on arrival.
A spokesperson for Manchester Airports Group said it welcomes the government's plans to resume international travel including a "traffic light" system, based on the risk associated with travelling to different countries, and taking account of the success of the UK's vaccination programme.
However, MAG said it was "hugely disappointing that the proposed framework includes no provision for a return to restriction-free travel, either now or in the future when the conditions are judged to be appropriate."
In a statement, the group said: "Aviation has been the sector hardest hit by the pandemic, and its revival is key to the UK's wider economic recovery. It supports more than one million jobs, helps British businesses to become global success stories and enables families to stay in touch and enjoy hard-earned holidays abroad.
"It is vital that all those who rely on aviation – for holidays, employment or trade – can see a full roadmap to normality, as is the case with every other sector of the economy.
"The government must now focus on restoring consumer confidence, providing clarity for travellers and opening up access to more destinations as quickly as possible.
"We will continue working with the government and our industry partners to keep these measures under review, with the ultimate objective of removing restrictions altogether."
The number of countries on the green list remains unclear. Countries will be classified according to their vaccination rates, Covid-19 infection rates and prevalence of 'variants of concern' as well as their systems for tracking infections and variants.
A red-list of countries to which non-essential travel is banned and arrivals subject to mandatory hotel quarantine for 10 days will be retained.
Countries categorised as between green and red will be designated amber, with travellers subject to a combination of testing and self-isolation at home on return.
The testing requirements could be relaxed for travellers who have been fully vaccinated against Covid-19 with two vaccine doses, but details of how vaccination certificates will work are still being worked on with more details to come.