Mayoral candidate set to take on developers over vision for waterfront regeneration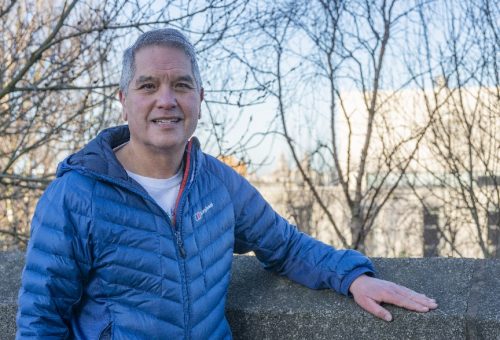 An independent candidate in the Liverpool mayoral election has vowed to fight plans for a £100m waterfront development, and has questioned the long term viability of developer Peel's plans for its £5.5bn Liverpool Waters scheme.
Stephen Yip says the city needs a new regeneration model, after meeting residents opposed to Romal Capital's scheme that involves plans for 330 smart homes, retail space and amenities.
However, he said the plans also involve the infilling of West Waterloo Dock. He said: "There is absolutely no justification for filling in an historic dock within a World Heritage Site simply to facilitate another apartment-led development project. For too long we have equated regeneration with more high rise apartment schemes and student accommodation.
"The city centre property boom has failed to deliver for people in our most deprived neighbourhoods and, in too many instances, schemes have collapsed leaving investors high and dry. It's a flawed model and we need to radically rethink what kind of city we want for the future."
Stephen Yip says the Waterloo Dock scheme provides an opportunity for a more radical rethink for the whole North Dock area and Peel Holdings' Liverpool Waters project.
He said: "When Peel presented their vision for Liverpool Waters, people were impressed by the images of futuristic skyscrapers and multibillion investment, but we now need to re-examine whether this vision is deliverable or even desirable.
"Covid has made us rethink what future residential accommodation needs to be like. The development timeframe for Liverpool Waters is 50 years. Can we really sit around for the next half century waiting for the market to generate demand for accommodation that people might not actually want to live in?"
He said if elected in the May 6 elections he looks forward to starting a dialogue with Peel and the wider city on how the North Dock area could be re-imagined in a more inclusive and sustainable way.
"Peel are a progressive and pragmatic company, and I would hope that they would welcome an open and honest discussion about where we go with this transformational opportunity."
He believes a re-set of Liverpool's regeneration agenda should include:
Inclusive and mixed-tenure residential development with a focus on family living.
A genuine mixed-use vision embracing the idea of the 15-minute neighbourhood, with a riverside park and community amenities.
A low carbon design and construction approach embracing a commitment to renewable energy.
Innovative, high quality architecture that respects and complements the scale and character of the area's heritage and World Heritage Site status.
He added: "The North Docks are an integral part of our shared history and our very identity. That needs to be reflected in a development vision that expresses the personality and values of Liverpool. We can be trail-blazing and authentic.
"The original masterplan was marketed as Shanghai or Manhattan on the Mersey. We're innovators not imitators, so, let's be Liverpool on The Mersey."
In response to Mr Yip, James Whittaker, executive director of development at Peel L&P, said: "We remain committed to delivering on the approved long term vision for Liverpool Waters being a high quality and sustainable mixed use waterfront development that will help transform this redundant dockland and regenerate the whole area whilst acknowledging its heritage."
And Greg Malouf, chief executive and co-founder of Romal Capital, said: "There are several myths surrounding the proposed development which need to be corrected.
"For the sake of clarity, the dock in question is not in the World Heritage Site Unesco Listing and has limited historic value – it is a disused brownfield location. There are no listed buildings on the site, and it is not within a conservation area.
"The Waterloo dock is also not being in-filled. A small slice of waterway is being developed, leaving a wide berth for mooring and water taxis, while providing for a key pedestrian route. The partial in-fill already has outline permission from Liverpool City Council as part of the Liverpool Waters Masterplan."
He added: "Currently the waterfront is unused and inaccessible to the public. We want to activate the waterfront and bring the benefits of riverside living to the many, rather than just a lucky few. We would encourage any and all interested parties to get in touch with the team and come see the reality of the situation first hand."