Architect delivering bespoke designs to capitalise on booming staycation market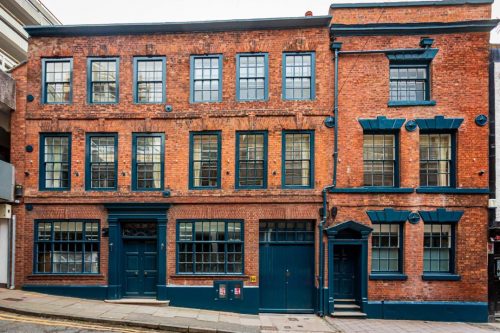 Preston-based architecture, design and masterplanning practice Frank Whittle Partnership (FWP) is playing its part in the recovery of the visitor economy as the UK emerges from lockdown.
FWP is involved in several major hotel schemes across the North West, including the new five-star The Hotel Chester, which has now opened its doors in line with government guidelines and is looking to benefit from the predicted boom in staycations.
The Hotel Chester on Newgate Street, designed by FWP, is the brainchild of family-run hotel business Walker & Williams and is made up of 12 uniquely styled and themed apartments.
FWP has led the restoration of the building, which dates to around 1782, and its transformation into a £4.6m luxury boutique aparthotel.
The building was previously used as offices and has been vacant for around 15 years. The hotel development work has taken 18 months to complete and the new destination officially opened on April 12.
Each uniquely styled apartment has a theme, including the Money Penny. The James Bond-themed luxurious and modern penthouse apartment is made up of two large living spaces connected by a floating bridge.
The tree house family apartment is built from recycled wood and is said to be "at one with nature". Other apartments have names including Secret Garden, Flamingo and Zoo.
The Hotel Chester is the latest Walker & Williams upmarket hospitality project FWP has led on. Previous developments include The Winckley Square Hotel in Preston.
That £2.8m development has 14 individually themed bespoke apartments all with boutique interior finishes. It is also home to 263, a fine dining restaurant that has received two AA Rosettes.
FWP is also currently working on the redevelopment of Ormskirk's former magistrates building for the hotelier.
The Derby Street courts were closed in 2016 by the Ministry of Justice and have stood empty ever since.
Walker & Williams has been given the green light to transform the building into a five-star aparthotel with 23 apartments, a restaurant, and a cocktail bar.
Brent Clayton, partner at FWP, which like Walker & Williams has its head office in Preston, said: "We have worked closely with Walker & Williams to produce something in Chester that is very, very special.
"It's great to see the completed transformation of an historic old building and the hotel open for business.
"Walker & Williams prides itself on quality and we look to deliver stylish modern apartments for its guests, utilising every part of the property through good design."
He added: "We've built up a good relationship with the client and we understand their vision and ethos. It is about creating a real sense of luxury.
"We're also hard at work developing the plans for Ormskirk to deliver a venue that will make a real stand-out statement in the town."
He said there has been increasing interest from the hospitality and leisure sectors as the industry looks to open up and respond to what is likely to be an ongoing trend towards domestic holidays.
"Existing operators are looking to bolster and improve their offering, while others are set on expansion and building up their portfolios to meet future demand."
The Walker & Williams Group is a family business created by Max and Laura Walker-Williams. The hotelier has plans to expand its portfolio of five-star boutique aparthotels across the North West.
Operations director Max Williams said: "We have a proven track record of delivery success and we see a growing appetite for the boutique style luxury accommodation we offer as the country moves out of lockdown and people look to enjoy what places like Chester can offer.
"The five-star Hotel Chester is our finest aparthotel to date, and we are looking forward to welcoming both leisure and corporate guests.
"Once again FWP has played a major role in the design and delivery of this amazing project."
He added: "We are looking forward to working with FWP long into the future as we grow and expand the business."
FWP, which has offices in Preston, Manchester, and London, has a wealth of experience in the hospitality and tourism sector.
It is also the architect behind The Sands Venue Resort Hotel on Blackpool's famous Golden Mile, which is currently under construction and is a member of the team looking to restore the former Victorian Park Hotel in Preston to its former glory.
Its designers are spearheading the ongoing upgrade of Lake District Hotels' flagship properties in Cumbria – delivering contemporary bedrooms and public spaces through its interior design expertise.