Immotion Group technology brings learning materials to life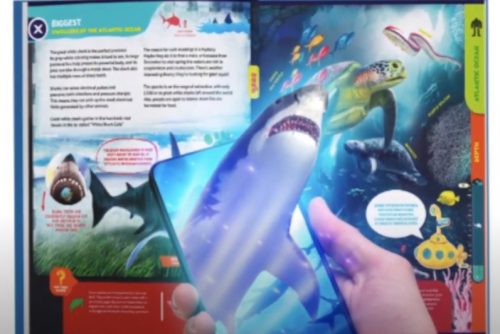 Immotion Group technology brings learning materials to life Group, the Salford-based immersive entertainment group, has launched its new 'Explore the Oceans' augmented reality book and 4D flashcards.
Both the book and flashcards use Augmented Reality (AR) technology to bring content to life.
Users simply download the free app, hover their smartphone or tablet over the book or cards and watch them come to life.
This combination of both printed material and AR technology allows children to read and learn in the most effective way.
It is proven fact that children retain more information through immersive learning making these products the ideal learning tool, said Immotion.
The full colour 76 page hard book contains more than 200 ocean facts, with the flashcard box containing 26 informative fact cards.
Both the book and flashcards will be available to purchase on the new letsexplore.com website which launches today. The book is available today, the flashcards will follow at the end of this month.
Immotion directors say they believe these additional products, which join the fossil packs available in the store, will help enhance both customer experience and value proposition.
Ian Hetherington, HBE (Home Based Entertainment) managing director, said: "Our analytics already show great user uptake of the existing AR features on the Let's Explore cube. It made sense to enhance this experience with printed material."
He added: "The book and flashcards allow users to see pages come to life in the most engaging and retentive way; the perfect combination to enhance children's ability to learn.
"These, along with our fossil packs, are the perfect bolt-on to our 'Let's Explore – Oceans Mega Pack' allowing us to enhance the user experience and hopefully improve average order values."