BBC in Salford provides huge 'economic contribution' to the region, says report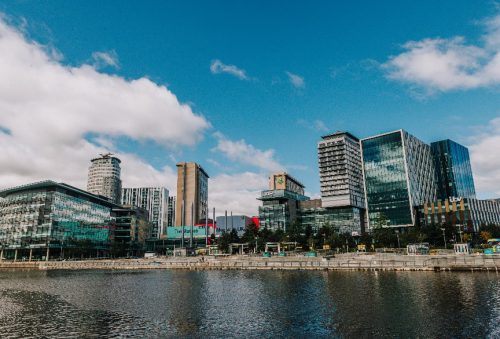 An independent report  has revealed the economic impact of the BBC in the regions.
The report from KPMG has found the broadcaster provides "a significant economic contribution across each of the UK's nations and regions" revealing that  for every £1 of the BBC's economic activity generates a total of £2.63 in the economy.
The BBC established a key regional base at MediaCityUK, Salford in 2010 which is now home to BBC Children's (CBeebies and CBBC), BBC Sport, BBC Radio 5 Live and 6Music, as well as BBC Radio Manchester and the BBC Philharmonic Orchestra.
BBC Breakfast, Match of the Day, Blue Peter, Mastermind, North West Tonight are just some of the programmes which come from Salford.
The broadcaster recently announced MediaCityUK will also become the main base for digital and technology teams – while more than 50 per cent of BBC Radio 3 and BBC Radio 6 Music's broadcast hours will come from Salford
The KPMG report shows the largest share of the BBC's economic contribution outside of London is generated in the North West of England (31% of the BBC's direct GVA and 19% of its total GVA), reflecting the BBC's significant activities in Salford.
Across the nations, Scotland, Wales and Northern Ireland account for 10%, 9% and 4% respectively of BBC's total GVA outside of London.
The report also shows employment in the creative and digital sector in Salford has since grown by 142%, from 6,310 employees in 2010 to 15,275 employees in 2019.
The BBC directly accounted for 34% of this growth, with the remainder being in the wider creative and digital sector, 'at least in part driven by wider firms clustering around the BBC in MediaCityUK and benefitting from BBC spending with them'.
This is reflected in the number of digital or creative businesses in Salford which has grown by 70% since 2010, from 565 to 955, compared to growth of 44% in these sectors in the UK as a whole.
Clare Sumner, the BBC's Director of Policy, says: "This report demonstrates what a vital asset the BBC is – not only for our creative industries, but for local investment, jobs and training right across the UK – and we have plans in place for so much more over the coming years.
"Now – more than ever – we have a role to play in supporting social and economic recovery, promoting talent and serving all audiences up and down all four nations of the UK."
Tony Danker, CBI Director-General, says: "The BBC's growth ambitions have the power to add real momentum to UK regional economies by kickstarting new clusters of excellence for creative industries."