Finance firm brokers £100k deal to complete rugby club project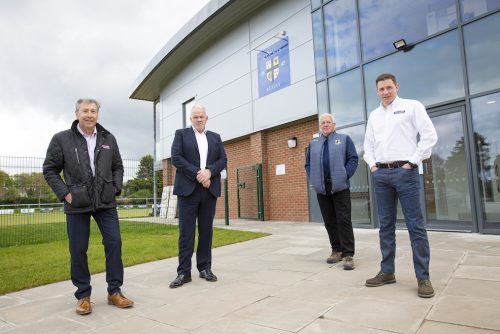 A £100,000 deal brokered by Wirral-based Bathgate Business Finance has helped bring a 10-year project to improve a rugby club's player and community facilities to completion.
The West Kirby finance specialist secured the funding for Eastham-based Anselmians RUFC after COVID-19 lockdown and restrictions delayed improvements to player and member facilities and the build of a high end event space and community hub.
The project started in 2011, in a bid to create new facilities that would support the local community in Eastham and the wider Wirral area, and drive revenue to support the club's survival in the face of declining participant numbers.
The project was expected to complete in spring 2020, but increased costs to ensure the quality of the build and disruption due to the pandemic meant that additional funding was required to complete the project to its high specification and in time for when restrictions were fully eased in June 2021.
Despite having a solid business case, the club was frustrated to find it was not able to secure funding from its own bank or usual lenders, who were focused on securing CBILS loans and nervous about investing in a hospitality-focused project.
It turned to Bathgate Business Finance – a club sponsor since 2018 – following a recommendation by Richard Burnett, from club Solicitors Hillyer McKeown.
Bathgate property finance expert, Ben Humphreys, quickly identified a funder that understood new developments and specialised in community-led projects and brokered the deal, ensuring the club was offered a flexible repayment structure and competitive interest rates.
Jim McKenzie, executive director at Anselmians RUFC, said: "In order to exceed the expectations of our members, we always knew that some short funding would be needed, so it was extremely frustrating to find that we couldn't secure finance through our usual routes.
"Bathgate stepped in and Ben was enormously supportive of the project from the start. We were pleasantly surprised by Bathgate's portfolio of non-standard lenders.
"We launched this project in 2011 with the build itself starting two years ago, so it's been a long road. There's a lot of excitement around the launch as people have been watching the project progress with great interest and we are already fully booked up for events until next spring.
"We now can't wait to start operating and welcome our guests. We'll be opening the doors of Eastham Pavilion to members on May 17, with many more private, public and community events to follow over the summer."
The new facilities will be home to Wirral Community Hub, where Wirral Youth Services will be providing children and young people with activities, while the club will also be providing young people with more opportunities to get into the game.
Once fully open, the hospitality facilities will generate new jobs for the area, employing 15 people on a part-time basis initially, with ambitions to grow its staff base in line with demand.
Ben Humphreys said: "It's been great to be able to help get this project over the line. The new buildings look fantastic, they're providing world class facilities for the local community and the club is also bringing new jobs to the area.
"We're happy to hear that there is already a raft of events booked for 2021 and beyond, including business networking events that we're looking forward to supporting, and we wish the club all the best for its upcoming launch events."
Richard Burnett, from Hillyer McKeown Solicitors, said: "We have been involved in this project from the start, acting for the club on the redevelopment scheme and the sale of land for residential development. This funding feels like the final piece of the jigsaw, leaving a community legacy we are all very proud of."