Finance for logistics venture that sprung out of the COVID-19 crisis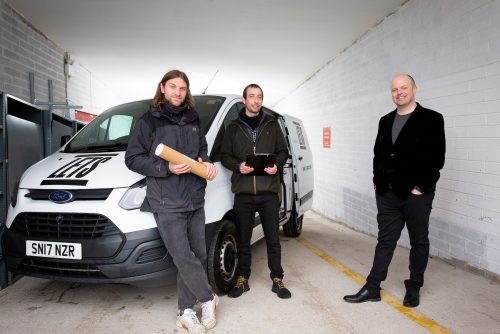 A pair of Liverpool entrepreneurs who pivoted their van hire business into logistics during the pandemic have been handed a £150,000 invoice finance facility after securing sector giant DHL as a client.
Bathgate Business Finance brokered the funding to support the growth of Lets Logistics.
The West Kirby-based finance firm worked with specialist funder Zodeq to sanction a £150,000 invoice finance line to reduce the impact of DHL's 60-day payment terms on the company's cash flow.
Lets Logistics was established in April 2020 by the team behind Liverpool Band Vans, a van hire company supporting the music and performing arts industry with its fleet of tour and equipment vans.
When lockdown brought the live music industry to an immediate halt, enterprising owners, Doug Wood and Kevin Mooney, came up with an innovative idea to pivot the businesses into logistics.
Kevin said: "I was actually on the second day of a 22-date tour in America when we got wind of a national shutdown coming. There was a mad dash to fly home, then we panicked for a few weeks, as I think everyone did.
"We'd always considered the idea of moving into logistics in the future, but as it became apparent that lockdown was going to be longer term, we started to look at the idea more seriously, which is when Lets Logistics was established.
"We had a fleet of five vehicles and a pool of sound engineers, stage managers and musicians who were suddenly out of work, so we were in the perfect position to take on delivery work."
The company started to take on courier and delivery work for a variety of local and regional businesses as demand for home deliveries rose, quickly earning enough to cover business costs such as salaries, premises and fleet insurance.
In June last year, Lets Logistics started supporting DHL with multi-drop deliveries. It was a significant opportunity for the fledgling firm, but DHL's 60-day payment terms left a hole in their finances.
Lets Logistics started working with Bathgate Business Finance to explore their options and a solution was brokered with invoice finance specialists, Zodeq.
Doug said: "The invoice finance facility was put in place and we were able to fulfil DHL's requirements over the Christmas period, while also covering business costs and paying our drivers."
Lets Logistics now has a fleet of 10 vans, around 20 employees – many who have previously worked in the music industry – and has established itself as a flexible logistics resource for businesses of all sizes.