New images revealed for Mayfield Park as contractor announced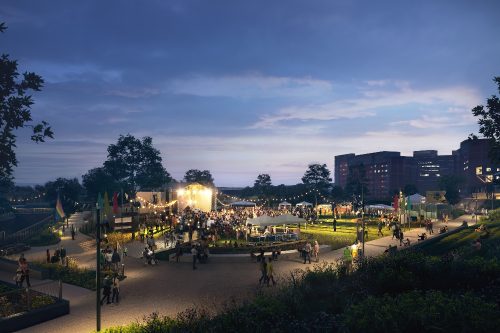 PP O'Connor Group, the family-owned civil engineering company, has been awarded the contract to deliver Mayfield Park, a new 6.5-acre space in Manchester.
The park will be the 'jewel in the crown' of the transformational £1.4bn Mayfield development, and is Manchester city centre's first new public park in more than 100 years.
New images have also been released showing the River Medlock  running through the Park and the concert area.
Following the clearing and cleaning of the 24-acre former industrial site, the next phase will see the River Medlock – one of the three founding rivers the city of Manchester grew-up around – uncovered after more than five decades hidden underneath a concrete culvert.
PP O'Connor Group, which has already delivered the enabling works at Mayfield, including demolishing a number of former industrial units, excavation and remediation, has committed to creating employment opportunities for young people through training and apprenticeships.
PPO has also pledged to use, where possible, Manchester-based subcontractors, including Civic Engineers, which has been appointed as lead designer and structural engineer of the park, alongside landscape architect Gillespies and river engineer Buro Happold.
Arlene Van Bosch, development director for U+I and the Mayfield Partnership said: "The Mayfield project has been gathering pace throughout 2021, and PP O'Connor Group is an important partner with strong Manchester roots, a clear passion for Mayfield and a valuable commitment to working closely with Manchester's community.
"Mayfield Park will define this part of the city centre when it opens to the public in 2022 so it was important to us that the contractors we selected would not only deliver outstanding technical work and economic value, but social value too.
"We have consistently pledged to use Manchester talent where possible in the development of this exciting new neighbourhood, so it is great to deliver on our promise by appointing a contractor headquartered just a few miles away from Mayfield and which understands this project's significance to our city."
Charmaine O'Connor, CEO at PP O'Connor Group, added: "As a Manchester-based company we are delighted to be appointed as the contractor to deliver the civil engineering works for Mayfield Park.
"To work on such an important, stand-out scheme for the North of England is incredibly exciting for our team and our extensive Manchester based supply chain as well.
"We committed to working in partnership with communities to deliver real and measurable social value to local residents and all stakeholders via apprenticeships and other grassroots initiatives."
Julian Broster, co-founding Director of Civic Engineers, added: "The development of Mayfield is a real opportunity for us to use our nature-based engineering methods to reinstate the River Medlock as an authentic geographic feature, especially as it is set in a wider urban landscape.
"Reusing, repurposing and upcycling the remnants of the different uses and activities that have accumulated on site over centuries, responsibly blended with the natural landscape, has been central to our approach."
The creation of Mayfield Park, which will open to the public in autumn 2022, is the first phase of the  long-term vision to create a thriving, mixed-used urban neighbourhood in the heart of Manchester city centre, next to Piccadilly Station and the proposed new HS2 hub.
It is being led by the Mayfield Partnership, a public-private venture comprising regeneration specialist U+I, Manchester City Council, Transport for Greater Manchester and developer LCR.