The key to creating sustainable town centres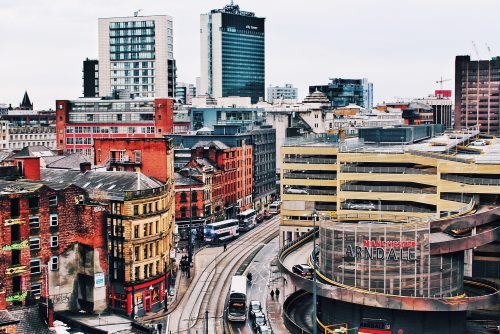 Placemaking with retail, hospitality, leisure, and sustainability running at the heart of it should be the focus for the future of towns and cities.
That was one of the key messages that came out from a recent webinar held in partnership with Deloitte.
The Future of Place event looked at what is next for towns and cities and what can be done to revive the struggling high street.
Panelists included John Searle, Rochdale Council's director of economy and CEO of Rochdale Development Agency, Sean Beech, tax partner, Deloitte, Carolyn Hicks, director, Human Capital Consulting, Deloitte, Andrew Cavanagh, chief risk, safety & programmes officer, Co-op Property, and Adam Higgins, co-founder of property development and investment company, Capital & Centric.
In the second part of our post-event write-up, panellists spoke about the opportunities to create vibrant town centres.
Sean Beech, tax partner, Deloitte, said while online shopping has continued to boom, there was still a place for retail.
"You just have to look at the queues outside Primark and other stores," he commented.
"People still want to go shopping, they want to enjoy that outing locally, but they will go further afield to the big cities and shopping centres when they see the need.
"In terms of the stores that are empty, they will get repurposed. There will be more coffee shops and independent eateries. A coffee shop has opened in my local village outside Chester in the past few months and it is doing very well. People's lifestyles are changing, there is more money to be spent on leisure which will come to the fore, there will be more leisure options, and more places to eat out as well.
"People's lives in general are becoming multi-faceted, they want more choice."
Adam Higgins from Capital & Centric said they often turned disused units into community spaces creating artisan markets, live events, art galleries and pop-ups.
"We have a property in Ancoats in Manchester which we've built as a short-term pop-up called Ramona. That only opened a few weeks ago and we had 34,000 attempted reservations. That was for a pop-up in an old disused warehouse, so there's a real appetite for the public to get back into towns and cities," he said.
"Outside of the city, councils have got to invest in their own towns because there's no simple answer to the change away from retail.
"It's about a combination of lots of things. You get more people living in the town centres within walking distance and you are going to get more footfall. There will be a slow shift away from some of the lower end shops that have been on the high streets for a good decade or so and it will be about better-quality shops that will remain.
"Retail has to change from being purely somewhere you go to pick up a new pair of jeans to a leisure experience where people want to go because it's an enjoyable place with great public realm.
He continued: "This is why towns like Rochdale, Stockport and Bolton are investing, and they've been doing it for quite a long time to make sure that, slowly but surely, these places are going to be attractive. That is why some of these towns are well placed to benefit from the changes. The towns that are still resting, that are not engaging with the private sector, they will struggle."
John Searle, Rochdale Council's director of economy and CEO of Rochdale Development Agency echoed the same message.
Thanks to long-term investment, Rochdale opened its new Riverside development during the pandemic attracting both high street chains and independents.
He said: "We're 90% let and we've taken on half a dozen new tenants during the pandemic. This wasn't about a new retail scheme; it's about attracting good quality retailers that weren't represented in the town or were poorly represented.
"Fundamentally, as Adam pointed out, this is retail, food and beverage, and leisure being provided in a good quality environment. You put all those things together and that makes a successful town centre."
Searle said there was an opportunity for local authorities to work better with private sector developers to repurpose empty spaces.
"It's difficult for a private sector developer to come in and purchase a relatively low valued shopping centre because they're not sure the values are there to prop that up.
"And that's the role I see that local authorities like Rochdale can play to work with the private sector to come in and do that and enable that to happen, because the chances are they won't come and do it on their own."
Carolyn Hicks, director, Human Capital Consulting, Deloitte, added that there was also an opportunity for towns and cities to look at developing better public realm and green space and putting sustainability at the heart of what they do.
"The changes that are taking place impacts life and wellbeing, but there's also the environmental aspect to this too," she said.
"We have relied heavily on our green spaces through this pandemic, and I think many of us have reconnected with those green spaces and realise the value that they bring to us. I have seen examples where cities are regreening their spaces, so it's not all about the physical buildings, it's about that real combination of green space with buildings.
"Town centres and cities are not about going to the shop to buy something; it's about going somewhere to have an experience. That could include shopping for clothes and then going for lunch and then going to the theatre and it is about how you connect the dots for all those things so that people can go to that place for the experience, and it becomes a destination they remember."
The Co-operative Group has also been championing how sustainability can play a bigger role in the communities it serves.
At its AGM this Saturday (15 May) the Manchester mutual will be announcing ambitious green targets.
Andrew Cavanagh, chief risk, safety & programmes officer, Co-op Property, said: "We are a member led organisation, and as you would expect, we are taking a number of steps on this front.
"We have started schemes like green walls and living walls as part of the design and build in some of the stores.
"The destination concept that Carolyn mentions is really interesting to us. It is in our vocabulary at the moment.
"We recognize that the way people shop with us and the way people live is changing all the time and people don't want to just come to our stores to pick up a loaf of bread and some milk, they want to come in somewhere that is nice, and it has an impact."
He added: "We're looking into sustainability across all aspects of the business from our supply chain to packaging.
"It's pithy to say that sustainability is the next big that takes off, it should have always been the next big thing. But now it has got a real platform and hopefully we'll see what impact Cop26 has when it comes to Glasgow, and I think there'll be a real swell after that."