Affordable homes plans submitted for landmark Ancoats site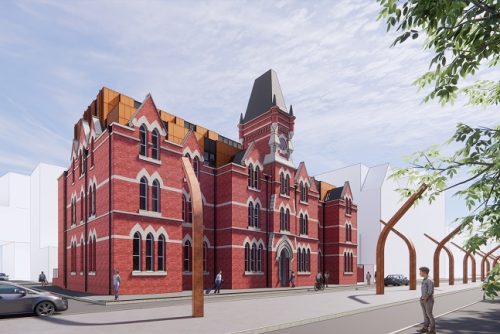 Great Places Housing Group has submitted plans to redevelop the iconic Ancoats Dispensary.
By incorporating elements of what remains of the original building, the team has worked hard to protect the building's heritage and legacy while proposing much needed affordable homes in the area.
The iconic Grade II-listed building, close to Manchester city centre, was built in 1874 to provide healthcare for the city's growing population alongside the Royal Infirmary.
The local landmark remained in use until 1989, but has remained vacant since then which has led to the building progressively deteriorating and currently requiring scaffolding to hold up what remains of the existing structure.
Great Places, in partnership with Manchester City Council and part funded by Homes England, plans to redevelop what remains of the Dispensary for a mixture of 39 one- and two-bed apartments which will be available for affordable rent. The plans also look to complement Great Places' existing homes and its ongoing commitment to the development of this growing and vibrant neighbourhood.
Great Places has worked on the proposals with a variety of stakeholders, including Manchester Life, which is developing a number of sites in the area, as well as the Ancoats Dispensary Trust, to ensure plans look to preserve as much of the original Grade II-listed facade as possible. The design focuses on preserving the Old Mill Street and Lampwick Lane facades.
Helen Spencer, director of development at Great Places, said: "We're delighted to have submitted the plans on a development that looks to save one of Ancoats' most cherished landmarks as well as providing 39 high quality much needed affordable new homes in the area.
"We couldn't have done this without the support and input of a variety of partners and would, in particular, like to thank Manchester City Council, Historic England and the Ancoats Dispensary Trust whose feedback was invaluable in helping us to develop a design that will provide modern affordable homes whilst acknowledging the site's rich historic past by preserving as much of this iconic building as possible."
Sir Richard Leese, leader of Manchester City Council, said: "This is a landmark moment for the Ancoats Dispensary, a building whose future has not been certain for decades. Following a number of bids to save it, it's fantastic to now be able to celebrate a way forward that will both deliver genuinely affordable homes in the city centre, and will, at the same time, help preserve the heritage features of this building that represents the unique history of this part of Manchester."
Trevor MacFarlane chair of Ancoats Dispensary Trust, said: "The people of Manchester campaigned for years to save the Ancoats Dispensary from unnecessary demolition.
"Led by community activists, the Ancoats Dispensary Trust really embodied the spirit of 'people power', protecting the building against all the odds. So we're delighted Great Places and Manchester City Council are putting forward such a sensitive scheme that will finally see that iconic tower reinstated, affordable housing in the area and the Ancoats Dispensary saved for future generations to love as much as we have."