People: Oon Media; DTM Legal; Bensons for Beds; Gateley; Assetz Capital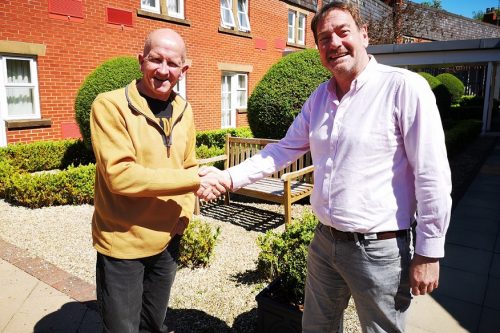 Eddie 'The Eagle' Edwards, who became an international icon for his ski-jump endeavours at the Winter Olympics in 1988, has been appointed as a non-executive director of Wirral-based Oon Media digital marketing agency.
In the past year the company has strived to ride the pandemic wave by introducing new initiatives and repositioning itself. The team took the opportunity to conduct an internal skills analysis to identify areas to develop and strengthen its offer. As a result, Oon Media has now expanded its services, added to its team, and moved to larger premises in Birkenhead which are better suited to meet its needs as a business.
Eddie, real name Michael Edwards, has remained very much in demand since his ski-jump days. He went on to become a qualified ski instructor, has written a book, recorded pop songs in Finland, co-presented a radio show and graduated after studying for a degree in law.
The Oon Media board also includes chair Mike Sowden and managing director Chris Bland. Ed's appointment will strengthen the board on a corporate level, as well as providing advice, expertise and opportunity across various platforms.
Wirral swimmer, Nathan Young, is being championed by Oon Media as one to watch in the Deaflympics in Brazil 2022. The GB deaf swimmer receives no funding, despite his talent. Ed will provide invaluable advice and mentoring throughout Nathan's journey.
Ed said: "I am delighted to be joining the board of Oon Media as a non-executive director. Oon is an innovative and forward looking agency, and I've been suitably impressed with the team's drive and passion for the creative sector.
"The pandemic has made us realise just how much we rely on all things digital to keep us connected and informed, so it'll be extremely interesting to see how Oon Media grows and develops with the industry."
Chair, Mike Sowden, said: "It's quite a coup to welcome Ed to the Oon Media family. Ed showed real grit, determination, and a stellar belief in everything he worked so hard to achieve. He had a goal, a dream, and he wouldn't let anything get in his way or deter him. He just went for it.
"I've followed Ed's career for three decades and have shared a similar outlook. He's always been a real inspiration so it's exciting to finally have the opportunity to work together. His experience and enthusiasm will prove instrumental as we move forward as a company."
::
DTM Legal, top tier Legal 500 North West Law firm, has made three recent appointments expanding its commercial property and trusts & estates teams.
Senior associate, Sam Hodgkinson, has joined the commercial property team from Hill Dickinson to focus on landlord and tenant and development work for clients including funders, developers and large housebuilders across the North West. Sam has had a large portfolio of clients including national transport companies, developers, utility providers, investors and funders.
She specialises in effecting high profile, complex deals surrounding acquisition, disposal, restructuring, refinancing and management of large property portfolios.
Imogen Gray, paralegal, has also joined the property department and is specialising in property litigation. Her experience includes asset management, litigation and property finance and her clients included NHS Trusts, pension funds and high profile retail clients.
Head of property, Anna Duffy, said: "Throughout the pandemic the property market has been really strong and we are delighted that we are expanding again. Sam and Imogen will be able to assist our clients with their development, growth plans and landlord and tenancy issues. They will be a real asset to our well established team."
Laura Moran, solicitor, joins the trusts & estates team. She specialises in tax and succession planning for high net worth individuals and families both in the UK and abroad. Laura also has a particular interest in tax implications of trading cryptocurrency and how residence and domicile can affect an individual's liability.
Amanda Bailey, head of trusts & estates, said: "Our team has seen a significant increase in demand for succession, tax and estate work over the past year and the complexity of the work has become ever more specialised. It's great timing that Laura has joined us and she will add strength and depth to our team."
::
Accrington-based Bensons for Beds has stepped up its transformation plans and emerged strongly from lockdown.
Non-executive director Ian Shepherd took on the chairmanship of the business from Chris Howell on Friday, May 28.
Ian has previously served as the chief operating officer of Odeon and the CEO of Game Group. He has also held senior commercial and retail leadership roles for world leading brands including Vodafone and Sky Interactive.
Ian joined Bensons' board in September 2020 following a restructuring deal in June 2020 that injected £25m of new investment from Alteri to grow the business.
Gavin George, founder and CEO of Alteri Investors, said: "I'd like to thank Chris for his leadership of the Bensons board through an extraordinary period. His leadership has enabled Bensons to emerge from lockdown strongly and well placed to continue with our planned transformation programme.
"While Ian's no stranger, I'm looking forward to working more closely with him as he takes on the chairman role as we continue supporting Bensons' development."
Chris Howell said: "It's an understatement to say these have been some of the most challenging times of my professional career, but working alongside my board colleagues, Mark Jackson and his leadership team, we've worked hard to protect the business and ensure it's well placed to re-emerge from lockdown strongly.
"Having steered the business for the past 20 months through this period, the foundations are now in place for Bensons to successfully move forward. So, the time is right for me to move on and focus on my other commitments. I'd like to thank Alteri, the executive leadership team and the whole Bensons' family for the support they've given me over the past two years."
Ian Shepherd said: "Since joining the Bensons board last year I've seen the potential this business has – great people, a strong brand and a British manufacturing capability that provides a distinctive customer proposition.
"And the strong trading we've seen since the end of lockdown has underscored how exciting that potential really is. I look forward to working with Alteri and guiding the leadership team as we realise that potential."
Since the end of lockdown, Bensons has re-opened its 180-plus store network and seen significant pent-up demand from customers with strong, double-digit like-for-like growth over 2019 comparables.
While it had to close stores as a non-essential retailer, Bensons was able to keep its Huntingdon factory and distribution network working safely throughout the lockdown, building stock on key items in anticipation of reopening.
That's why it's now well placed to meet increased demand as lockdown eases and offer customers shorter lead times than its competitors on key items.
::
Four lawyers have been promoted to partner at the Manchester office of legal and professional services group, Gateley.
The partner promotions are Chris Lister and Jo Belmonte from the banking and finance team, Leigh Whittaker from the corporate team and Richard Clitherow from the tax team.
Gateley has also promoted employment lawyers Lorna Harris and Emma Butterworth to legal directors while Holly Howarth, from the construction team, and Hannah Baldwin, from the restructuring team, are made senior associates.
Jonathan Burton-Baddeley and Karen Butler, both from the real estate team, and Crystal Or, from the residential development team, are also promoted to associate.
The 11 promotions in Manchester are in addition to a further 33 promotions across Gateley's Birmingham, London, Leeds, Reading, Guildford, Leicester and Nottingham offices.
Paul Jefferson, partner and head of Gateley's Manchester office, said: "It is a fitting end to a challenging, but ultimately successful, year that we are able to make such a positive announcement. These 11 senior promotions in the Manchester office alone, including four new partners, further illustrate the strength in depth and ambition of our North West team.
"Promoting Leigh, Richard, Chris and Jo to partner is not only a well deserved reward for them, but is testament to the investment and ambition of our Manchester office. We look forward to continuing that journey, onwards and upwards, with the support of our clients and professional colleagues in a resilient and vibrant region, that we are very proud to be a part of."
It has been a good start to the year for Gateley's Manchester office, which is located on King Street. In March, the corporate and banking teams closed in on an aggregate deal value of £1bn following the completion of 40 transactions in just a fortnight. The teams were also ranked as the North West's most active deal advisers in the first quarter of 2021, having topped the league table in the latest Experian MarketIQ UK M&A Report.
More recently, the business signalled its commitment to investing in the region's top legal talent by appointing Daniel Jones as partner and head of family law.
::
Assetz Capital has appointed Irene Thomas as director of lending operations, further strengthening its senior leadership team as part of its continued growth.
In her new role, Irene will lead, develop and modernise the marketplace lender's operations by driving improvements and efficiencies across the business to deliver even better outcomes for customers and colleagues.
Before joining Assetz Capital, Irene was director of commercial operations at Cheadle-based Together, where she transformed working practices and processes, leading to sustained growth for the commercial division of the lender. With more than 30 years' experience in operational management, Irene previously held roles with Halifax Bank of Scotland, Freedom Finance and Advantage Home Loans.
The appointment comes during a period of significant momentum for Manchester-based Assetz Capital. After surpassing the £1bn lent milestone at the beginning of 2020, it focused on delivering the Government's CBILS loans to SMEs throughout the pandemic and is now heading towards £1.5bn of lending by the summer. Last month, it launched a new bridging product with a 0.65% interest rate to supercharge its origination.
Irene said: "Assetz Capital is already an incredibly successful business with brilliant people, and yet I still see huge potential. There is opportunity for change and improvement across the business to enable us to scale quicker and more sustainably – while delivering an even better service to our borrowers and investors.
"The senior leadership team has a clear vision for the business and I'm looking forward to playing my part in shaping and delivering it."
Stuart Law, CEO, said: "We're delighted to welcome Irene to the team. We are taking our operational management to the next level, and I've no doubt Irene will be a catalyst for our significant growth in 2021 and beyond.
"At a time when the economy is set to kickstart, Irene's appointment will help us to continue delivering for SMEs and investors as we continue our journey to be the preferred lender for SMEs and SME house builders across the UK."