North West business briefs: Core Talent; J&L Elevator Components; Manchester United FC; Pop-Up Club

A Manchester recruitment company is rebuilding its workforce and restructuring to enhance its offering in the US and Europe.
Core Talent, in Lloyd Street, has a large portfolio of clients, many in engineering, manufacturing and construction. Like many companies during lockdown, it was forced to make redundancies and then had staff on furlough. But, since the start of 2021, it has recruited four more employees and is looking for a further four. Additionally, the company has expanded its remit.
Director and co-founder, Damian Diggles, said: "We are expanding further in areas like data centres for the construction sector and AI which involves very high worth projects for tech giants. This also changed the demographic of candidates we were recruiting. We moved from a candidate-rich, job-short market to a job-rich, candidate-short market so we have to work even harder to get exactly the right people for these top jobs."
The company is also involved in industries associated with e-mobility, autonomous vehicles and AI as well as dealing with its usual fields of construction and manufacturing. Damian said: "We are looking all over the globe so people can take a step up into these fields."
As a result, Core Talent has launched three new divisions. HigherStrata is for executive search and selection with a focus on e-mobility in the US. Data Defined is for data centres in construction around Europe. Tactical Consultancy involves offering wider consultancy work including recruitment process putsourcing, managed service provider, branding and employer value proposition services, plus social media.
Damian said: "We are then more than just a traditional recruitment firm. We want to be a real talent partner, working closer than ever before with clients. We will be trying to stop companies from losing top people and helping candidates extend their skills and vision. The recruitment market is changing, just like many other areas since lockdown, and we need to change with it."
::
J&L Elevator Components has transitioned to employee ownership, with the business founders transferring a controlling interest to an Employee Ownership Trust (EOT).
The J&L team was advised by Stephen Hadlow and Mairead Platt of Brabners (legal), and Steve Bann of WPS, Chartered Accountants (structuring and tax).
The decision to transition to an employee-owned business was driven, said the St Asaph company, by the desire to sustain its independence and recognition of the fact that the company was built through the combined efforts of its founders and team of employees. John and Lynda Harding, co-founders of J&L, said: "It is a great time for everyone associated with J&L, including our suppliers and customers, as we know that the company we created will continue in safe hands and we fully expect that the team will flourish over the coming years."
John Harding will continue to be actively involved in the business. There will be a new board of directors formed from the senior executive managers, together with an experienced, award winning, independent non-executive director, Dianne Walker. A separately appointed Trust governance board has also been formed to ensure the EOT acts in its employees' best interests; Lynda Harding will be one of the three trustee directors.
Jonathon Forbes, Richard Johnson and Kevin Boyes took their places on the board on June 1, 2021. Jonathon Forbes, a CIMA Chartered Accountant, will step up to the role of finance director. Richard Johnson, who has been with J&L for more than 10 years, takes on the role of sales and operations director. Kevin Boyes becomes technical director.
::
The official Manchester United App has launched a new feature which will allow fans to discover and listen to the full collection of UTD Podcasts within the app.
Fans will no longer need to download episodes via third-party podcast platforms but will be able to listen to and watch natively via the official club app. Importantly, with this new feature, registered fans will now be able to switch to video mode if they prefer to watch the podcast.
Ian Nolan, chief content officer within Manchester United's media department, said: "Over the past 18 months we have published over 80 episodes of the UTD Podcast. We felt that the time was right to integrate the full collection into the official club app with every episode available free of charge to fans, in both audio and video formats."
The club's widely-acclaimed podcast celebrated over three million downloads in the past month, and has also been shortlisted for Sports Podcast of the Year by The Sports Industry. In the 18 months since it was launched, the podcast has become the number one official football club podcast on Apple with a maximum 5-star approval rating from subscribers, reflecting the growing popularity of its in-depth conversations with some of United's biggest stars past and present, and its unflinching approach to sensitive topics.
It has managed to cut through the noise in a crowded market by bravely tackling subjects such as mental health, poverty, racism, bullying, addiction and even suicide. Eric Cantona, Ryan Giggs, Robin van Persie, Patrice Evra, Ole Gunnar Solskjaer, Paul Pogba and Marcus Rashford are among those to have sat down with presenters Sam Homewood, Helen Evans and former United defender David May.
::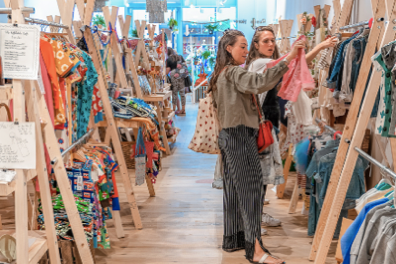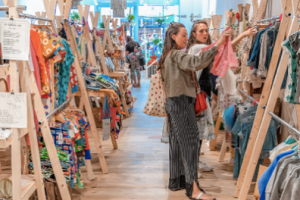 Following months of closure for many stores across the UK, pop-up marketplace The Pop-Up Club is coming to Manchester for the first time for summer. The company organises artisan markets in empty retail units creating a unique space for local traders to showcase and sell their crafts, clothing and accessories.
Founded in 2017 by entrepreneur Tillie Peel, the pop-up events company will launch on 19 King Street in Manchester on June 12, until August 29.
The Pop-Up Club supports those who have used lockdown as an opportunity to turn side hustles into businesses and facilitates the increasing number of people who are looking to shop at independents to support small companies.
Traders include Manchester-based businesses Red Spotty Dog, TIMIA BOUTIQUE and Nicola Briggs Ceramics, who will showcase a range of sustainable, hand crafted products, from candles and ceramics to jewellery and artwork, among others. Pop-Up Club will also offer traders the opportunity to run workshops with local influencers at several of their sites to celebrate the launches.
Tillie Peel said: "The company enjoyed great success pre-pandemic, but now more than ever there's a need to attract shoppers back to the high street. Our traders offer a range of unique crafts, clothing and accessories and our events bring together the best local talent to give visitors a unique shopping experience. Our mission is simple: we want to provide artists, makers, designers, and small businesses that have sustainability at their core, affordable pop up spaces, as well as drive footfall to the area."