Bruntwood Works starts transformation of Lancastrian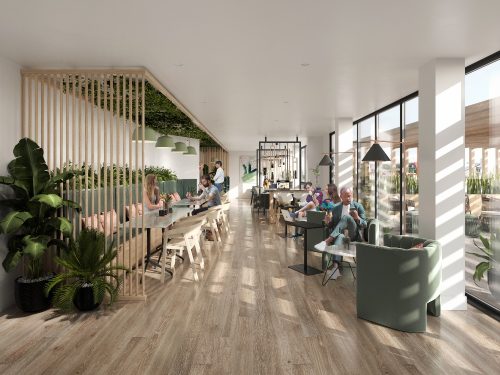 Workspace provider Bruntwood Works has kickstarted the transformation of Lancastrian in Old Trafford.
Overlooking Lancashire Cricket Club, the scheme will transform the open-air roof terrace, providing an extensive, leafy space to accommodate social events and support collaboration.
It will also introduce an indoor lounge space which will include a workspace, informal meeting booths and refreshment station, and will open out onto the roof terrace.
The transformation will also provide improved shower and bathroom facilities to help customers to fit exercise into their working day.
The project follows increased demand from businesses for local offices, alongside their city centre workspaces, with more companies seeking a hub and spoke solution that incorporates a city centre HQ and a geographically distributed network of offices in the surrounding suburbs, it said.
This is alongside increased demand from businesses for workspaces with good transport links and close proximity to local amenities.
Andrew Cooke, strategic director of Bruntwood Works, said: "It's our mission to create workspaces that meet the needs of customers and their employees, both now and in the future. Inspiring, innovative spaces that can bring people back together again and promote a sense of community are top of business' wish lists now more than ever.
"The impressive new roof terrace and lounge at Lancastrian will put connection at the heart of the working day, and will be the perfect backdrop for events and collaboration, right in time for the return to the office this summer.
"Flexibility is also a high priority, and many of the businesses we're speaking to are looking to implement a 'hub and spoke' solution which helps to reduce commuting time, boost local economies and enhance work-life balance for their employees.
"With its fantastic transport links, connectivity and close proximity to the surrounding suburbs, Lancastrian is the perfect destination for those businesses looking to bring their workspace closer to home."
This follows the announcement that Bruntwood Works and Trafford Council are set to transform the former Kellogg's site in Old Trafford, Stretford, into a vibrant new neighbourhood – Lumina Village – as part of their joint venture, which also includes the development of the Stamford Quarter in Altrincham as well as Stretford Mall.
Completion is due in summer 2021.