SME services provider signs up to flex workspace deal at Bloc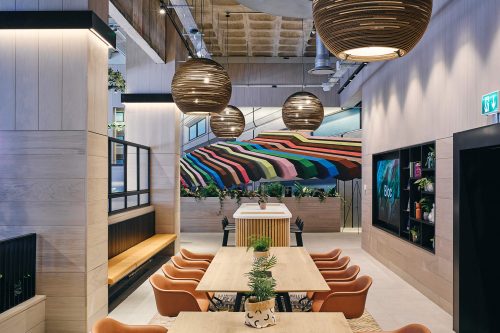 X

Register for free to receive latest news stories direct to your inbox
Register
Verastar, the essential services supplier for small businesses, has signed an agreement to occupy 106 flex workstations at Bruntwood Works' recently launched Bloc in Manchester city centre, in a deal brokered by Colliers.
The news follows the announcement earlier this year of Manchester-based Verastar's plans to recruit up to 150 staff in 2021, as part of its strategy to support customers' recovery post-pandemic.
Verastar provides water, energy, telecoms, broadband, mobile, insurance and payments services to more than 160,000 small businesses in the UK.
With a core customer base of small business owners in retail, hospitality and beauty sectors, Verastar announced in March that it is ramping up recruitment to deliver on its significant growth plans and ensure customers have the essential tools they need to thrive as the economy bounces back following the COVID-19 pandemic.
Bloc is Bruntwood Works' recently launched flexible workspace solution, transformed as part of the developer's £50m Pioneer investment scheme. Bloc offers co-working space with meeting rooms, a cinema room and event auditorium with integrated state-of-the-art technology throughout.
It also features an independent coffee shop by Trove, a lounge, a state-of-the-art yoga studio by FORM and a sleep pod, as well as living walls and an indoor garden to increase oxygen levels and boost productivity and wellbeing.
Verastar CEO, Lee Hull, said: "As we continue to expand our workforce to support an ever-growing number of customers, providing modern and flexible workspaces for our colleagues is among our top priorities.
"Great people deserve to work in a great environment, so we're delighted to sign up for this space at Bloc in the very heart of Manchester.
"Having access to cutting edge technology in all of our office locations helps our colleagues perform to the best of their abilities and deliver the best possible service for our customers."
Jack Maher, senior commercial manager at Bruntwood Works, said: "Our reimagined workspaces are designed to ensure the urban spaces we're all returning to are effectively future-proofed and fit for the modern worker. As such, Bloc is equipped to not only meet the core needs of a business – thanks to the latest technology and specification – but also the holistic needs of its people.
"We're confident that Verastar's team will reap the many added benefits of occupying a workspace here at Bloc, including enhanced wellbeing, a better work-life balance and great social connectivity."
Paddy Kennedy, regional flexible workspace consultant at Colliers, said: "Bloc is situated in the heart of Manchester's retail, leisure and business core, directly between King Street and Market Street, so it was ideal for Verastar, as the surroundings mirror the demographic of its core customer base.
"Everything about Bloc has been designed with wellness, balance and productivity in mind and this will be a great asset to Verastar as they continue with their recruitment plans."