Bid to build £15m multi-storey car park as part of new business district plans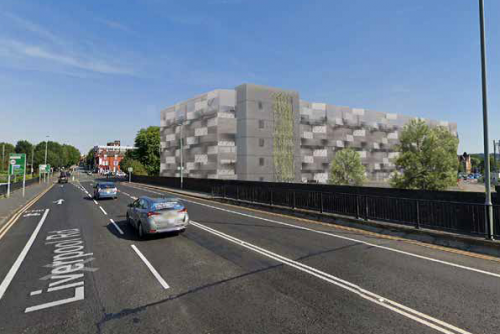 Manchester developer Parker Street (MSCP) has submitted a planning application for a 645-bay multi-storey car park on Parker Street in central Warrington. The site is currently occupied by Poundstretcher.
The five-storey building, designed by Stripe Consulting, will provide capacity for the expected increase in residents and workers as the area is transformed into a new central business district around Bank Quay station.
The station itself is expected to see huge growth in rail users when it becomes the intersection of HS2 and the West Coast Main Line in the longer term.
Deborah Baker Barnett, of planning advisors, Zerum, said:"We've worked very closely with Warrington Council to get the design and façade treatment right and I'm grateful for their input.
"The town's aspiration is to develop one of the best connected central business districts anywhere in the UK, centred around an expanded Bank Quay station. It makes perfect strategic sense to develop the area's role as a business and residential hub."
The application follows completion of the new Centre Park link road, which feeds traffic into the Bank Quay area from the town's expanding southern suburbs.
Ms Baker Barnett added: "More rail users, office users and residents will need high quality, secure car parking of the type proposed so the scheme meets a readily identifiable need.
"It'll make it easier to attract other developers and end users if we put infrastructure of this type in place first and will hopefully encourage owners of nearby surface car parks to bring them forward for development.
"If permission is granted then the scheme will play its part in a much bigger picture around keeping Warrington fit for purpose for residents and employers alike."
The scheme's design has been inspired by Warrington's long dominance of the wire industry.
If permission is granted work is expected to start on site in spring 2022. The project's construction value is £15m.
Other professional advisors to the developer are Mosodi (highways), Ballast Nedam (parking systems) and Keith Mather at Abacus Solicitors. Ballast Nedam will also be retained to construct the building should consent be granted.