Restauranteur launches Liverpool's first pasta specialty shop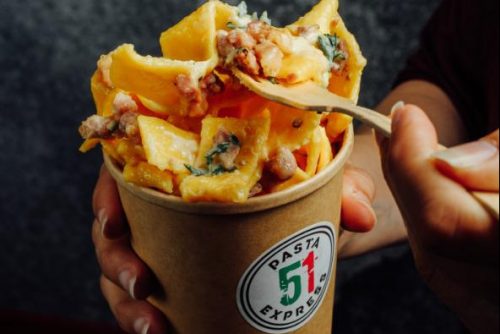 A new pizza concept is launching in Liverpool by restauranteur Attilio Sergi.
The Italian chef and founder of established eatery 51 Trattoria is providing a new twist when it comes to serving up pasta.
His new venture, Pasta 51 Express, will be offering customers pasta in a cone.
"We all live in a fast-paced world with few of us having the time to spare and enjoy a meal in a restaurant," said Attilio.
"Fast food although quick, does not offer the quality many of us demand. Pasta 51 Express solves this problem by offering customers high quality, freshly made pasta dishes, served in a quick and convenient cone, making it ideal to eat on the go."
Attilio is a highly experienced restaurateur and food tech entrepreneur and has been operating restaurants in the Merseyside region for several decades.
Attilio grew up in Lecce, Puglia, where his family grew Durum Wheat crops used to produce the finest Italian pasta.
As a child, he watched his grandmother and mother make pasta by hand including the regional speciality pasta, Orecchiette.
Sauces are prepared using local ingredients and slow cooked to produce sauces in the cucina povera style.
Attilio honours this heritage but instead of serving it on a plate, will be offering it in a cone instead.
"Not only are these tasty pasta dishes available to consume immediately: you can select your fresh pasta from the counter, pick your preferred slow cooked sauce from the chiller and take them home to enjoy with friends and family at your leisure," he said.