North West briefs: Relative Marketing; RDPR; Meryl Medical; I Am Moore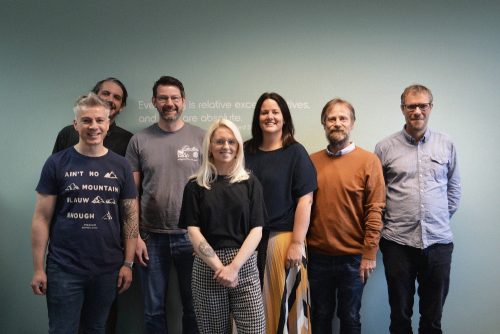 Bolton-based digital marketing and design firm Relative Marketing has won a string og new clients and expanded its digital team as it marks its tenth birthday.
Situated on One Wood Street in Bolton, Relative Marketing first opened its doors ten years ago in July 2011. Now the digital marketing agency is not only celebrating ten years of business, but also various new client wins and the growth of its digital team.
Within just the last seven months, three new digital recruits have all joined Relative's growing team.
These include Matt Raynes, Tim Atkinson and Mia Adam, as Head of Digital, Digital Designer and Senior Digital Account Executive respectively, with another new team member due to join the agency in August as Senior Digital Project Manager.
This rapid expansion of the Relative team is due to the company's recent influx of new clients, whose website, SEO, PPC and brand development needs are at the top of their agenda.
The agency announced seven new client wins at the start of 2021 alone – six of which are based in the North West. Their sectors range from healthcare to electronics, with one being human, vehicle and object detection firm, Bi3, and another being electronic specialists, GM Systems, which are both now receiving Relative's expert web design and build support.
Relative Marketing, which is co-founded by Bolton brothers, Simon and Robert Barlow, has always been fiercely proud of its Boltonian roots, which is why it prides itself in working with so many local businesses.
Simon Barlow, Creative Director and co-founder of Relative, said: "We learnt everything we know from our father who ran a successful Manchester-based digital agency.
"Robert and I both worked alongside him and, once the agency closed, we started Relative Marketing. We wanted to build on what our father had created by founding a business that aligns with the modern-day client needs, specifically around digital transformation, whilst also benefiting the local community."
---
Manchester-based PR agency Roland Dransfield has been awarded Best Business Podcast at the British Podcast Awards.
The team picked-up the Bronze Award in the Best Business Podcast category for its podcast series 'We Built This City.'
The series showcases conversations with notable Greater Mancunians- born, bred and adopted- who put the heart into Modern Manchester.
It focuses on how the guests have built something that impacts lives and the purposeful relationships that have helped steer them, the values that have driven them to do it, and the legacies they plan to leave behind.
Lisa Morton, founder of Roland Dransfield and host of 'We Built This City,' has interviewed Mancunian icons such as Gary Neville, John Thomson, Gemma Atkinson, Andy Burnham,, Sacha Lord, Lemn Sissay,  Sir Richard Leese, Diane Modahl MBE, Carl Austin-Behan OBE, Karina Jadhav, Joanne Roney OBE and Sir Howard Bernstein.
Established in 2017, the British Podcast Awards are Britain's premier podcast awarding body that highlight the best podcasts of the year, made for Great Britain.
Lisa said: "We are overjoyed to have won an award from such a prestigious body. "'We Built This City' has been an incredibly rewarding piece of work, celebrating our city and its people at a crucial time, when Manchester has needed stories of hope and resilience more than ever before.
"At Roland Dransfield we are passionate about championing Greater Manchester and 'We Built This City' has provided an opportunity for us to raise awareness of our business and showcase the value-led work that we do with purpose-driven clients.
"And it has definitely put us at the heart of the incredibly important work that public and private sector partners are doing to help create an even stronger legacy for the city region."
Since its launch in 2020, the series has achieved more than 30,000 episode listens, secured over 90 5* reviews on Apple Podcasts, hit #2 on Apple Podcast's Top 10 Entrepreneurship list in Great Britain and hit #8 on Apple Podcast's Top 10 Business list in Great Britain.
---
Cheshire-based Meryl Medical, a hi-tech, innovative, textile manufacturer, has launched a new range of environmentally sustainable fabrics which are set to 'revolutionise' the industry.
In partnership with Nylstar Hydrogen Technologies, Meryl Medical has developed strong and durable textiles that can be completely reused, focusing on environmental impact, quality and protection built around a sustainable circular economy.
Meryl Medical's material is completely non-shedding, zero microfibre pollution in air or water.
The fabric can also be washed at a lower temperature than cotton-based materials and has a hugely reduced transport route, significantly lowering the carbon footprint of the product from its creation stage through to the end of its life when it can be fully recycled and made into another sustainable product.
The team at Meryl Medical were also keen to address the flexibility of the fabric ensuring that it can be used across bedding, doctors' coats, underclothes, workwear, polo shirts, and face covers.
Kevin Simpson, co-founder and Innovator at Meryl Medical said: "This is an exciting time for Meryl Medical and the textile industry as we have created a product that will greatly reduce the environmental impact on society with its recyclability and sustainability components. Our fabrics are manufactured with zero water waste, zero chemicals or solvents and zero microfibres."
---
Over 400 jobs have been made available for young people aged 16-24 by the social impact mission, I Am Moore (IAM).
Set up by Liverpool-based Jayne Moore Media in February 2021, IAM aims to get young adults from across the Liverpool City Region and beyond into paid employment, and up-skill and support them in securing long-term employment within a range of sectors.
To date, IAM has sourced 408 vacancies across the North West, Birmingham and London and is well on target for its plan to create 500 roles within the first year of its launch.
With exam results days looming next month, IAM is urging young people who want to enter the world of work to grab the opportunity with both hands. Some of the vacancies include a digital marketing assistant, assistant architectural designer, finance assistant and trainee lab technician.
Lynn Lock, chief executive at I Am Moore, said: "It's been a joy that so many companies in Liverpool have embraced the I Am Moore kickstarter enterprise and recognised the value of welcoming these enthusiastic young people into their teams.
"There is so much untapped talent waiting to find the right role, who have until now not had a lot of luck finding employment due to Covid.
"However, I Am Moore is the perfect opportunity to resolve this and the generosity and understanding of well renowned businesses in our city will give them an untold amount of confidence and faith in their futures."