Crescent team in bid for £13m of government funding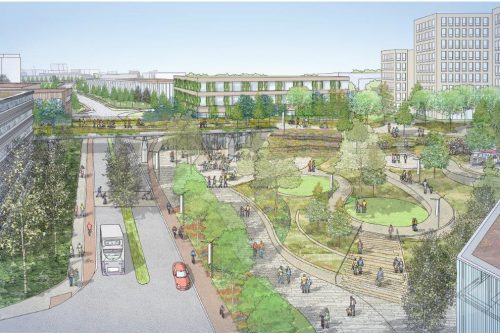 X

Register for free to receive latest news stories direct to your inbox
Register
The partnership delivering Crescent, a major 240-acre regeneration scheme in Salford, has submitted a £13m application to the Government's £4bn Levelling Up Fund (LUF).
This is in a bid to accelerate the delivery of Salford Rise, a key infrastructure project to connect communities across the city and act as a catalyst for the wider £2.5bn masterplan.
Salford Rise is a central piece of the Crescent masterplan, which would create a striking pedestrian podium spanning the busy Frederick Road, linking deprived Salford communities with the diverse opportunities arising from Crescent.
Salford Rise will provide new public realm, promoting active and sustainable travel, while connecting people and facilities within the Crescent Innovation area.
Crescent Innovation is a new research, development and innovation campus within the masterplan that will sit at the northern gateway of Salford Rise.
ork is already under way at two new university developments on site, making way for world leading facilities at the £16m North of England Robotics Innovation Centre and Energy House 2.0, another £16m investment.
This is alongside the ongoing work at the new Science, Engineering and Environmental (SEE) building on the main university campus. This £65m facility will be home to Salford's leading departments in engineering, robotics, science and the built environment.
Crescent Innovation will further bolster Salford's Innovation Triangle, a collaborative network of innovation hubs based at Salford Quays, Salford Royal Foundation Trust and the University of Salford, breaking new ground in R&D and gaining international recognition for the city region.
The Innovation Triangle looks set to play a key role in Innovation GM's collaborative work with central government to create £7bn economic benefit, 100,000 jobs, boost R&D investment across the region and help level up the North.
Since gaining approval for the Crescent delivery plan in April 2021, the partnership has moved swiftly to mobilise demolition and construction work at initial sites, submitted its LUF bid and is now exploring, meanwhile, uses for vacant spaces to serve the local community.
Over the next 10 years the partnership will unlock more than £1bn of private sector investment to deliver in excess of 3,000 new homes across six distinct districts, one million sq ft of space for innovation and study, one million sq ft of commercial floor space, and a new transport hub, all sitting within swathes of open green space with sustainability, community prosperity and active travel at the heart of plans.
Crescent will also create up to 7,000 jobs, with more than £90m expected to be reinvested into local communities, through new revenue from business rates realised on completion of the scheme.
The English Cities Fund (ECF) – a strategic joint venture between Homes England, Legal & General and urban regenerator Muse Developments – has been investing in Salford since 2006, bringing forward the £1bn, 50-acre Salford Central masterplan, transforming two key areas of the city from under-used spaces into vibrant, connected residential and commercial destinations respectively, driving investment, opportunities and prosperity right into the heart of the city.
Phil Mayall, regional director at The English Cities Fund, said: "Having collaborated with Salford City Council on several key regeneration projects, we're excited by the growing momentum and progress on site at Crescent, working closely with our partners at the University of Salford.
"In Salford Rise we have an infrastructure project that will foster inclusivity, connect communities and help support innovation across the city. Salford Rise is shovel-ready and we continue to deliver aspects of the wider Crescent masterplan, setting us apart from many rival LUF bids."
Salford City Council recently launched a range of initiatives aimed at creating a fairer, greener and healthier Salford. The Salford Way aims to build on Salford's reputation for driving positive economic and social change, enabling people to reach their full potential and live prosperous, fulfilling lives.
Tom Stannard, chief executive at Salford City Council, said: "Crescent and the Levelling Up fund are hugely important to Salford, not only as the next part of our ambitious ongoing regeneration plans, but also as support to our commitment to address inequalities across the city.
"Connecting people and communities with key local infrastructure and enabling that connection with Greater Manchester and beyond is vital in tackling those inequalities and Crescent will help achieve this. Crescent's vision for this part of the city is truly inspiring and offers an exciting opportunity to shape the future for residents, industry and the education sector."
The University of Salford generates £319m GVA to the Greater Manchester economy annually and has committed to spending £100m on innovation this year alone. The university continues to gain international recognition for advances in robotics and automation, acoustics, and energy efficiency.
Prof Helen Marshall, vice chancellor of the University of Salford, said: "After a period of such uncertainty, it's rewarding to see Crescent already taking shape and picture the exciting future in store for Salford. Through ongoing investment into our city's facilities and infrastructure we're nurturing an innovation ecosystem that will help upskill the region and create thousands of new employment opportunities.
"The University of Salford is one of the most successful institutions in the country at promoting social mobility. Connecting people physically with new opportunities plays a key role in the development of people and places, which is why Salford Rise is so important to Crescent."