Government awards £22.6m to Rochdale's advanced manufacturing flagship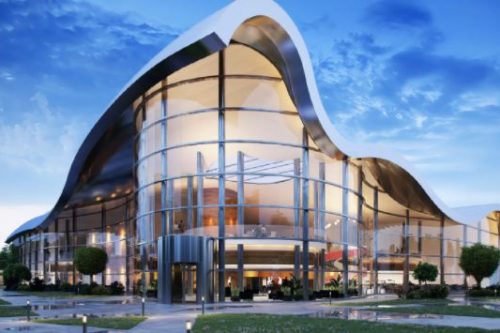 Greater Manchester business leaders have welcomed the award of £22.6m to Rochdale's Advanced Machinery and Productivity Institute (AMPI).
The funding boost is from the Government's Innovation Strategy launched by Business Secretary Kwasi Kwarteng today (July 22).
It represents the Government's long term vision to put innovation at the heart of building back better, as a key pillar in its Plan for Growth. It aims to boost private sector investment in R&D across the whole of the UK, and create the right conditions for all businesses to innovate so they have the confidence to do so.
The AMPI, on Kingsway Business Park, is aimed at positioning Rochdale at the forefront of developing innovative manufacturing technology and has the potential to create more than 1,000 highly skilled jobs.
The Institute will team up with the national physical laboratory and local universities, including Manchester, Salford and Huddersfield, and serve as a catalyst for the creation of an innovation district within Rochdale.
Earlier this year the AMPI was awarded £23.6m from the Government's Towns Fund.
Juergen Maier, chair of the Greater Manchester Graphene, Advanced Materials and Manufacturing Alliance (GAMMA) and Innovation Greater Manchester steering group member, said: "We welcome the plans outlined by the Government, which recognise innovation must be at the forefront of our plan for growth.
"It is fantastic to see the Advanced Machinery and Productivity Institute receiving further support. The AMPI will create a centre of manufacturing excellence in and around Rochdale, and will be a major asset for the manufacturing sector in the wider North. It is a prime example of what can be achieved when partners from industry, academia and local and national government work together.
"Through Innovation Greater Manchester we have a blueprint for replicating this approach across our city region, with Innovation Zones across our towns and cities creating jobs, attracting investment and generating world changing ideas."
He added: "The Prime Minister said in his Levelling Up speech that areas should come forward with a plan underpinned by strong, accountable leadership – that is exactly what we are doing through AMPI and the wider Innovation Greater Manchester vision."
Joanne Roney, Greater Manchester Combined Authority (GMCA) lead chief executive for economy, said: "Supporting innovation will be crucial to our national ambitions of levelling up the country and sustaining the economic recovery beyond the pandemic.
"To fulfil the ambitions it has set out, the Government must commit to working closely with regional partners to ensure places can reach their full potential. Innovation Greater Manchester is our blueprint for harnessing the innovation that already goes on – a dynamic partnership driving benefit from the research excellence of our universities and creating new high-quality employment across the city region.
"From the industrial revolution through to the development of graphene, Greater Manchester has been a global centre for advances in science and technology. Today we have world class assets in areas like health innovation and advanced materials, as well as digital and low carbon, and stand ready to support the jobs and industries of the future."
Cllr Neil Emmott, leader of Rochdale Borough Council, said: "The incredible AMPI project, which received another boost earlier this year from the Towns Fund, will be a game changer. It will transform our borough into a major centre of activity for advanced machinery, which will see the National Physical Laboratory, universities and companies all come together to harness cutting edge technology and create hundreds of highly skilled jobs on our doorstep.
"These types of projects are often the preserve of big cities, but from our days as a global leader in the textile trade, we've always liked to do things differently here. That's why we're working hard through our growth plan to futureproof our economy and keep bringing those new and rare opportunities into the borough."
He added: "I'm proud that the council, Rochdale Development Agency, local businesses and education partners have worked together with the Greater Manchester Combined Authority and the National Physical Laboratory to make this project a reality. It has been an incredible borough-wide effort, but its impact will be felt on a regional and national scale."
Kwasi Kwarteng said: "The UK can look back on a proud history of changing the world through innovation. From the industrial revolution to the vaccine development of the past year, the impact on our everyday lives is undeniable.
"That spirit of discovery is still alive in this country today, but we have not always turned our genius for innovation into jobs and companies here in Britain.
"The countries that secure leadership in such transformational technologies will lead the world, enjoying unrivalled growth, security and prosperity for decades to come – and it's our job to ensure the UK keeps pace with the global innovation race.
"Through this long term plan, we want to rekindle our country's flame of innovation and discovery, helping businesses to seize the vast opportunities that innovation can bring. If we get this right, we can build the foundations for the new industries of tomorrow, and ensure British firms are at the front of the pack to turn world leading science into new products and services that are successful in international markets."