Property round-up: Cushman & Wakefield; Royton Town Hall; Browne Jacobson; OakNorth Bank; Landwood Group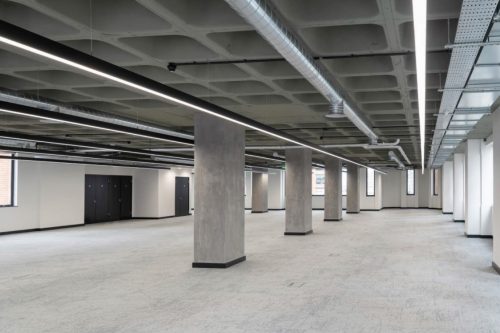 Following a comprehensive refurbishment, 19 Spring Gardens in Manchester city centre has been released to the market.
The landlord, a fund managed by Credit Suisse Asset Management, has significantly invested in a full refurbishment of the building which includes a complete revamp of the reception to create a meeting area, communal lobbies and toilets, as well as a CAT A refurbishment of the vacant floors. The building now provides Grade A, boutique-style office space ranging from 3,500 sq ft to full floors 5,250 sq ft available to let.
Located in close proximity to Manchester's two main railway stations at Victoria and Piccadilly, 19 Spring Gardens provides a total of 32,000 sq ft of office space spread over six floors. Existing occupiers include Howes Percival, Brunel International, The Rethink Group and Foreman Roberts.
The project was designed by Fairhurst Design and managed by Muller International and features now include a touchdown collaboration space in reception, modern furnishings, communal shower facilities and an exposed waffle ceiling on the vacant floors with a new air conditioning system.
Cushman & Wakefield and JLL are the letting agents at 19 Spring Gardens.
Harry Skinner, associate in Cushman & Wakefield's offices team, said: "We are delighted to launch 19 Spring Gardens to market following a significant refurbishment. The building offers the design, quality and specification now demanded by tenants. The building is in a great location in the heart of Manchester's business district and will appeal to a variety of occupiers as they begin migrating their staff back into a more regular office environment."
::
Work to transform Royton Town Hall into a welcoming family-friendly, multi-use building will soon begin.
Refurbishment of the historic venue and adjoining Royton Library will create a new library area, improved community rooms and commercial space. The building will be made accessible for all users and will become much more energy efficient – supporting Oldham Council's commitment to becoming the greenest borough in Greater Manchester.
The project is part of Oldham's Creating a Better Place strategy, which will boost regeneration across the borough and support recovery from the coronavirus pandemic. Council leader and cabinet member for economic and social reform, Cllr Arooj Shah, said: "Royton Town Hall and Library is at the heart of Royton, and we have been committed to improving it for the community for some time.
"While we would've loved work to begin sooner, the onset of the coronavirus pandemic meant that we had to focus our efforts as a council on frontline services and supporting those most in need. We also formally reviewed the programme in autumn 2020 to reflect on the financial impact COVID-19 was having. But Royton Town Hall remained a priority and Royton councillors have been pushing for it to progress, so we're pleased to now be able to move forward with our vision for the building and will ensure work gets started before the end of this year."
The design includes all the community needs identified from community engagement carried out previously. It will see the 1960s rear extension demolished with the cleared area then landscaped to create a flagged area with seating. The existing library area is to be sub divided into two distinct areas, the first being a newly created refurbished library area and next to this a commercial space available for rent to a local business or social enterprise such as a café or use complementary to the library.
Upstairs, the existing community room will be retained and revamped to offer an improved area for the community to use. The refurbishment will also include a platform lift, accessible toilet and kitchen area. The proposals are due to be discussed by Oldham Council's cabinet next Monday (July 26) and if approved, work will begin late 2021 and expected to complete by June 2022.
::
A legal team from Browne Jacobson has advised YHA (England and Wales) on a partnership agreement with regeneration group Regenda to operate the Grade II-listed building, Trafford Hall, as a Youth Hostel.
The agreement will see the charitable organisation transform the building into a hostel and training centre which will create various employment and volunteering opportunities for the North West region. Trafford Hall has already re-branded to YHA Chester Trafford Hall and is the fourth hostel in YHA's portfolio in the North West region.
The Georgian mansion house is situated on 14 acres of land on the outskirts of Chester and will provide eco-friendly chalet accommodation which boasts various nature walks within its grounds. The transaction was led by Nat Avdiu, an associate lawyer in the firm's Manchester based Government team.
YHA (England and Wales) property director, Jake Chalmers, said: "We have worked with Browne Jacobson for many years and took a different approach to this project. As a result, we were able to consolidate our offering in the North West by acquiring and bringing back to life a beautifully unique property in partnership with Regenda."
Client partner and joint head of Browne Jacobson's Manchester real estate team, Dominic Buckley, said: "This is a key project for our client, creating multiple job opportunities and giving a real boost to two of the region's hardest hit sectors during the pandemic – hospitality and recreation.
"The work Nat and the team did on the transaction showcases our collaborative strength and our ability to offer our clients a truly joined up and innovative approach. It has been fantastic for our team to have advised on it."
::
Manchester-based OakNorth Bank has provided a £2.3m investment facility to Pertwee Estates, the family-run property developer to refinance a loan which was used to convert one of Ipswich's most interesting and historic buildings, into 24,000 sq ft of modern, flexible office space.
The building, now known as The Maltings, is believed to date back to around 1820 and was occupied for many years by R & M Paul. In more recent years it has been used as a nightclub and entertainment venue but had stood empty for some time. It is located close to the town centre and in the prime business district. It has become part of a new ribbon of development and regeneration along Princes Street and the riverside towards the Waterfront.
The Colchester-based developer, currently led by brothers Julian and Mark Pertwee, has successfully completed numerous developments over the past 122 years, from the restoration of period and listed buildings, to the development of large scale commercial buildings.
Mark Pertwee, managing director, said: "This development forms part of the regeneration of the Princes Street area – the gateway into Ipswich – so we're hugely proud to be a part of it."
Martin Williams, director of debt finance at OakNorth Bank, said: "Under Julian and Mark Pertwee's leadership, Pertwee Estates has built up an excellent track record and reputation across the region. It is exactly these types of vastly experienced property developers that we look to support with our bespoke finance solutions.
"The fact that six out of the eight office suites at this site are now fully let highlights the high demand for modern and spacious office spaces in Ipswich and the loan will provide headroom for Pertwee to recover the full tenancies that could not complete during the various lockdowns."
::
Landwood Group, the Manchester-based experts in property, plant and machinery and business assets, has won an instruction from Harworth Group to manage its business space portfolio.
Based in Rotherham, South Yorkshire, Harworth Group is one of the largest land and property regeneration companies in the UK, owning and managing 16,000 acres on 100 sites across the Midlands and North of England. The instruction sees Landwood Group's commercial asset management division manage Harworth Group sites, comprising a portfolio of 21 industrial assets across the country.
The group has taken over the mandate from real estate consultancy Lambert Smith Hampton.
Since winning the instruction, the asset management division has already undertaken work in property management and facilities management on a number of small lettings on the multi-let estates. The rent collection statistics have been consistently high with collection rates around the 95% mark for the past few quarters.
Anna Main, director and head of commercial asset management at Landwood, said: "We are thrilled to have been instructed by a client as high profile as Harworth Group to carry out work across its estates. We have built a reputation for not just managing the assets in our portfolio, but truly maximising the value of them. A real highlight of the instruction has already been seeing the change in the presentation of the sites and receiving positive feedback from occupiers on improvements made on site."
The Harworth Group is the latest in a string of high profile instructions Landwood Group's commercial asset management has won over the past year, alongside experiencing rapid growth. Landwood Group has seen turnover increase 70% over the past year, with strong financial performance in all four of its service lines.