Manchester office recovery a slow burn – Liverpool's Grade A supply hits record lows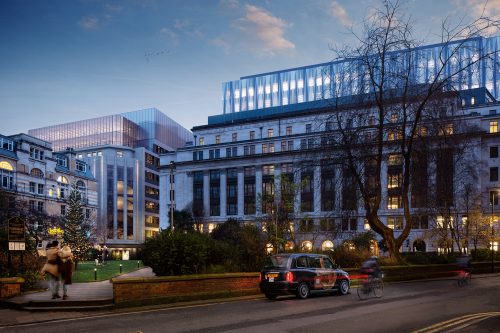 X

Register for free to receive latest news stories direct to your inbox
Register
New data from real estate advisor Avison Young show Manchester's office market has continued to improve since the easing of lockdown restrictions, while the Liverpool market is experiencing historically low levels of Grade A space.
In Manchester, figures show a slow, but steady, recovery from a year that impacted the region like no other, as reported in the latest Big Nine report which analyses the office trends in the largest cities outside of London, including Birmingham, Bristol, Cardiff, Edinburgh, Glasgow, Leeds, Liverpool and Newcastle.
The report offers a full evaluation of the region's office take-up and investment deals in the second quarter of 2021.
Although still below its 10-year average, the Manchester market has seen a take-up of 220,183 sq ft and 153,355 sq ft in the city centre and out-of-town markets, respectively. Despite this lower than average performance, the Manchester market received the second quarter highest investment figures out of all the cities featured in the Big Nine, as well as the highest 12-month quarterly average following significant deals such Number 8 First Street and the second phase of Muse Developments' New Victoria scheme.
The report shows a trend in sub-5,000 sq ft units that has been continuing to gain traction as occupiers lean towards a more agile approach to their space during uncertain times. Landlords have also become more accepting of shorter leases as the rise in flexible working continues to mount.
This quarter has seen an increasing amount of former retail department stores, such as M&S (50,000 sq ft) and House of Fraser on Deansgate (500,000 sq ft) being repurposed into mixed-used schemes to accommodate office space requirements. Both are due to complete this year, borne as a result of the changing landscape of the retail market, due to lengthy lockdowns and restrictions.
This comes in addition to approximately 460,000 sq ft of speculative developments due for completion this year, including former BBC site Circle Square, which will also be repurposed into a mixed-use development.
Chris Cheap, principal and managing director of Avison Young's Manchester office, said: "The past 18 months have been a prolonged period of extreme uncertainty. Delayed advice from the Government has meant that the much anticipated return to office has been stalled a number of times, which has caused a staggering of deals before the end of the quarter.
"However, there is a desire to adopt new adapted working patterns, with a huge population of workers craving some of the regularity of the pre-pandemic working week. So, despite being under its usual average, a 220,183 sq ft take-up is a testament to Manchester's resilience within the office sector and the overall need to return to the office, in whatever guise that may be."
He added: "It's certainly no surprise to see the flexible working model gaining more traction amongst occupiers and the growth of short to medium term managed agreements cannot be ignored as a clear market signal of what the future may hold. The same can also be said about the rise in retail space conversions: A slow growing trend that was accelerated by COVID-19.
"Our grand old department store buildings are going to be front and centre in the office market in the coming years and with careful curation they can provide space that works for a variety of occupiers. It is clear that from now onwards, the experiential nature of our work, leisure and retail spaces will be central to how we refurbish and develop real estate.
"Creating engaging mixed-use environments that speak effectively to a variety of audiences and are underpinned by a range of offers will be fundamental to helping people fall in love with our towns and cities again."
In Liverpool, with the availability of Grade A office space at an historically low level, the recent completion of The Spine at Paddington Village, which will be followed later in the year by Hythe at Wirral Waters, will be critical for boosting supply.
Following pre-lets to The Royal College of Physicians and Clatterbridge Cancer Centre, there is still approximately 60,000 sq ft available at The Spine and an additional 25,000 sq ft at Hythe.
Building A2, a 58,000 sq ft development in Birkenhead town centre which is currently in for planning, will also help to bring more quality space to the market should it be approved by committee later this summer, however, it will not complete until at least mid-2023.
The Big Nine report has revealed that availability of space in the Liverpool City Region is at a quarter of its 2014 peak, meaning that the new schemes mentioned above will be a welcome addition to supply.
With a number of active requirements in the market, the largest of which are with Pinnacle (10,000-15,000 sq ft), LJMU (20,000-35,000 sq ft) and Orega (20,000-30,000 sq ft), there is greater emphasis for developers and landlords to boost both the development and refurbishment pipeline to attract and retain more high quality businesses into the city region.
Ian Steele, principal at Avison Young, said: "The increasing shortage of good quality office space in the Liverpool City Region has been part of a huge debate in the market over recent years.
"Whilst it's encouraging to see developments such as The Spine reaching completion, it is critical that solutions are found so that more new space is delivered to the market to ensure that the city region is able to compete with other regional centres to try and attract high calibre occupiers.
"Understandably, there has been a 'slow-down' in both demand and transactional activity throughout the year to date, but interestingly, at the end of quarter two, according to Avison Young's UK Cities Recovery Index, Liverpool's Return to Office Index experienced the strongest growth of 2021 so far.
"This demonstrates that there is growing demand from employees and employers alike to now start spending more time back in the office. With a number of large requirement currently live in the market, we expect this slow return to normality to act as a catalyst to re-energising those searches."
Office take-up in Liverpool during the second quarter amounted to 50,297 sq ft in the city centre and 23,277 out of town, which, overall, was 43% down on the 10-year average.