People: Forbes Solicitors; Realm Recruit; Sixteen Real Estate; Rickitt Mitchell; TalkTalk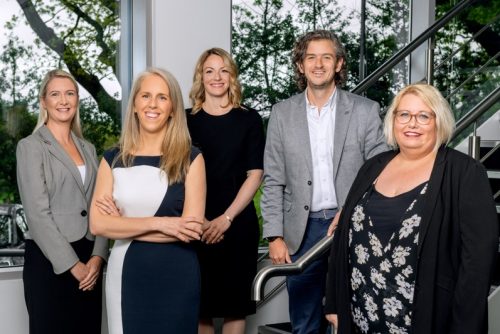 Forbes Solicitors has appointed a new partner as it continues to grow its employment team and further strengthen its Manchester presence.
Jennifer Smith joins Forbes from JMW Solicitors and will be responsible for supporting clients nationwide as well as spearheading the firm's Manchester growth as it continues to expand its employment practice as part of its overall corporate and commercial offer.
Jennifer will be based in Forbes' Manchester office and will work closely with the wider employment team, as well as the firm's other specialisms across its network of 11 offices. Forbes advises many of the UK's ambitious growth companies and supports international clients on a range of legal matters. The firm is also a member of LawPact – the international association of independent business law firms – which underpins its global reach.
Jonathan Holden, partner and national head of employment at Forbes Solicitors, said: "The world of work has changed forever over the past 18 months and with this organisations are facing a wide range of employment challenges.
"As companies continue to adapt, we are well placed to provide the guidance they need to look after their people and thrive in a post-pandemic world. Jennifer joining the team will support our continued commitment to working in partnership with clients to realise the opportunities of these changing times."
With more than 12 years' employment law experience, spanning both contentious and non-contentious employment issues, Jennifer was listed as a name to note in 2020 by the Legal500 and a Next Generation Partner.
In addition to her day job, Jennifer is a previous president of JCI Manchester, a voluntary organisation that helps the development of young professionals and entrepreneurs and has been heavily involved in Pro-Manchester, the largest business development organisation in the North West for a number of years, including chairing the retail & e-commerce committee.
Jennifer said: "At a time of considerable change in the market, the opportunities for businesses across the region are significant. The team at Forbes is in tune with what clients are looking for in a legal adviser and I am extremely excited about the future direction of the business. This was a genuinely appealing and exciting chance to join a dynamic, entrepreneurial firm – one with a strong reputation and compelling, approachable culture."
Oliver Burton, CEO of Forbes Solicitors, said: "We're continuing to expand in all areas of our business and attracting the region's best legal talent, as we have done by hiring Jennifer, is key to this.
"Jen brings a strong network and will add significant value to our team. What separates Forbes is our collective way of thinking that prioritises problem-solving, no matter what the legal challenge is. This is driving client satisfaction and creating a solid foundation for growth."
::
Altrincham-based legal recruitment consultancy Realm Recruit has welcomed four new employees to its specialist team.
Adam Fawcett has joined as a junior consultant after previously working in legal practice within credit hire and litigation. After completing Realm's introductory training programme, he will be recruiting commercial and real estate lawyers across the North West.
The business has also decided to invest in its support division. Recent graduates Edward Sorrell and Emma Marsh have both joined as junior marketing executives and Bridget Lavery has joined as a junior administrator and PA.
Edward graduated from Manchester University with a degree in Business and Management, while Emma graduated last summer from Durham University with a degree in Archaeology and Ancient Civilisations. Both will be assisting Realm's in-house marketing team.
Bridget graduated with a 2.1 in Geography from the University of Central Lancashire. In her role as junior administrator and PA, she will be working closely alongside Realm's office manager and providing administrative support across the business.
Director Duane Cormell said: "I'm delighted to welcome Adam, Emma, Edward and Bridget to Realm.
"Adam's joining means that we now have the largest team of legal recruiters whose focus is the North West market. I'm confident that his experience working within the legal profession will stand him in great stead and I'm looking forward to seeing him develop into a fully-fledged consultant.
I'm equally proud of our healthy ratio of support staff to fee-earning recruiters – at Realm we recognise the importance of the contribution of our marketing and administration teams and I'm so pleased to see Bridget, Emma and Edward settle in so quickly."
::
Sixteen Real Estate's building consultancy team has made two new appointments to its Manchester team with Peter Savile and Mike Dawson joining David Whitney's team as building surveyors.
Founded by Nick Nelson and Andy Backhouse in 2017, Sixteen's headcount currently stands at 14.
The past 12 months have seen a steady increase of instructions and opportunities presenting themselves and the business has doubled its headcount in the past year. The appointments of Peter and Mike further reinforce this growth and allows Sixteen to continue to provide exemplary service to its clients, it said.
Peter Savile joins from Aitchison Raffety, with the two reunited after working together earlier in their careers. David Whitney said: "I have known Peter for nearly 20 years, having worked together earlier in our careers.
"Whilst Peter has been based in London for several years, the change in working habits over the last year and the ease at which remote working is now possible made us realise there was an opportunity for us to join forces again, with Peter remaining based in London."
Mike Dawson joins the team from Pin Property Consultants, where he has spent the past two years, helping Sixteen service a growing workload in the North West. David said: "We have seen a substantial growth in our workload in the past year the recruitment of Mike was the natural next step."
::
Manchester-based corporate finance firm Rickitt Mitchell is growing its team in response to its strong pipeline of work and planned growth as it welcomes two new hires, Joe Powell and James Kidner.
ACA chartered accountant Joe Powell joins the firm as associate director from BDO where he spent almost a decade, five years of which were in the corporate finance M&A team.
Having advised management teams across various stages of a business's life cycle, Joe has a proven track record in sell-side, buy-side and debt advisory services for numerous sectors, including manufacturing, healthcare, logistics and leisure and hospitality.
In addition, James Kidner has been appointed as corporate finance executive at Rickitt Mitchell. Having begun his professional career qualifying as a Chartered Accountant within PwC's assurance division, James possesses experience working with a variety of UK and US listed corporates, private equity-backed businesses and owner-managed businesses.
The news follows a period of ongoing team investment from the firm this year, which saw Kaine Smith promoted to the Rickitt Mitchell board and Charlotte Greenhalgh taking a new manager role.
Neil Mitchell, partner at Rickitt Mitchell, said: "We continue to invest in our high calibre team to ensure we provide an excellent level of service to our clients. The addition of Joe and James is a great step forward for the firm and gives us the extra capability needed to fulfil an active pipeline of work in the coming months."
Joe Powell said: "Rickitt Mitchell really stood out to me for its close-knit culture and impressive roster of clients. I am pleased to be joining the team at such a pivotal time and have an opportunity to work alongside the partner group on deals across key sectors, such as technology, life sciences and luxury goods, to name a few."
James Kidner said: "I am delighted to join Rickitt Mitchell at what is an exciting time for the firm. I am really looking forward to working with the team and delivering value to our clients on both a regional and international level."
::
Salford-based telecommunications provider TalkTalk has expanded its team and expertise with the appointment of Helen McHugh as head of engagement for the North West.
Helen joins from a recent role as head of business partnerships at London & Partners, the international trade, investment and promotion agency for London, where she was responsible for business development, corporate engagement and partnership strategies.
Helen said: "This is a really exciting opportunity to act as a champion for TalkTalk, building lasting relationships with the stakeholders that really matter to our business across the North West. TalkTalk is making great strides in the region and I know there is so much more they want to achieve.
"I have always been a real champion of engagement, be that with businesses, politicians, or the third sector. I'm passionate about the really positive impact these significant strategic and sustainable relationships can have on an organisation. Salford has its own major ambitions for growth and is a brilliant place to do business – I can't wait to get started."
As the only major UK Internet Service Provider (ISP) based outside the South East, TalkTalk said it is committed to promoting inclusive employment across the North West, with around 1,600 people now working from its Soapworks headquarters at Media City.
As well as onboarding around 100 young jobseekers through the Government's Kickstart scheme, TalkTalk's Women in Tech network is working with local partners to support and inspire young women into fulfilling careers within the tech industry.
In her new role, Helen will focus on the business's North West strategy for engaging with local decision makers, influencers and the media to develop connections, effectively communicate the values of the brand and create new opportunities across local markets. Helen will work alongside TalkTalk's corporate affairs team, which spans public affairs, corporate social responsibility, regulation, compliance, communications and PR.
She will report into the corporate affairs director, working closely with the head of public affairs and corporate responsibility, as well as the head of communications and campaigns.
The role will also involve engagement with other teams across the business to highlight issues of relevance to local stakeholders, as well as ExCo members on external events and speaking opportunities.
Daniel Kasmir, chief people officer at TalkTalk, said: "This is a really important role for our business and we are so pleased to welcome Helen to the team. Her experience in engagement work is unrivalled and she impressed us instantly.
"It is paramount to TalkTalk that we grow our presence and are supporting the right initiatives across Salford and Greater Manchester. I'm sure Helen will really maximise what we already have ongoing and take us that crucial step further."