People: Armstrong Partnership; First Choice Homes Oldham; TES Comms Solutions Group; Virgin Money; Clough & Willis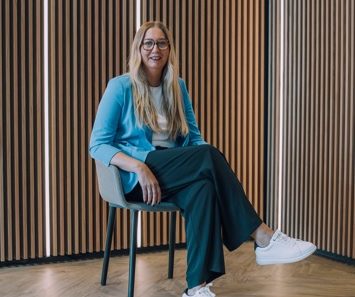 A client services director with global cross-category experience in marketing for leading brands has joined Chester-based B2B marketing agency, The Armstrong Partnership.
Leigh Armstrong joins as client services director after relocating from Leo Burnett's Chicago office, bringing almost two decades' experience to the industrial sector specialist agency.
As client services director she will be responsible for building relationships with existing clients and prospects, as well as staff development and driving revenue growth at the agency.
Leigh said: "After spending over five years across the water, first in Toronto and then in Chicago, I'm all too excited to be back on British soil and working for Armstrong. This agency has a real air of excitement about it, with an impressive international client list and an abundance of talent that's hungry to deliver results. I can't wait to get stuck in and help Armstrong deliver even more for its clients as it enters its next phase of growth."
Leigh, originally from Scotland, started her career at The Leith Agency and then moved to TBWA before moving to Leo Burnett's Toronto office as global account director for Proctor & Gamble.
She was head hunted and asked to relocate to Leo Burnett Chicago to lead the North American new business team, before winning and, ultimately, leading the Jim Beam global business. After moving back to the UK, she sought a return to her roots working in a dynamic, independent agency.
Daniel Owen, CEO of The Armstrong Partnership, said: "Armstrong is riding high at the moment, with client and team growth helping propel the business forwards. Leigh brings decades of experience in running global household name brands and the whole team is excited to learn from her. We're looking forward to her becoming an integral part of our team."
Armstrong's 40-strong agency team delivers brand strategy and development, creative services, digital, and CGI and motion projects for its large client base in the building materials, glass and industrial vehicle industries.
::
Tracy Woods has joined First Choice Homes Oldham (FCHO) as its new chief finance officer, meaning the housing association now has a permanent executive team to lead it forward.
Tracy has been working as the director of business services at Manchester-based Northwards Housing up until her appointment with FCHO. She is a qualified accountant by trade and has worked at various housing associations over the past 12 years, specialising in culture change and transition.
She has headed up major change projects throughout her career including the merging of two housing trusts, Wythenshawe-based Parkway Green and Willow Park, which she managed to deliver in just 18 months with a significant cost saving.
Donna Cezair, FCHO chief executive, said: "We are delighted to welcome Tracy into our executive team. She has a wealth of experience from a career spanning both not-for-profit and commercial sectors, and an impressive track record for delivering positive transition projects.
"We have experienced a lot of change at FCHO over the last 12 months and Tracy's appointment has created our final pillar of leadership so we can continue creating the best possible outcomes for both our customers and colleagues."
She added: "Tracy's appointment means we have a diverse team of executives and directors to lead FCHO on the next stage of its progression. I am passionate about creating a culture at FCHO where everyone is equal, heard and included so we are delighted to make this step forward, with the right people in place."
Before joining the housing industry, Tracy spent 10 years in the private sector working her way up from accounts assistant roles to finance director level at well known brands such as Matalan.
Tracy will hold responsibility for FCHO's finance, income collection, business intelligence, IT and development teams and will play a crucial role in helping the social landlord deliver its ambitious plans to build 850 new homes by 2026.
::
Lancashire digital radio communications company TES Communication Solutions Group has announced plans for additional growth in its 30th year of trading, led by a new senior team.
It has appointed Steve Smith as its new managing director after serving as head of business development, replacing Keith Edwards who moves into a new role as technical director.
At the same time, Judith Eastham has been promoted to head of business development. Judith has 30 years of business development experience working with clients such as Siemens, Xylem and nmcn.
Prior to joining TES, Steve gained 30 years' experience working for BT, leading bid teams for national contracts, and spent his three years at TES building new relationships with clients and winning new contracts.
Steve will lead a growth plan focusing on the Leyland-based company's technical ability to deliver and support high tier integrated wireless communication systems to blue chip, enterprise, and government clients throughout the UK and overseas.
He said: "Our ongoing success lies in our ability to forge and maintain excellent relationships with our customers, working in collaboration with them throughout. We enjoy our work as problem solvers and working as part of our customer's team. We pride ourselves on the highest levels of service and quality outcomes.
"TES Communication Solutions has been providing quality modern services for 30 years now, offering our clients access to the latest radio technology systems so they can communicate safely, even across large areas or challenging environments. This is where our future lies and I am enthused by the challenge ahead."
Recently, TES has completed major projects for clients including the Clyde Naval Base in Scotland for secure encryption and fibre links for consistency of data and voice communications and enhanced voice and data capability for the current and future network for Transport For West Midlands, part of West Midlands Combined Authority.
Outgoing managing director, Keith Edwards, said: "It has been a pleasure to see the positive impact Steve has had across the business during a successful year-long transitional plan.
"Steve has embraced managed service and modular system offerings amongst a number of initiatives and I am delighted by the progress to date. I know that Steve 's personal qualities and proven business leadership skills will bring our team closer and make our business even more successful."
::
Continuing to develop its team of agricultural specialists, Virgin Money has appointed Dale Lawrenson as relationship manager. This appointment highlights the bank's commitment to the agricultural sector during what are changing and uncertain times, it said. In his new role Dale will be offering expert counsel to farmers across Lancashire, Merseyside and South Cumbria.
Growing up in rural Lancashire and involved with his parents' farm, Dale has a first-hand understanding of the farming industry. He began his career in commercial banking, with a strong interest in the agri-business sector.
He is a highly motivated chartered banker, with more than 25 years' experience in advising, helping expand and supporting small and medium-sized enterprises, including those businesses within the agriculture sector.
Dale said: "I am delighted to be part of such a strong team of devoted and experienced agricultural specialists. I look forward to immersing myself within the agri sector across Lancashire and the neighbouring areas, looking at how I can best look after existing customers while also developing new relationships.
"There are many opportunities available to farmers and I aim to work with customers to help their businesses evolve, whether that be identifying opportunities to diversify, supporting them through times of considerable change, or even lowering their carbon footprint. With the challenges facing the sector, my aim is to help them achieve their ambitions and protect their enterprises for future generations."
Darren Owers, Virgin Money regional head of agriculture, said: "Dale's appointment is an exciting step forward for the team. His experience and understanding of both banking and agriculture will be a valuable asset to both our customers and to the team.
"The personal relationships already established within the farming community give Dale an excellent foundation to build on and means he has a solid understanding of what issues farmers are facing going forwards. This leaves him well placed to focus on innovative solutions that will support and protect farming business into the future."
::
Bolton and Bury-based law firm Clough & Willis has made another appointment in its growing residential property team with the news that Fiona Jackson has joined to lead the conveyancing service at its Little Lever office.
Fiona, who has worked in the law since 1980 and qualified as a Fellow of the Institute of Legal Executives in 1995, will focus on all aspects of residential conveyancing, including both sale and purchases, as well as more complex matters including lease extensions, purchase of freehold estates, adverse possessions, and title reconstructions.
Her previous position prior to joining Clough & Willis was at Crompton Halliwell, and before that she worked at AFG.
Fiona's appointment quickly follows Claire Birch who joined the department as a residential conveyancer in May.
Lorraine Stratton-Webb, partner and head of property, said: "Fiona brings with her decades of experience which will be a big asset for our clients and the firm. Her insight, technical knowledge and contacts are first class and we are delighted that she is now part of the team."
Fiona said: "I am incredibly excited to be joining Clough & Willis at what is an exciting time of growth for the business. I am now looking forward to becoming an integral part of the team and helping to expand its client base across the region."