Strong year drives revenues and profits for burgeoning legal group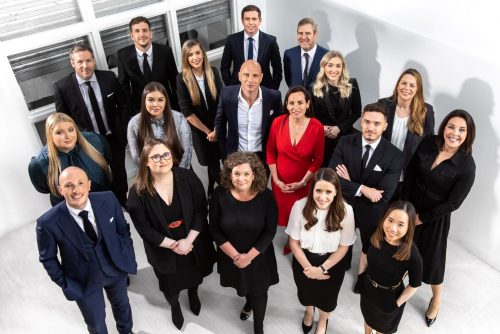 Manchester and Cheshire-based legal firm Beyond Group has announced a 20% increase in annual turnover to £7.5m with multiple, group-wide new recruits up to partner level, and key promotions.
Pre-tax profits and EBITDA also showed growth throughout the year to March 31.
During 2021, pre-tax profits reached £2.45m, against £1.65m the previous year, while EBITDA of £2.65m compared with £1.9m in 2020, before adjustments for staff bonus payments.
The group currently comprises corporate law practice Beyond Corporate and specialist family and children law practice, McAlister Family Law, both of which have grown exponentially despite the challenges of the past 18 months, in response to an increasing demand for the group's services.
Now in its fourth year of trading, Beyond Group began as a specialist concept which would bring corporate and consumer legal services together, a concept which has rarely been successful in the UK but which Beyond Group has achieved, it said.
Matt Fleetwood, founder and head of Beyond Group, said: "A significant part of our success has been bringing in the right people to run the specialist practices.
"Jim Truscott, head of our corporate practice and Amanda McAlister, head of our family law practice, have both worked in top international law firms and were excited about what we could achieve together. The group's success clearly demonstrates that what we offer is what clients – and lawyers – want."
There has been a significant number of new people recruited and new practice areas launched. Litigation lawyer Donall Caherty has been brought in to head the group's dispute resolution team, and he has been joined by Oisin Quinn and Matthew O'Brien.
The group's employment team has been bolstered by the recruitment of director Lucy Flynn, and Beyond Corporate's real estate team has grown with the recruitment of partner Owen McKenna and specialist construction associate Moe Yassin.
McAlister Family Law has recruited two highly experienced partners, Ruth Hetherington and Caroline Bilous, further developing its private children law team.
And in the group's latest development, renowned conveyancing lawyer Sarah Edwards has been brought in, to head soon-to-be-launched Beyond Conveyancing, which has been developed in response to demand for conveyancing services from existing clients, and multiple enquiries from the wider market, including probate lawyers.
Matt added: "We asked our people, and our wider community, what they wanted from us and we have responded to their needs.
"As a result, the group's Manchester and Cheshire offices have undergone a full refurbishment, specifically designed to create a dynamic and inspiring working environment. And, unlike the majority of law firms throughout the UK, the group did not make a single redundancy, nor ask its people to take a pay cut and did not furlough any employees throughout the pandemic."
Amanda McAlister said: "The great thing about the group is that it is made up of specialist, independent practices which collaborate at strategic as well as operational levels, as well as cross-referring and consulting on multi-discipline cases.
"Culturally the wider group is brilliant for our young people – they benefit from a strong mentoring programme, diverse forms of networking and are part of a dynamic organisation with human perspective at its heart."
Jim Truscott, said: "The group and its practices continues to attract high calibre clients, and its growth is down to the ever-increasing demand for its services. Our people are best in class: Committed, enthusiastic about our plans for growth and all of them play a vital role in making the group such an exciting place to be."