Hotel scheme doubles in size following appointment of new architect

X

Register for free to receive latest news stories direct to your inbox
Register
Green Circle Leisure has unveiled new plans for the proposed 4-star boutique hotel at Allerton Manor Golf Course.
The new design, by Liverpool architects, Brock Carmichael, will save and restore the remaining facades of the original Grade II-listed Manor House.
The historic structure is currently in a severely dilapidated condition, with most of the building being destroyed and lost due to a fire in 1944 when it was occupied as a private residence. The valuable heritage building is now at imminent risk of collapse.
Green Circle managing director, Craig Coley, said: "From the word go, we were determined to save the Manor House and incorporate this cherished piece of local heritage into our future vision.
"The lengthy planning process and the COVID-19 pandemic have delayed the project and in the meantime construction and material costs have massively increased, meaning that the original 31-bed hotel scheme, approved at planning committee in September last year, is no longer viable.
"Re-assessing the project has also given us the opportunity to review the design and respond with a more appropriate and greatly improved architectural design solution."
The new design for a 66-bed hotel will ensure viability, and it will blend more naturally into Allerton Manor's natural and heritage setting.
Craig Coley added: "The original design was supported by both Historic England and the council's conservation officers, but the bold design also attracted criticism and concern from some local objectors.
"We decided to take those constructive comments on board in the new brief by selecting an architect with local understanding and an excellent track record working with heritage buildings and sensitive sites."
Lead architect, John Cassell, of Brock Carmichael, said: "Our approach has been to deliver a simple and aesthetically elegant design, where the new-build element doesn't try to compete or distract from the original architectural character of the former Manor House.
"As well as keeping things simple, the glazed exterior of the new structure will act as a mirror ensuring the surrounding trees and landscape are reflected in the building facades, ‌whilst‌ ‌a‌ ‌feature‌ ‌green‌ ‌wall‌ ‌will‌ ‌also‌ ‌help‌ ‌to‌ ‌embed‌ ‌the‌ ‌building‌ ‌within‌ ‌its‌ ‌natural‌ ‌setting.‌ ‌
"By‌ ‌extending‌ ‌the‌ ‌footprint‌ ‌to‌ ‌the‌ ‌rear,‌ ‌we‌ ‌can‌ keep‌ ‌to‌ ‌the‌ ‌height‌ ‌of‌ ‌the‌ ‌previous‌ ‌approved scheme‌ ‌and‌ ‌achieve‌ ‌additional‌ ‌space‌ ‌with‌ ‌an‌ ‌unobtrusive‌ ‌and ‌more‌ ‌contextual‌ ‌design."‌ ‌
‌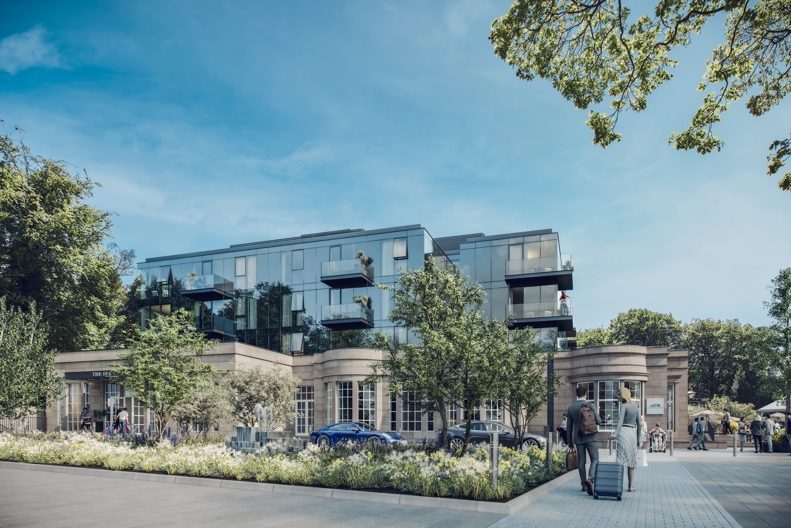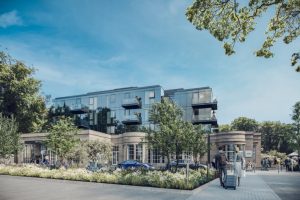 In‌ ‌addition‌ ‌to‌ ‌the‌ ‌extra‌ ‌beds,‌ ‌the‌ ‌new‌ ‌hotel‌ ‌will‌ ‌feature‌ ‌a‌ ‌spa‌ ‌and‌ ‌function‌ ‌space‌ ‌providing‌ ‌the‌ ‌final‌ complementary‌ ‌element‌ ‌to‌ ‌Allerton‌ ‌Manor's‌ ‌golf‌ ‌and ‌hospitality‌ ‌offer.‌ ‌
Green Circle operations director, Yvonne Jackson, ‌said:‌ ‌"We‌ ‌are‌ ‌delighted‌ ‌with‌ ‌the‌ ‌new‌ ‌design.‌ ‌It‌ ‌provides‌ ‌sensitive‌ ‌and‌ ‌respectful‌ ‌architecture‌ ‌and‌ ‌delivers ‌an‌ ‌asset‌ ‌which‌ ‌will‌ ‌be‌ ‌a‌ ‌great‌ ‌addition‌ ‌to‌ ‌the‌ ‌offer‌ ‌at‌ ‌Allerton‌ ‌Manor and‌ ‌something‌ ‌that‌ ‌will‌ ‌be‌ ‌an‌ ‌amenity‌ ‌to‌ ‌the‌ ‌local‌ ‌community‌ ‌and‌ ‌the‌ ‌wider‌ ‌city."‌ ‌
‌A‌ ‌planning‌ ‌application‌ ‌for‌ ‌the‌ ‌new‌ ‌hotel‌ ‌has been ‌submitted‌ ‌by‌ ‌Green‌ ‌Circle‌ to Liverpool City Council Planning Department,‌ ‌with‌ ‌the project due for completion‌ ‌by ‌2025.