Property round-up: Blackpool Council; LUSoM; Hurstwood Holdings; Challenger Building Services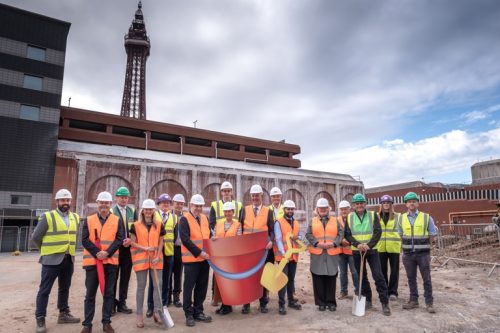 VIPs and members of the Houndshill development team met last week to break ground at Tower Street Car Park at Houndshill Shopping Centre to mark the start of the main contract for Phase Two works on site.
In keeping with the seaside resort of Blackpool, the occasion was marked with a ceremonial first (bucket) and spade in the ground.
Three key deals were signed in February that have enabled the scheme to commence, the council's acquisition of Tower Street Car Park, a lease agreement for a new 22,500 sq ft Wilko store and a deal with MMC Cinemas for a nine screen, 850-seat, 40,500 sq ft multi-media cinema complex, including the biggest immersive screen in Lancashire.
Graham has been appointed as the lead contractor and CBRE the project manager and cost consultant for the scheme. The first phase enabling works will involve initial utilities diversion works and the preparation of site for the main building works to follow. This first phase of the project will be complete by winter 2022.
The completed scheme will deliver more than 100 jobs, 0.5 acres of brownfield land developed, 76,500 sq ft of new commercial floorspace, approximately more than 260 construction jobs created over the build period, and an increase of 1.2m shoppers and visitors to the Houndshill Shopping Centre.
Cllr Lynn Williams, leader of Blackpool Council, said: "We are committed to diversifying and modernising the town centre to encourage residents and visitors to choose Blackpool as their main shopping centre of choice. This means celebrating our well known heritage buildings, driving footfall to new areas of the town and encouraging people to stay for longer.
"The Houndshill Phase 2 extension will deliver a new range of high quality entertainment, retail and leisure choices that meet the needs of the modern family, which will complement the existing shops at the Houndshill, boost both day and night time business, and increase the amount of time and money spent in the town centre."
The overall scheme has been facilitated by £5m of funding from the Government's COVID-19 Getting Building Fund, following formal approval by the Lancashire Enterprise Partnership (LEP) in October last year. Blackpool Council will fund the balance of the scheme through prudential borrowing.
The council acquired the Houndshill Shopping Centre for £47.6m in November 2019, as part of its long term strategy to revitalise the town centre. The phase two extension will also include two restaurants totalling 3,760 sq ft that will be delivered to shell specification. The council is in talks with potential leisure operators.
::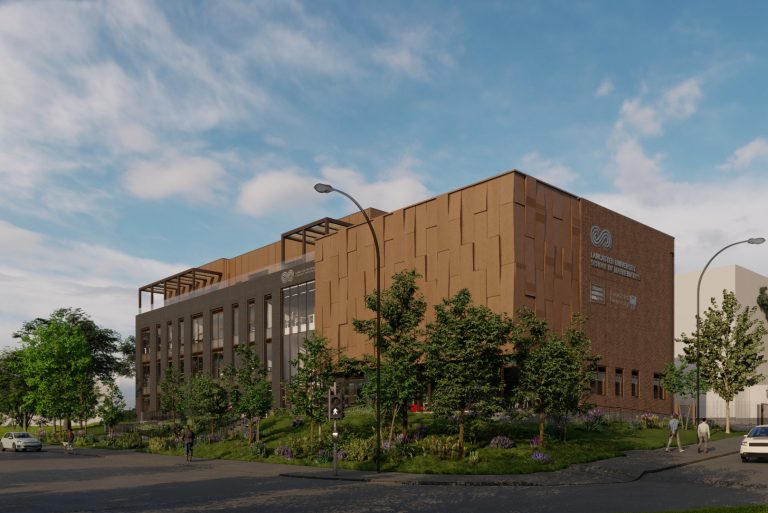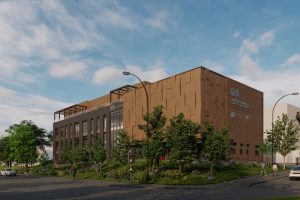 The first images have been released unveiling a new specialist school that will deliver world class mathematics education for 16 to 18 year-olds.
The visuals reveal the exterior appearance of the £8.5m Lancaster University School of Mathematics (LUSoM), which will be built on London Road, close to Preston's city centre and the main campus of Cardinal Newman College.
The school's trust, the Rigby Education Trust, was recently granted planning permission for the new building by Preston City Council's planning committee. Full funding has been confirmed and work has begun to prepare the site, which is the former location of Barry House, an old Department for Works and Pension office block.
The exterior materials of the LUSoM building will be a mixture of brown and black brickwork, glass and a distinctive bronze metal cladding. This unique look will make the building iconic within the area and a landmark for people travelling into Preston city centre. The school will be a total of four-storeys high, with the fourth storey recessed away from London Road, creating a rooftop terraced area for students to relax and study looking out onto the Preston cityscape.
The interior of the school will be light and welcoming with a three-storey atrium providing open learning for the students and a welcoming environment for all visitors. A specially designed, retractable 400-seat auditorium has been included within the building to host lecture style sessions in addition to other events and masterclasses.
Delivering outstanding Mathematics A-Level education to the most able students from across Lancashire and the North West, the Lancaster University School of Mathematics will open for its first cohort in September 2022.
Prof Simon Guy, pro-vice-chancellor at Lancaster University, said: "It is fantastic to see the Lancaster University School of Mathematics project continue to develop with the granting of planning permission from the council and it is great to be able to share these first striking images of how the school will look.
"The school will become a tremendous asset for the area, as well as the wider region. The world class education the school will provide will enable our best young mathematically gifted people to fulfil their potential and giving them a flying start as they head to university and begin their careers."
::
Manchester-based Hurstwood Holdings has let a further 12,000 sq ft at its Lune Business Park in Lancaster to existing tenant, First Subsea.
The world's leading developer and supplier of subsea cable protection systems and offshore mooring connectors has been based at Lune since Hurstwood acquired the scheme in 2005 and now occupies a total of 32,000 sq ft at the popular business park.
Hurstwood has been undertaking a phased refurbishment of some of the existing units at the park with quoting rental at £5 per sq ft. In September of last year, Hurstwood submitted a £35m masterplan for the partial redevelopment of Lune Business Park, which is currently home to 35 tenants to provide a further 200,000 sq ft of new speculative industrial space alongside an on-site café, pharmacy, convenience store and a nursery.
Design and build opportunities to suit specific requirements will also be available.
Planning for the redevelopment is expected by winter 2021, with work due to start on site immediately by Hurstwood's in house specialist construction and development team.
Stephen Ashworth, chairman and CEO of Hurstwood Holdings, said: "We have asset managed this scheme since acquiring it more than 15 years ago and are proud that many tenants have stayed – and even expanded – at the park during that time."
John Shaw, managing director of First Subsea, said: "First Subsea has its roots firmly in Lancaster and we were very pleased to hear of Hurstwood's expansion and development plans for this site, which has allowed us to expand and remain part of the local community."
::
Challenger Building Services has handed over its latest supported living project for registered social landlord Blue Square Residential.
The specialised 10-bed scheme in Macclesfield is the second project completed for the company in the past two years and is on the site of the former Western pub on Earlsway. The building had lain derelict for months and had become a source of anti-social behaviour, says Bolton-based Challenger's managing director Richard Hutchinson.
"We've transformed the streetscape now, extending the building to provide a natural gabled form along the side elevation on Princess Way. The whole scheme sits very comfortably in its setting and I'm pleased with the end result."
Katy Peters, of Blue Square Residential, said: "Our focus is on providing vulnerable people with good quality housing and the support they need to live as independently as possible. Many of our tenants have complex support needs and Challenger worked with us to ensure the design and build met them.
"We're delighted with this latest project and look forward to working with the firm again."
The building was designed by Sale-based Howard and Seddon architects, with Philip Wright Associates from Ramsbottom retained as consulting engineers. The development took six months to complete and includes 15 parking spaces and room for 10 cycles.