Metro Mayor commits extra £1m to Liverpool City Region film industry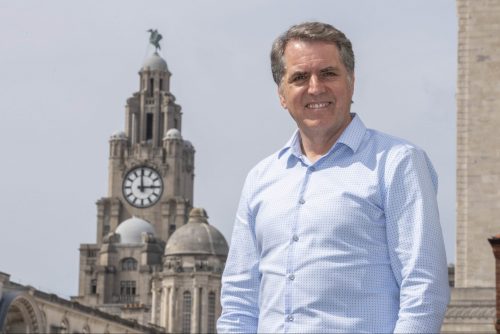 Metro Mayor Steve Rotheram is to pump a further £1m into high-end TV and film productions in the Liverpool City Region following the success of hit TV dramas Time and Help.
And, separately, the City Council has announced its new film and drama studios, The Depot, will open for business next Monday (October 4).
Jimmy McGovern's gritty prison mini-series, Time, starring Stephen Graham and Sean Bean, was one of six high-end TV productions supported by £1.78m from the Metro Mayor's City Region Production Fund.
Forecasts show the fund, which is managed by Liverpool Film Office – a Liverpool City Council department – generated £12m of spending in the city region and led to 455 full time jobs as the film industry provided a much needed boost to the pandemic-hit economy.
It also led to the creation of 29 training places as the film boom was felt across the city region with significant activity in Halton, Wirral and Sefton, as well as Liverpool.
Other shows to benefit from the fund were BBC series The Responder, starring Martin Freeman and written by local ex-police officer Tony Schumacher, and Channel 4's Help, starring Jodie Comer and Stephen Graham.
Help was aired in September and set a record for a new drama on the channel's streaming service All 4 – attracting 1.1m views in just four days. The Responder is expected to be broadcast next year.
The extra funding coincides with the opening of The Depot – two 22,000 sq ft film and TV studios off Liverpool's Edge Lane. The Combined Authority has committed £17m to develop The Depot, and larger studios in the adjacent Littlewoods building, as part of a vision to turn the city region into the 'Hollywood of the North'.
The Littlewoods building once housed the famous football pools operation for the Liverpool-based group.
Metro Mayor, Steve Rotheram, said: "Our region is a vibrant, innovative hub of creativity and talent. Because of devolution, we're able to target funding to help protect it through difficult periods like the pandemic, and to help it grow and flourish in ordinary times.
"Our heritage, architecture, talent and people mean that we will always be able to attract film and TV productions from across the globe. These funds have been particularly satisfying because they have been able to nurture local projects, promote local writers, directors and actors and showcase them to the rest of the country.
"We have got ambitious plans to help make our region the 'Hollywood of the North', with £17m already invested to develop film studios at Littlewoods, which help us cater to productions from writing and filming, right the way through to editing and post-production."
Combined Authority Culture, Tourism and Visitor Economy Portfolio Holder and Halton Borough Council Leader Cllr Mike Wharton said:
"The LCR Production and Development Funds have been a resounding success and show what can be achieved by investing in local creative talent.
"With its great buildings and scenery, we know the Liverpool City Region is a fantastic place to shoot film and TV. It is also home to some of the world's best writers, actors, directors and film industry professionals who far too often have to go elsewhere to find work.
"We are determined to support this vital industry locally. Not only does this fund help retain and nurture talent, it also attracts jobs and money to the city region and raises our international profile as a cultural powerhouse."
Mayor of Liverpool, Joanne Anderson, said: "This investment is testament to the exceptional work of Liverpool Film Office which is responsible for revolutionising the number of high quality productions filmed in the city region. The brainchild of Liverpool Film Office, this initiative wouldn't have been feasible without vital funding from the combined authority, and it's rewarding to work in partnership on a project which is making a tangible difference to the sector."
The Liverpool City Region is the UK's premier filming location outside London – with the city sometimes doubling for London and New York. Four of the six supported productions were set in Liverpool.
A report to the Liverpool City Region Combined Authority warned competition from other areas is strong and without the fund the city region would be in a weaker position to compete for productions and secure jobs and training.
Liverpool Film Office (LFO), which is overseeing the management of The Depot, is keen to find productions that will employ local crew and work with local businesses on training initiatives. A key goal is to develop and strengthen the local talent pool and secure Liverpool's long term ambition to be a first class creative and digital content production base
It is predicted that The Depot, which was built by council contractors Morgan Sindall, will create a £24m economic boost for the regional economy, creating 360 jobs and 760 indirect jobs and forms part of Liverpool's 10 post-pandemic pledges to stimulate growth.
Lynn Saunders, head of Liverpool Film Office, said: "We've been campaigning for studio space since before Samuel L Jackson was running round the city in a kilt.
"Over the years we have got very creative around providing alternatives to productions who need more than our region's locations – but to now be able to actually show off two enormous purpose-built structures, that will be filled with crews and stars, filmmakers can really unleash all their creativity in Liverpool.
"For us it's more than a space for sets, it's an opportunity to build a production hub in the city region, where we can embed the local filming infrastructure network and develop training opportunities to future-proof Liverpool's prime position in the industry."