Gove leaves Government's levelling-up vision waiting on spending announcements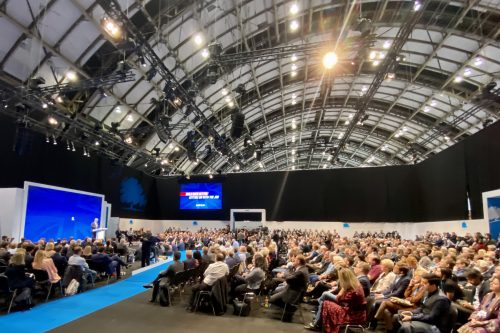 The much-anticipated speech by new levelling-up minister Michael Gove failed to add any new light on the Government's planned direction for their flagship policy.
Instead his speech to the Conservative Party Conference played to the base rather than set out a platform for the newly-rebranded Department for Levelling Up, Housing and Communities.
Gove expects "every department in this government will be a department for levelling up" and the key policy would benefit "every part of the whole United Kingdom".
Attention will now shift to the Comprehensive Spending Review and Budget later this month, which will set out the Government's spending priorities. The Government's long-awaited Integrated Rail Plan is also expected to be published around the same time, although there may be more details on the Government's infrastructure plans when Prime Minister Boris Johnson addresses the conference.
Gove, in his first major speech since he became minister for levelling-up in the September reshuffle, said: "Levelling up means four things we want to strengthen local leadership – great mayors like Andy Street driving real change. We also want to raise living standards, especially where they are lower.
"We want to improve public services, especially where they're weaker, and we also want to give people the resources necessary to enhance a sense of pride in the place where they live."
It was little more than levelling-up adviser Neil O'Brien MP said in a tweet yesterday:
What is levelling up?

🗳1) Empowering local leaders & communities
👷‍♀️2) Growing the private sector & boosting living standards, particularly where they're lower
🙋‍♀️3) Spreading opportunity & improving public services, particularly where they're lacking
❤️4) Restoring local pride

— Neil O'Brien MP (@NeilDotObrien) October 3, 2021
Levelling-up is the unofficial theme of the party conference, which is being held in Manchester. Many of the discussions and fringe sessions are addressing what the Government should, could and might do, although for now Gove is keeping us powder dry.
Although there were namechecks for Conservative mayors Andy Street and Ben Houchen, Gove avoided mentioning policies that are seen as central to levelling-up, such as HS2 and devolution.
Gove's sole mention of the North as an entity came as he described the disparities faced by entrepreneurs launching businesses.
He said: "Wealth creators and entrepreneurs in London and the South East enjoy access to finance and to transport connections and infrastructure, but those starting businesses in the north of England and Northern Ireland just don't have. That's wrong, it has to change."