Manchester Pride counts £2.5m cost of pandemic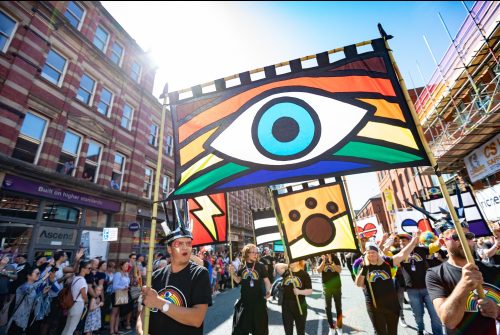 The pandemic tore a £2.5m-shaped hole in the finances of Manchester Pride.
One of the UK's most prominent LGBTQ+ charities announced today (October 4) it suffered an 85% drop in income following the postponement of its flagship event last year.
The charity's 2020 accounts reveal a stark drop compared to its pre-COVID results, with funds from the Pride Festival – its main source of income – falling from £2.5m in 2019 to nil in 2020, compounded further following a 92% decrease in donations – £114,000 in 2019 vs £9,000 in 2020.
A key event for celebrating and raising awareness of the LGBTQ+ community, the postponement of the August Bank Holiday Manchester Pride Festival in 2020 led to a number of redundancies and remaining staff taking voluntary pay cuts.
It also saw a temporary pause on non-committal grant funding to third party charities and organisations.
The use of government-backed loans, through the CBILS scheme and The Culture Recovery Fund, allowed the charity to continue trading in the short term while working towards its long term goals to campaign, celebrate, raise awareness and support the LGBTQ+ community.
Despite the challenges, the charity continued to support external organisations and charities, distributing more than £100,000 in grants and funding for third party initiatives supporting LGBTQ+ life and culture across Greater Manchester. The funding levels for the pre-pandemic financial year were £168,000.
Paul Wheeler, chair of Manchester Pride's board of trustees, said: "While it was great to be able to put on a physical pride celebration this year, there can be no doubt COVID has had a significant impact on our charity, just like many other charitable organisations, and this is reflected in our annual accounts for 2020.
"As the majority of the charity's income comes from the delivery of the annual Manchester Pride festival, the fact we couldn't deliver a physical festival in 2020 had a deep impact on our organisation, our valued employees and partners.
"This meant some difficult but necessary choices had to be made. Regrettably, that meant some redundancies had to be made, voluntary pay cuts for our remaining employees, committing our financial reserves to meet our obligations to suppliers and staff, and substantial changes to how we operate.
"But, despite these challenges, we are pleased to be able to continue to deliver on our charitable objectives."
He added: "We were still able to bring people together to celebrate LGBTQ+ life by moving much of our work online. We hosted free events online throughout the year, such as Superbia, Family Pride MCR, Youth Pride MCR, Gay Village Party and The Candlelight Vigil.
"We also created new initiatives to bring the community together, such as the Digital Manchester Pride Conference, and we were able to continue to make grants and other sources of funding available to LGBTQ+ good causes."
The charity also recently announced it will be conducting a consultation process this autumn as part of what it said will be a "bigger and further reaching" version of its annual review. It said the consultation aims to take views from a wide range of people and that the result will be published, along with an action plan.
Paul said: "We've learnt a great deal over COVID, and we want to ensure we're listening and continuing to focus our charitable efforts in the right way as things begin to get back to normal. As a result, we will be conducting a review of our work to take views from a broad range of stakeholders.
"We have an active and interested community, and we want to engage with as many people as possible to hear their views and opinions as we look forward and plan for the future. We're looking forward to doing just that through our consultation process, details of which will be announced imminently."