People: Enterprise City; Winners Strength & Wellbeing Studios; Zymurgorium; Liverpool LEP; Bank North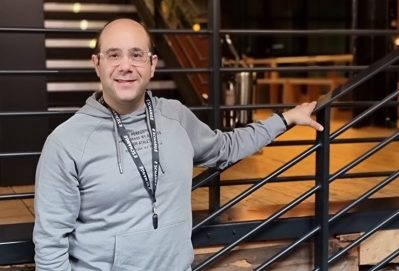 Start-up CEO, business advisor and Vodafone's ex-global head of connected car, David Levine, is joining Enterprise City to share knowledge and provide support for the tech start-up community.
The experienced tech entrepreneur will be the 'entrepreneur In residence' for the Exchange start-up support scheme. As part of this new role, he will be on hand to offer a fresh perspective to the ambitious start-ups selected for the scheme and will prepare them in becoming investment-ready.
David is the founder and ex-CEO of DigitalBridge, a guided design platform for bathroom and kitchen retailers. He is also an experienced non-executive director and advisor to a number of exciting tech startups in the North West. He spent seven years working at the office of the CTO at Hewlett-Packard.
David said: "Despite my experiences, I have made countless mistakes during my time as an entrepreneur, which I still use now to inform decisions. I will be sharing this advice with the start-ups so they can understand how to avoid those rabbit hole decisions, often made in the early stages, that can come back to bite you."
Exchange offers its tech business cohort access to the resources and infrastructure they need to succeed, including full use of the facilities at Department Bonded Warehouse in Manchester, a network of like-minded entrepreneurs, mentoring from business experts and funding opportunities.
The 30 incoming member businesses are all promising early stage tech start-ups, operating across EdTech, FinTech, e-commerce and more. They make up the second group on the scheme, following the success of last year's cohort, which secured millions of pounds in funding between them.
As entrepreneur in residence, David wants to encourage the start-ups to learn from the ambition of their US counterparts, arguing that British firms tend to be more conservative and not give voice to real passions and global scale ambitions.
He said: "Never before has it been easier to start a business and have global impact. The pandemic means geographical issues are becoming a thing of the past, thanks to proven remote working capabilities, so it is exciting to see what is in store for Manchester's next generation of tech innovators."
Exchange member businesses include proptech firm PropFolio, and analytics software, Gleensite, which have secured a partnership with Allied London, the developer that spearheads Exchange, as well as Kids Allowed founder's new endeavour, My First Five Years.
::
Winners Strength & Wellbeing Studios, in Cheadle, is expanding significantly, both in terms of staff and members, after a successful first five months fully operational.
Founder of the first women-only studio, Chloe Blair, has just recruited five individuals to support her and provide 45 different fitness classes each week, including Lift, Burn, Core, Flex, Gain, Ashtanga Yoga, Power Yoga, Slow Yoga and the newest class to launch, Boxx.
With 160 female-only members now signed up, Winners Strength & Wellbeing Studios is fast becoming a multicultural hub with women of all nationalities, training side by side in a safe and non-judgemental environment.
The five new recruits are all female, too, enhancing Chloe's unique offer, with Suzanne Foster and Amy Windsor employed as personal trainers, Caroline Barnet as a fitness instructor, plus Naomi Richardson and Sophia Maddon as yoga instructors.
Suzanne, a full-time mum of two, was originally a member of the studios and decided to retrain as a PT. Amy is also a full-time mum to three boys and retrained as a PT a couple of years ago.
Caroline works part time at Winners Strength & Wellbeing Studios as she works full time as a rehabilitation case manager for HCML. Sophie is a nanny and recently trained to be a yoga Instructor, so this is her first time teaching a class, while Naomi is a highly experienced yoga teacher running classes at various locations for all ages and abilities.
Chloe said: "Over the last five months we have grown, both in terms of members and classes provided, but now the team, too. Suzanne, Amy, Caroline, Sophia and Naomi all offer the members valuable expertise and with this new team supporting me, we can continue to expand.
"What I love about the new recruits is that two of them have changed their careers later on in life, in their 30s and 40s, which is exactly what I did two years ago aged 36. It's so important for women to do something they are passionate about and its never to late to choose a different path."
::
Irlam drinks business Zymurgorium has appointed three new recruits to its growing team.
The appointments follow epic growth throughout quarter three for the distillery, with Zymurgorium securing major retail listings, a plethora of new products and increased manufacturing capacity.
James Santangeli, Adam Morris and James Firminger will join the team with a combined 40 years of experience to contribute to the expansion of the business into 2022 and beyond.
James Santangeli joins the sales team as regional account manager, bringing a wealth of experience to the role, with more than 23 years in the hospitality industry. Santangeli has worked for a number of the UKs top cocktail bars in Liverpool, Manchester and London, including Eclipse bar in Chelsea and Rossetti Hotel in Manchester.
Winning numerous cocktail competitions, Santangeli has been at the forefront of the ever-changing industry, with the skills he has acquired along the way now directly being transferable to his latest role at Zymurgorium.
James Firminger joins the head office function as lead developer/web manager with more than 13 years' experience in the industry. Firminger has previously worked on a series of large and complex projects, including spirits auction platforms and multinational hardware retailer bespoke ecommerce systems.
Firminger will be looking to lead web and IT transformation projects with Zymurgorium, aiding an increase in sales and improving the customer experience on Zymurgorium's various websites.
Adam Morris joins the team with a full time contract after completing the Government's six-month Kickstart Scheme, aimed at getting 16-24-year-olds back into work. Showcasing his strong work ethic and high team morale, Morris joins the warehouse and production side of the operation.
James Santangeli, said: "Having seen an opportunity within the Zymurgorium sales team, I decided to grasp the chance to work with such an innovative forward thinking company with lots of new ideas.
"I'm looking forward to working with the team and the wider hospitality sector in the North West and I'm looking to emulate the company's motto 'Make Every Moment Epic' very soon."
James Firminger said: "I'm very much excited to be joining the Zymurgorium team after seeing their rapid expansion over the last few years along with the impressive scale of their operation. I'm looking forward to contributing to the web/IT side of the business and taking it to the next level."
Adam Morris said: "I am grateful for the opportunity that Zymurgorium has given me to get started in the industry and looking forward to what lies ahead now that I have been offered a full time position at Zymurgorium. It's certainly a varied and busy position."
The business was launched by Aaron Darke in 2013 with a multimillion-pound investment into the development of a new distillery, state of the art bottling line, while developing a range of internal systems including implementation of the SALSA standard and recruitment of a new head of quality.
Zymurgorium has more than 30 plus spirits and liqueurs in its range, including a host of new alcoholic innovations set to launch this year.
::
Liverpool City Region Local Enterprise Partnership (LEP) and the combined authority have announced the appointment Gloria Hyatt as the new chair of the Race Equality Business Support Working Group, with Ben Osu as deputy chair.
Gloria Hyatt is a serial entrepreneur and director of Teach Consultancy, since 2005, having previously founded and led an Academy to an outstanding HMI, in the heart of Liverpool's multi-racial community, Toxteth. A race equality ambassador, she works with entrepreneurs, corporates, and SMEs, delivering transformational, business support, education, training, corporate and executive coaching, to influence systemic and cultural change.
As part of the Anthony Walker Foundation, Ben Osu leads on working to tackle racial injustice and promote racial equity to young people in schools across the region as well as working with employers to help them develop diverse, inclusive and equitable workplaces which actively challenges racism and discrimination.
The working group was formed to better understand the barriers to access of Black, Asian and Minority Ethnic residents to business support services and to significantly improve that access and ensure that all residents are fully supported to achieve their potential in starting, running a growing a business, as well as supporting the whole business landscape to improve business performance through diversity.
The group has been set up to support the Race Equality Programme, established last year by the Metro Mayor, Steve Rotheram, for the Liverpool City Region.
Gloria has also been invited to join the LEP board.
Welcoming the appointments of both Gloria and Ben, Asif Hamid, chair of the Liverpool City Region Local Enterprise Partnership, said: "Establishing this working group is at the heart of what we do as a LEP and is extremely important to me not only as chair but as a business owner myself.
"This working group aims to understand and ensure we are getting to the heart of the challenges and barriers faced. We can then work together to develop meaningful actions and plans to remove barriers for Black, Asian and Minority Ethnic-led businesses at all points in the business lifecycle as they look to start, stabilise and grow. Gloria and Ben's depth of expertise and knowledge in equality will be a tremendous asset to the group. I am also pleased to welcome Gloria to the main LEP board who will be a great addition."
Lorna Rogers, assistant director – mayoral programme delivery for the combined authority, said: "I am delighted to hear the exciting news that Gloria and Ben have been appointed as chair and deputy chair of the Race Equality Business Support Group. Developing our business infrastructure to enable it to meet the needs of racially diverse communities across the city region is a key element of our overall race equality programme.
"The expertise that Gloria and Ben will bring to these roles will enable us to support the establishment and growth of minority businesses and the development of minority ethnic business leaders. This will bring huge economic and social benefits to both minority ethnic communities and the wider city region. I am really looking forward to working closely with them in order for us to achieve our commitments to diversify our region's business landscape."
Gloria Hyatt said: "It is a great honour to be appointed as chair of the Race Equality Business Support Group at a pivotal time in the city region's efforts, to raise our game and place race equality at the heart of business planning, delivery, and strategy. I hope to inspire a collective endeavour, by all racial communities to openly work and learn together, to understand and contribute to overcoming the barriers Black, Chinese, Asian, and racial minority businesses encounter."
Ben Osu said: "Now is the time to truly stand up and take action when it comes to anti-racism and challenging discrimination. I am ready to take on the challenge and work with colleagues to support businesses across the region to become actively anti-racist, challenge all forms of discrimination and support their colleagues when they need it. It is great to see the commitment from the Local Enterprise Partnership and Liverpool City Region Combined Authority turn into action. We are stronger when we unite and celebrate our differences."
::
Bank North, which claims to be the UK's first regional business bank of the modern era, has grown its team further, including adding Neil Boycott as head of credit risk, as the bank continues to progress through its mobilisation phase. It was granted its banking licence (Authorised with Restrictions) by the Prudential Regulation Authority in August.
Neil Boycott joins seven other new starters and will lead Bank North's credit risk team, helping to develop and manage a robust framework of processes to ensure a smooth and secure lending process. Before joining Bank North, Neil held roles at Barclays, including most recently as senior credit risk manager, and prior to that he worked at Lloyds Banking Group.
The other new starters are Mia Hailwood joining as a change manager, Michael Walsh as treasury dealer, Rick Turpin as solutions architect and Adam Conroy as an accountant. Tom Briggs has been appointed IT service delivery manager, Kevin Glover as lending product and propositions manager and Martin Elliott as secured funding and treasury operations manager. The new team members will hold roles across Bank North's expanding IT, risk, finance, commercial and operations teams.
The new hires bring a wealth of expertise across the financial services industry, at national and international brands such as NatWest, Royal Bank of Scotland, and HSBC, as well as strong regional players such as Leeds Building Society.
Outside of banking, some of the new joiners have had spells at multinational tech giant, Microsoft, leading power company, Drax Group, and former high street chain, Phones4U. The experienced team will play a vital role in building Bank North into a fast, modern and customer-driven lender aiming to transform the SME lending market in the UK.
The latest growth in Bank North's team follows the appointment of Deepak Haria and Madis Toomsalu to the board in September. Since being granted a banking licence and completing a successful 'Series A' funding round, Bank North has made strong progress in the mobilisation phase of building the bank and will open its first regional 'pod' in Manchester later this month.
Jonathan Thompson, co-founder and CEO of Bank North, said: "As Bank North continues to grow it is great to welcome further highly experienced employees to our team. We are proud to be able to bring high skilled jobs to Manchester, reaffirming our commitment to the regionalisation of SME lending. I look forward to working with our expanding team to deliver the best possible bank to help UK SMEs thrive.
"As we continue to move through our mobilisation phase I am delighted to welcome what feels like a constant stream of talent into the business. The new starters will provide invaluable expertise to develop functions across Bank North."