Property round-up: TSK; Savills; Seddon; McGoff Group; Ellesmere Port Development Board; Society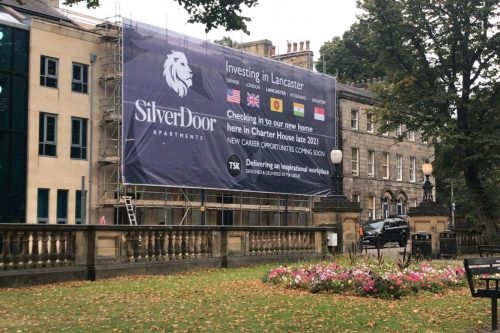 Manchester-based workplace designer, TSK, has been appointed by international serviced apartments and corporate housing specialist, SilverDoor, to design and build its new global operations centre in Lancaster.
The new workplace will occupy one of Lancaster's most prestigious commercial office spaces, Charter House.
The 15,000 sq ft, three-storey property is one of Lancaster's most sought-after buildings, occupying an enviable central location. The partnership will restore the original exterior features, while installing a brand new, state of the art office interior.
TSK said, an exemplar in every sense, this new office will focus on social connection and the integration of their people, with a large investment in technology and a social area, complete with pool tables and a high quality kitchen.
The multimillion-pound investment will be home to the account management, partner relations, finance, HR, IT and marketing departments, and will complement SilverDoor's other five offices in London, Singapore, Denver, Madrid and Hyderabad. It will help its team of 100 people bring personal, professional and high quality service to their customers.
Marcus Angell, founder and chairman of SilverDoor, said: "This will be the most significant commercial office development the city has had in years. We're delighted to be partnering with TSK as they help us develop a world class office that will attract and retain the best talent."
Andrew Burns, managing director and founder of TSK, said: "This has truly been a collaborative process. SilverDoor's founder, Marcus Angell, is a big advocate of human-centred, forward thinking interior design and architectural excellence. We've really enjoyed working closely together – co-creating this high quality and inspirational workplace, for such a wonderful organisation."
::
International real estate advisor Savills, on behalf of Abrdn, has let a fitted suite at Acresfield in Manchester city centre to The Eight Group.
The educational recruitment specialist has secured a deal for 1,767 sq ft of workspace on the building's third floor, on a new five-year lease.
Situated on St Ann's Square in the heart of Manchester, Acresfield provides modern, open plan Grade A workspace across six floors, having recently undergone a comprehensive refurbishment.
The scheme benefits from its central location, with an array of retail and leisure amenities nearby, as well as being easily accessible from both Piccadilly and Victoria railway stations.
Daniel Barnes, associate director in the office agency team at Savills Manchester, said: "Following the change in occupier requirements, our client has adapted to offer plug and play workspace.
"The Eight Group committed to Acresfield prior to the fit-out being completed, which is a trend we are witnessing across the market. The suites are perfectly suited to provide occupiers with the quality workspace they need to support growing businesses."
OBI are joint agents on the building.
::
Work has concluded on a multi-phase project to provide space for 90 more pupils at Bleak Hill Primary School in Windle, St Helens.
The £2.5m project began in October 2019 and took place over two phases, with Bolton-based contractor Seddon working throughout the various coronavirus lockdown measures to deliver the works on time.
Work was completed earlier this year, but due to COVID restrictions, the decision was made to delay the official opening event until the new academic year, once the pupils were back after the summer holidays.
The new extension to the main building adds four additional classrooms to the school, alongside 15 car park drop-off spaces for parents. The new classrooms allow the school to accommodate 90 pupils in total, helping to meet local demand for primary school places.
Prior to this, phase one saw the construction of an extension to the school hall to address capacity issues, particularly at lunchtimes.
Finished in 2020, the new, larger hall can now be converted into an extra multi-function classroom. The space will also be used for before and after-school activities, including a breakfast club for pupils.
All enabling works for the project were completed during school holidays, to ensure there was no disruption for children and staff.
David Baines, leader of St Helens Council, said: "Ian Wellens (former head teacher) has served Bleak Hill Primary School and the wider community with distinction and dedication for many years, and he leaves a lasting legacy. His legacy isn't just the fantastic new classroom block, but it's the brilliant staff, the school culture, and, most important of all, its hundreds of young people who have enjoyed a superb education here thanks to him and the whole school family."
John Shannon, divisional director at Seddon, said: "Overall, the two extensions allow Bleak Hill Primary School to provide more children from the local area with access to high quality teaching and learning environments where they can reach the best of their abilities. It's been a pleasure to deliver this vital project for the school, especially over the past year, which has been incredibly difficult for everyone. The new facilities will go a long way in helping the community's young people to thrive for years to come."
::
Day nursery Back to the Garden Childcare has officially broken ground at its second location on Whitbarrow Road in Lymm, burying a time capsule to mark the occasion.
Founders Stewart and Jeannie Pickering were joined by parent and child Katy-Mae and two-year-old Miller and expectant nursery administrator Gina Greef from Back to the Garden's first site in Altrincham, to mark the start of construction.
Reinforcing the connection between the two locations and leaving a lasting legacy to be discovered by children in years to come, the Altrincham-based McGoff Construction site team buried a stainless steel time capsule filled with photos, drawings and crafts from the pre-schoolers in Broadheath.
With its innovative outdoor classroom, forest schools-based curriculum and all-seasons learning and exploration space, Back to the Garden is an expertly designed, purpose built day care setting that focuses on organic, child-led learning through outdoor play and has enjoyed considerable success since the opening of its first site three years ago.
Setting new standards in post-COVID childcare, the nursery is embarking on a period of expansion, taking its conscious approach to new locations across the North West and beyond.
Founder, Jeannie Pickering, said: "We are delighted to officially break ground on our second setting and excited to bring the Back to the Garden concept to Lymm. We aim to deliver the very best in childcare, based on a natural approach where children spend as much time as possible outside learning actively through outdoor play in the fresh air and developing at their own pace."
The plans for the new Back to the Garden nursery in Lymm offer a safe and stimulating environment both inside and out. The nursery will allow children to explore, learn and discover in a beautifully landscaped garden complete with dedicated forest schools space.
Designed and delivered by the McGoff Group, it is part of a wider development that also includes a state-of-the-art care centre and 45 luxury apartments in a leafy conservation area setting next to the Trans Pennine Trail. A new concept in multi-generation living, the £28.25m development will bring young and those in later life together to form a thriving new hyperlocal community with proven health, social and wellbeing benefits for all.
With construction now under way, work will continue at pace with an estimated completion date of October 2022.
::
Regional Growth Fund (RGF) from 2012 has resulted in more than £200m of additional investment in Ellesmere Port from the private sector, safeguarding 2,320 construction jobs and a further 1,672 jobs with local businesses.
The RGF Building on Success Programme was a £6m programme of enabling works including infrastructure and environmental improvements, unlocking the development potential of key sites within Ellesmere Port.
Thanks to the RGF, Ellesmere Port is now well positioned for future developments. The Cheshire Science Corridor Enterprise Zone has recently undertaken a successful five-year review. The RGF has been key to pump priming work within the Ellesmere Port Industrial Area and the creation of a new and ambitious vision for the future for the Area.
The Funding was used at five key sites, covering 81 ha. These sites were selected for their potential to unlock employment development and create job growth through the provision of infrastructure works. The sites were:
Hooton Park (now Aviator)
Port Bridgewater/Port Cheshire (now Link Logistics Park)
Former Cabot Carbon Site (ProGroup and Krystals)
Newport and Former DSM land (Helix Phase 1 and 2, Rhino Products)
Former BP Castrol site (Westland Horticulture and EMS)
Projects included: New Bridge Road Adoption Works (Completed 2014), M53 Gateway and North Road Improvements (Completed 2014). Links to Labour Pool including upgrading the Shropshire Union Canal Towpath, the underpass under the M53 from Thornton Road to New Bridge Road and the Greenway through Church Wood to North Road.
Cllr Richard Beacham, cabinet member for inclusive growth, economy and regeneration, said: "The funding has produced real benefits and I'm delighted to say the targets have been exceeded in terms of the number of jobs supported and the additional investment created.
"Ellesmere Port benefited from over £200m investment which is a staggering amount, but it's a fraction of the £1.8bn additional investment now being predicted as we move forward with the vision for the area to form one of the first net zero carbon industrial clusters in the world."
Chris Farrow, chairman of the Ellesmere Port Development Board, said: "Ellesmere Port is being positioned as one of the UK's 'Super Places' linking clean and green growth and low carbon technologies. The level of investment enabled a true Pride in the Port as we have become the home of industry leaders.
"Redevelopment takes time, but the progress over the past 10 years is transforming Ellesmere Port, we are experiencing our own housing boom with developers trying to keep up with the demand."
The Cheshire Science Corridor (CSC) Enterprise Zone legally came into effect on April 1, 2016. The RGF programme has shown the appetite for Ellesmere Port to be part of the Science Corridor, sitting alongside Alderley Park and Birchwood. Enterprise Zone status was awarded to 12 sites in three locations totalling 103.4 ha, nine sites totalling 57.9 ha are located within Ellesmere Port. These sites were chosen for having the best opportunities to attract new development/businesses within the CSC to accelerate the significant growth potential of the area.
The RGF programme, including the road adoption works to New Bridge Road, has also been a catalyst for unlocking further sites. The new 10 MVA primary substation required to support the Cabot Carbon site has also unlocked the remaining sites in the New Bridge Road area.
Government funding of £6m was secured through the Regional Growth Fund (RGF) by the Ellesmere Port Development Board in 2013, supported by Cheshire West and Chester Council.
::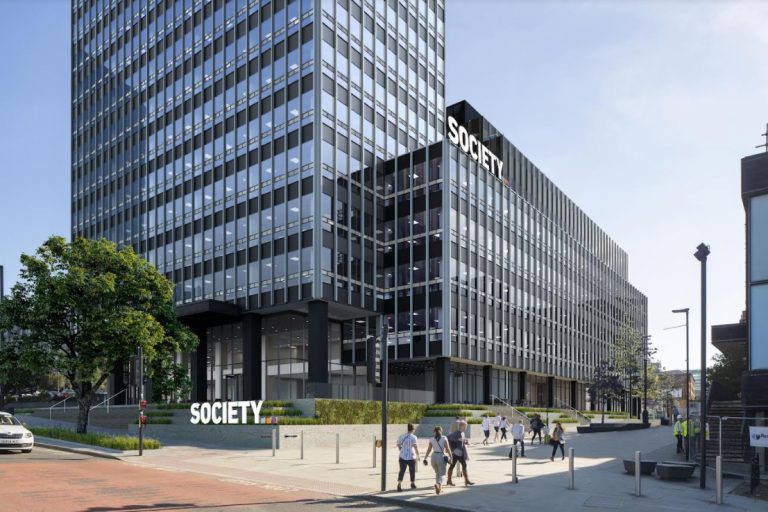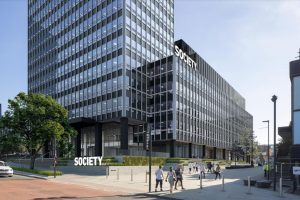 Following the completion of a comprehensive repositioning strategy for the former CIS Tower in Manchester city centre, Castlebrooke Investments has launched Society.
The launch marks a new era for an iconic building and represents a re-imagining of Manchester's first ever skyscraper. Castlebrooke says Society has been repurposed to deliver the best working environment in the city to meet the expectations of Manchester's diverse and growing business community, and the demands of an international city.
A spokesperson said: "The tower has been at the forefront of innovation in Manchester city centre since it was first erected in the 1960s.
"Our redevelopment strategy continues this forward thinking tradition, re-imagining the building to form a vertical district that will attract distinct user types to its three component parts – tower, podium, and street – as the way we work and live in the city evolves.
"Together, these components facilitate the coming together of a new society, offering all the facilities of a HQ environment with flexible workspaces, meeting rooms, conference suites and the convenience of on site amenities, which are ideal for Manchester's international business community."
The 425,000 sq ft building has been split into three distinct sections to appeal to a diverse, yet connected, business community – tower, a total of 143,527 sq ft across 26 floors offering spectacular views across the city, podium, 207,379 sq ft of the largest and most flexible office floorplates in Manchester designed to accommodate multiple layout options, with break out zones and privacy booths throughout, and street, where a mix of F&B, retail and leisure amenities will combine to create a desirable meeting place for a new working community in the heart of the city.
Michael Hawkins, director and head of national offices agency, Colliers said: "Society is a celebration of all Manchester was, is and can be. Castlebrooke's redevelopment and rebranding of this important building respects its rich heritage, with a subtle nod to its origins as the home of the Co-operative Insurance Society since the 1960s, while also positioning the building to cater for current and future occupier requirements, creating an environment that meets the diverse needs of Manchester's ever-evolving business community."
Strategically located in one of Manchester's most lively districts, with NOMA, the Northern Quarter, and the central business district neighbouring this island site, Society also benefits from being adjacent to the city's only multi-modal transport hub.
Sir Richard Leese, leader of Manchester City Council, said: "This is a landmark site with a proud history which has been honoured through Castlebrooke's sympathetic redevelopment programme. Society complements the established neighbourhood of vibrant communities in this part of the city and marks an exciting new era for the building and a creative re-imagining of an established working environment, which Manchester's business community will, no doubt, embrace."