City round-up: Accrol; Real Good Food Group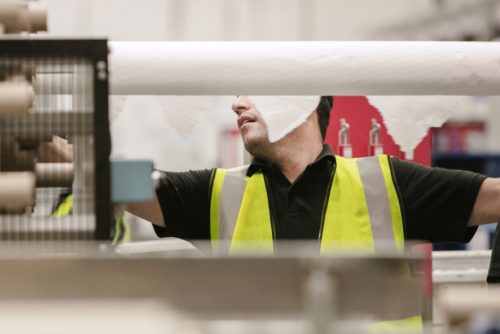 Accrol, the Blackburn-based independent tissue converter, said earnings in the current year to April 30, 2022, will be lower than expected due to cost increases.
In a trading update today, the group, which makes toilet roll, kitchen towels and facial tissues, said, in line with the wider market, pressures on its raw material supply chains have been considerable with further tightening in recent weeks.
Pulp and parent reel production costs have been impacted across the world by energy cost increases, input shortages, and general inflationary pressures. While the group's supply chain has shown significant resilience and supply shortages have been managed, considerable cost increases had to be absorbed in the short term.
In addition, distribution pressures, notably the availability of HGV drivers, which served to increase costs further, have restricted revenue growth in the current financial year.
These cost increases are successfully being passed on, albeit there will be a time lag in passing on the full impact, resulting in earnings in 2022 being lower than previously expected. Overall, operational efficiencies and integration synergies, together with the successful passing on of cost increases, will enable the group to deliver 2022 percentage EBITDA margins in line with those achieved in 2021.
Accrol said the market share recovery of the UK discount retail sector within the hygiene category continues to see slow but steady improvement, and the group is maintaining its discipline of targeting only higher value business and avoiding long term fixed price agreements, especially in this period of volatility. This continues to ensure that revenue growth is of good quality.
As previously indicated, revenues and earnings for 2022 remain weighted to the second half of the financial year. The board now expects year-on-year revenue growth to be approximately 25% on 2021's figure of £136.6m, and adjusted EBITDA in 2022 to improve by avourt 20% on the £15.6m achieved in 2021.
The short term external challenges facing the business have no effect on the ongoing execution of the group's strategy, it said.
The business remains in excellent operational shape with scalable foundations for growth and a strong market position across UK retail. Accrol said it remains well placed to benefit from the ongoing recovery in volumes in the discount sector and a more stable cost environment, as the full effects of the pandemic and broader supply chain and distribution constraints unwind.
The group said it continues to operate within its banking covenants and its liquidity and cash flow position remain robust with adjusted net debt expected to remain in line with current market expectations.
::
Ahead of its annual general meeting being held later this morning, Liverpool-based cakes and snacks group Real Good Food said it has seen the pick up in revenues across each of its markets, year to date, continue, in a trading update for the year, so far, to March 31, 2022.
For the first six months to September 30, 2021, revenues were 30.8% ahead of the same period last year (to September 30, 2020) and 0.7% above the same period of the year before last (to September 30, 2019). The group said sales to UK retailers are performing particularly well, with growth of 12.9% on last year and 3.7% on the year before last.
Unaudited EBITDA for the six months was £0.5m compared with an EBITDA loss of £1.4m last year, and an EBITDA loss of £0.2m for the six months to September 30, 2019, respectively.
This is reflective of the group's actions to increase margins within each business unit, albeit margins are being affected by surcharges on freight and transport which are currently expected to represent a drag of around £0.3m on this year's profitability.
The biggest impact of these logistics challenges, coupled with ongoing staff absence rates from COVID-19, is on order fulfilment and on-time delivery, which is an issue shared across the industry and supply chain.
New product innovation is a key driver to performance and increasing profitability. Revenue for the six months to September 30, 2021 include 39 new products with sales of £0.5m, or £1.4m annualised.
Executive chairman, Mike Holt, said: "We have made a good start to the year and the group is well positioned for the seasonally busier second half of the year.
"It is pleasing to see the turnaround activities within JF Renshaw gaining traction, particularly in new product innovation.
"Renshaw has regained its reputation as the product innovator and first choice supplier of quality products, both branded and private label."