People: Brabners; Haier; Bensons for Beds; Howgate Sable; Exchange Chambers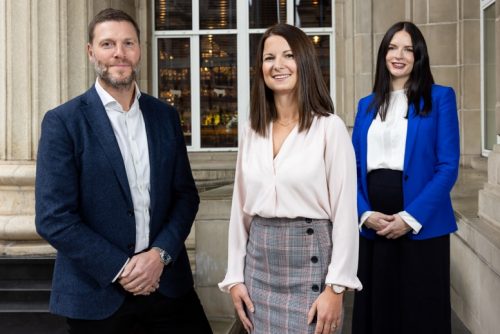 Independent law firm Brabners has continued to strengthen its support for commercial and high net worth clients with two new partner hires.
The firm has appointed property litigation specialist Jessica Parry within its 95 lawyers-strong real estate team, while Amanda Bailey joins to add significant wills, tax and family trust expertise to its private client team.
The two appointments follow a period of significant investment across the firm, which has seen it named in the 'UK 100 Best Companies to Work For' list for the second consecutive year and also ranked by Best Companies as the third best law firm to work for in the UK.
Jessica joins from the Manchester office of international firm Bryan Cave Leighton Paisner, having previously spent five years in London with Charles Russell Speechlys. With more than 12 years' experience of contentious property matters, she has worked on a range of high profile corporate landlord and tenant disputes, with previous clients including Tesco, Blackrock and investment management firm Hermes.
Amanda Bailey joins from DTM Legal where she was head of the trust and estates team. She is recognised by the Legal 500 as a 'Next Generation Partner' and was one of four lawyers shortlisted internationally for the Society of Trust and Estate Practitioners (STEP) Trusted Advisor of the Year Award.
A fully qualified member of STEP, she brings more than 10 years' experience of providing legal advice to private individuals, business owners and agricultural estates spanning wills, trusts, probate, family investment companies and tax planning.
Nik White, managing partner at Brabners, said: "The pandemic and Brexit have created a range of new challenges for clients across both our commercial and private client practices – be they related to matters such as high street rent arrears or the management of family estates.
"All such evolving issues require specialist support, which is why we've moved to further strengthen our offering across the board. In Jessica and Amanda, we are adding two exceptional and highly regarded lawyers to an increasingly diverse partnership which is committed to making the difference and helping our clients to achieve their ambitions.
"I look forward to seeing them further shape – and thrive within – the positive and welcoming culture which we continue to nurture and enhance at our firm."
::
Jim McEwan, chief commercial officer for global major appliance brand Haier, has taken responsibility for the Hoover and Candy brands.
McEwan joined Haier, situated in Birchwood, in December 2019 following 20 years in the appliance industry, predominantly in commercial and product development.
With just under two years at Haier under his belt, Jim will apply his knowledge and expertise to Hoover and Candy.
His remit is to expand all brands within the UK and Ireland markets and continue to deliver value to both trade partners and consumers.
Now offering a range of price points across all kitchen appliance categories through its three brands – Haier, Hoover and Candy – the company says it has a unique position in the market.
McEwan said: "As the world's number one major appliance brand for 12 consecutive years, the company is well placed to play a major role in the electrical appliance industry. Thanks to our RenDenHeYi model and commitment to have zero distance to our customers we can, through our diverse portfolo of smart and connected appliances deliver products that will make a real difference to customers lives.
"The Haier, Hoover and Candy brands each have very distinctive propositions and operate in different segments of the market, so we are, therefore, well placed to facilitate and deliver further success.
"Even though it's been a year full of both challenges and opportunities, business has been surprisingly good and we've posted record sales in many areas. This is definitely something we're looking to build upon going forward."
::
Bensons for Beds has made another key appointment to its leadership team, with the appointment of Mandy Winser as chief operating officer.
Mandy, who will take up her role in November, joins from Swissport where she was regional operations director.
Her career has also included senior positions at Kingfisher, B&Q and Marks & Spencer, where she has had roles with responsibility for logistics, operations, and customer services,
She joins Accrington-based Bensons as it steps up transformation of the business since it became a standalone company in 2020, reporting significant pent-up demand from customers at its 180-plus store network and continued strong online sales.
Mark Jackson, Bensons for Beds CEO, said: "Mandy's experience and knowledge will support our transformation and growth plans as we go through a period of exciting top-to-bottom change."
Mandy said: "I am delighted to be moving back to retail, to a product area I am familiar with and to a brand as well respected as Bensons for Beds. I'm passionate about putting the customer at the heart of all operations and I can't wait to meet the teams who make it happen."
Her previous roles include regional operations director at Swissport, director of logistics at Kingfisher, category director and director of omni logistics and sustainability at B&Q, and 22 years at Marks & Spencer, including time heading online logistics and leading its furniture and home operations.
In August Bensons announced the recruitment of Nick Collard to become its new chief commercial & digital officer. Nick joined from Holland & Barrett International where he was chief customer and digital officer and on the executive board.
::
Manchester-based firm Howgate Sable has bolstered its senior team and further strengthened its position within the executive search market following a recent promotion.
The organisation has named Liz Shay as director of research and delivery – a new position created in response to growing demand from Howgate Sable's international client base for high level industry intelligence when sourcing top talent.
Previously head of research, Liz joined the business in 2019, bringing with her more than two decades of experience having previously led the research department for London search firm, The Miles Partnership.
She works closely with leading brands across a broad range of sectors including consumer, financial services, industrial, private equity and pharmaceuticals, acting as a trusted advisor for those looking to accelerate growth through talent acquisition.
Liz said: "The value of the research function when sourcing new staff cannot be underestimated – particularly in the current climate when business recovery is such a global priority.
"Organisations need the very best of the best – individuals who can help them navigate new and unique challenges, while at the same time delivering on objectives around areas such as diversity and inclusion.
"Business leaders are increasingly recognising the importance of investment in research and I look forward to supporting Howgate Sable in some hugely exciting future assignments."
Liz also acts as co-chair for the Executive Research Association (ERA), a global forum for talent intelligence and insight professionals.
Neil Humphreys, partner at Howgate Sable, said: "Clients are continually impressed by Liz's ability to not only identify the cream of the crop in term of candidates, but also really get to grips with what an organisation really needs – as opposed to what they might think they want.
"High quality research takes expert knowledge, perseverance and the ability to dig deep. Liz is unrivalled in this area and a real asset to our firm."
::
Richard McLean, from Exchange Chambers in Liverpool, has been appointed, for a three-year term, to the Football Association's Judicial Panel.
As such, it is expected that Richard will be asked to chair hearings on a wide range of matters.
Those matters might include hearings relating to 'on-field' issues, such as wrongful dismissals, player misconduct, technical area misconduct, club misconduct or issues relating to crowds.
Alternatively, they might include 'off-field' matters, such as discrimination, anti-doping/drugs, media comments, betting and match-fixing, or issues relating to intermediaries. The panel deals with cases from across all applicable levels of the game, up to and including the Premier League.
Richard, who was called to the Bar in 2011, is experienced in work relating to the regulation of professional conduct in a variety of fields including sport and anti-doping. He also specialises in employment and discrimination law.
Richard joined Exchange Chambers from 1 Chancery Lane in September 2021, continuing the trend of London-based practitioners relocating to the Northern Powerhouse set.