Victoria North developer FEC seeks investment partner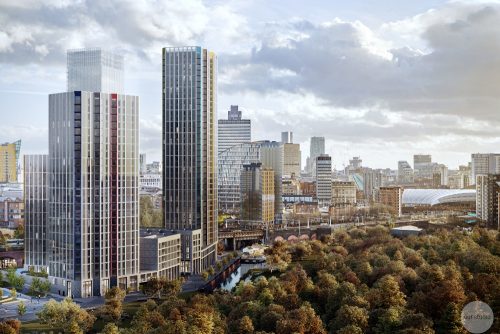 Developer Far East Consortium is seeking a long-term investment partner to collaborate on the Build to Rent (BTR) component of Victoria North, Manchester's largest ever regeneration project.
The developer has appointed Savills Operational Capital Markets to secure a strategic investment partner for an initial BTR opportunity focused on the district's Red Bank neighbourhood, which will deliver around 1,500 high quality BTR homes on the edge of the city centre.
The BTR provision in Red Bank will be complemented by affordable housing and homes for open market sale as part of plans to deliver a 5,500-home residential neighbourhood reinvigorated by new green space – including the new City River Park.
BTR is expected to form part of FEC's long term strategy housing strategy in Victoria North, which will deliver 15,000 high-quality, low carbon homes designed to support Manchester's diverse and growing population.
FEC is currently welcoming the views of local residents, businesses and stakeholders on its plans for Red Bank as the developer, working with Manchester City Council, brings forward plans for a sustainable, residential-led neighbourhood.
The developer recently agreed a deal with affordable housing specialist L&Q to deliver 20% of the homes being developed in the first phase of the Red Bank, while significant enabling work is currently underway – supported by £50m of funding secured by Manchester City Council from the government's Housing Infrastructure Fund.
Tom Pool, senior development manager at FEC, said: "Victoria North will play a leading role in Manchester's housing strategy in the next decade, so it's important that we deliver a mix of high-quality homes as we look to support a diverse and cohesive community that will eventually be home to 40,000 people.
"That means offering the people of Manchester a range of options, from the city's young professionals to families and downsizers.
"Working with an ambitious investment partner, who shares our vision for delivering vibrant and sustainable neighbourhoods, will strengthen our ability to do so at pace."
Piers de Winton, director at Savills Operational Capital Markets, said: "Manchester's BTR market continues to perform strongly, suiting a wide variety of tenants across the city.
"Critically, though, Victoria North will be one of the first projects to diversify the private rental offer at scale, delivering the high-quality, lower density suburban models that renters desire but cannot obtain in the city centre.
"With FEC and Manchester City Council developing 15,000 homes in the next 10-15 years, it represents an outstanding opportunity for an ambitious investor to contribute to the most exciting regeneration project in the city's history."