Property round-up: Brabners; IMAM Organisation UK; EQUANS; Boohoo; Blackpool Aspire Academy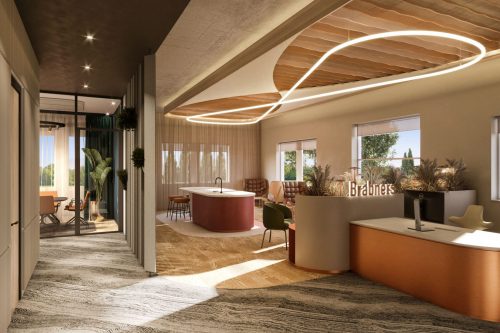 Independent law firm Brabners is investing in a state-of-the-art Lancashire office as it targets further growth in the region.
The firm is to relocate its Preston office, one of its three bases in the North West, to Bamber Bridge.
The move follows a period of sustained growth and investment, which has seen the size of its Lancashire-based team more than double in the past five years. The business, which now employs more than 400 lawyers and support staff, performed well through the pandemic and continues to build on its recently confirmed position as the third best law firm to work for in the UK, as well as one of the UK's 100 Best Companies to Work For.
The new Grade A office space comprises more than 6,500 sq ft across two floors in a self-contained exclusive office at Sceptre Court, Bamber Bridge, and features collaborative working spaces designed to support the firm's new hybrid working model.
The office's exceptional transport links will help to fuel growth by making the firm more accessible to a growing list of clients across Lancashire, including a broad range of businesses from the county's burgeoning SME community, in addition to high profile public and private sector organisations including Lancaster City Council (Eden Project North).
The move is the latest in a sustained period of investment by the firm as it continues to build on four years of consecutive, profitable growth, and is a key element of the next phase of the firm's growth plan that also coincides with its investment in 20,000 sq ft of newly refurbished Grade A space at 100 Barbirolli Square, in Manchester city centre.
Robert White, CEO of Brabners, said: "The upcoming move to Sceptre Court will be transformational for our team, as well as providing a flexible, collaborative and accessible space for the benefit of our clients and the wider business community in Lancashire – a market that is an integral part of our plans for the future.
"Lancashire is home to a diverse range of outstanding businesses and will always play a key part in ensuring a successful future for the North, as a whole – be that through strategic projects such as Eden Project North or the continued success of key market sectors, such as manufacturing and technology.
"Our move to Sceptre Court will, undoubtedly, enhance our ability to support our clients and the wider business community, as we seek to play our part in supporting their future success. It also represents our latest strategic investment, that demonstrates our commitment to the Lancashire market and to embracing our new agile working model."
Nik White, Brabners' managing partner, said: "Our move to Sceptre Court is our latest strategic investment as we continue to focus on building one of the most attractive law firms to work for in the UK.
"As we embrace the transition to hybrid working, our new office spaces will offer the opportunity to redefine how we collaborate and strengthen the relationships both with clients and with each other. We are looking forward to each of our new modern, flexible office spaces providing the platform for the firm to go from strength to strength.
::
A charity, which provides education classes for young Muslims, has purchased a Grade II-listed, former public library building in Nelson, with financial support from Barclays.
IMAM Organisation UK, was set up in June 2016, to focus on educating Muslim youths in morals and manners, promoting understanding, respect, tolerance and cultural cohesion in today's multi-cultural Britain.
The undisclosed commercial mortgage from Barclays, coupled with significant donations from the local Shia community, has enabled the charity to purchase a prominent building while at the same time significantly reduce its monthly outgoings. The acquisition will benefit the education for hundreds of students amongst the growing Shia community of 250 families.
IMAM Organisation UK has a very strong, supportive and hands on management and team of volunteers, led by founders, Maulana Syed Najamul Hassan Naqvi and his wife Alimah Syeda Touqir Naqvi.
Trustee Musawar Hussain said: "We can't thank Barclays enough for your support in the purchase of this property. Despite the challenges of lockdown, the charity was able to adapt and grow, continuing to provide a service to the community through social media channels and expanding our reach beyond our normal catchment.
"With life now returning to some normality, we are once again able to offer face to face classes and acquiring such a prominent building in the heart of the Nelson community is a clear demonstration of our commitment to the area and will enable us to expand our offering to more and more Muslim families."
Sohail Iqbal, business development manager for Barclays in Lancashire, said: "I'm absolutely delighted we have been able to support IMAM as they look to expand their services which are hugely beneficial to the local community. Despite the challenges of COVID-19, this well run organisation has continued to grow and the acquisition of their own premises will provide the platform they need to go from strength to strength."
::
EQUANS, the new brand for ENGIE's regeneration and services-led activities, has completed the construction of a new, low carbon assembly hall for Ashton Community Science College.
The £1m structure includes air source heat pumps, technology which uses outside air to either heat, or cool a building. This serves as a low carbon alternative to gas or electric heating, reducing the carbon footprint of a building.
The newly-constructed hall is comprised of underfloor heating, retractable seating and a drop-down screen to ensure it's suitable for a variety of different uses, including as an assembly hall, exam hall and lecture theatre. The site is situated within the grounds of the existing secondary school, which remained fully operational throughout.
With 23% of the UK's emissions coming from heating and powering homes, workplaces and public buildings, EQUANS is committed to providing sustainable alternatives, such as air source heat pumps in a bid to help clients reduce their carbon emissions.
Alyson Seddon, head of education and public buildings at EQUANS, said: "We're delighted to have completed work on this low carbon assembly hall for Ashton College, a scheme that has provided a much needed space whilst also helping Lancashire County Council work towards their goal of carbon net zero.
"EQUANS is proud to be helping schools transition to net zero through our 'School Zero' service, using our construction and retrofit capabilities to promote sustainability."
Miss Sharon Asquith, head teacher at Ashton Community Science College, Preston, said: "The project was professionally managed from start to finish. EQUANS took the time to get to know us as clients and understand what was important to us as they undertook the build, and our requests were accommodated. Nothing was too much trouble for the team, who along with the contractors were excellent."
::
Construction is scheduled to begin in the New Year on the £21m Pioneer Place in Burnley, and online retailer Boohoo, which has a significant operation in the town, has made a £300,000 contribution towards the scheme.
The town centre leisure development includes the relocation of Reel cinema, five retail and leisure units and a 125-space car park. Totalling 12,750sq ft, the scheme is being delivered by Burnley Borough Council and Maple Grove Developments.
The council has approved several measures to ensure the project goes ahead, despite volatility within the construction sector hiking costs.
Now, in a welcomed move, Boohoo has invested £300,000 to support the project, which will be a key asset for the growing university town.
Boohoo CEO, John Lyttle, said: "The Boohoo group are delighted to help support this exciting project in Burnley, which will be a fantastic addition to the town. We opened our first international distribution centre in Burnley 11 years ago and are proud to be one of the largest private sector employers in the area and long standing partner of the Burnley community.
"Our wonderful team has grown to over 2,000 people who will all benefit from this wonderful new leisure area, and we look forward to seeing it take shape."
Council leader, Cllr Afrasiab Anwar, said: "The council and its development partner Maple Grove Developments have invested a considerable amount of time and resource into bringing the scheme to this stage.
"We are determined to forge forward with this exciting and ambitious project, despite a number of challenges facing the construction industry, not just here in Burnley but across the whole world.
"Pioneer Place will bring new visitors to Burnley town centre during the day and evening time, deliver new jobs and support the growth of the UCLan campus. It will help diversify what the town centre has to offer to local residents and visitors alike and help boost the local economy.
"This is a major opportunity to expand and improve Burnley town centre and one that we have to take advantage of, and even the biggest social upheaval since the Second World War won't stop us doing that."
He added: "I would like to thank all partners for supporting this project, but I would especially like to thank Boohoo, for stepping in at the 11th hour and investing in the project. This truly demonstrates their commitment to Burnley, and they clearly see the importance of the scheme in attracting and retaining employees to the town."
::
Plans have been approved by Blackpool Council to construct an additional building specifically for year seven students at an academy in Blackpool.
Designed by Preston architects, Cassidy + Ashton, Blackpool Aspire Academy's new building will provide a dedicated space for incoming year seven students to begin their studies in a modern and supportive environment.
Construction is planned to start in February 2022 and is expected to be completed before the next academic year starts in September 2022.
Blackpool Aspire Academy is sponsored by Fylde Coast Academy Trust (FCAT). Located on Blackpool Old Road, it provides secondary education to GSCE and BTEC levels for students aged between 11 to 16. Around 180 year seven students join the school every academic year.
Cassidy + Ashton's new building design, based on the Academy's existing campus, offers eight large classrooms and amenities in a single storey unit.
Alistair Baines, architect and chairman at Cassidy + Ashton, said: "We have a long standing working partnership with the Fylde Coast Academy Trust, providing architectural and design expertise to help them improve the learning environments they manage across the Fylde.
"By creating a dedicated space with modern facilities for the year seven students at the Blackpool Aspire Academy, our design offers spacious circulation and incorporates the benefits of natural ventilation to enable the students to learn healthily and interact in a safe and inspirational environment."
Constructed in rendered composite materials with large, prefabricated windows, the new build will be in keeping with the Academy's existing buildings including its signature green panelled exterior.
Natural ventilation, spacious classrooms and wide corridors are all an integral factor of Cassidy + Ashton's design for the new building. This includes installing heat recovery units to enable fresh air ventilation and natural airflow throughout the classrooms that has proven to improve student learning.
Sean Bullen, FCAT director of education said: "'Aspire is well known for its 'golden' teaching culture, where each hour is a 'golden' hour of learning. It is literally all about aspiring to shine in all that they do and all they achieve.
"The team at FCAT are pleased to support the construction of this building, which will enable year seven students to transition from primary to secondary education with ease. It will also help the school set its high expectations from the 'golden' starter gun."
John Woods, headteacher of Aspire Academy, said: "As we grow as a school in terms of pupil numbers it is important that our facilities match this growth. The primary to high school transition is a key phase in a child's education. Being able to support new starters in their own space will allow us to be more creative and flexible with the year seven curriculum."
Established in 2014, Blackpool Aspire Academy provides secondary education to more than 900 students and works closely with external agencies to strengthen the community ethos and create a safe environment for its students to thrive. FCAT manages seven academies and three primary schools across the Fylde.