The Heaton Group acquires significant Manchester site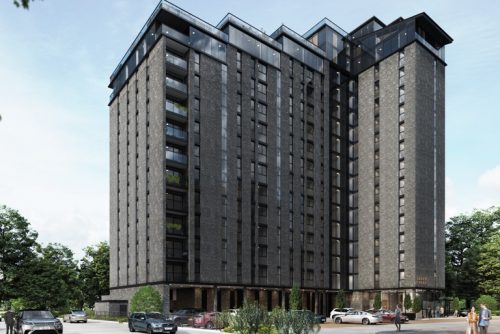 Wigan developer, The Heaton Group, has acquired and broken ground on a large Trafford site as it continues its expansion into South Manchester.
The Stretford site, which borders the Trafford Civic Quarter Masterplan, comes with planning for 174 apartments, with an exclusive residents' lounge, shared working space and coffee pod included in the design.
The site, named Urban Green Manchester, is located on Seymour Grove, a short walk from the Trafford Bar Metrolink stop, as well as both Old Trafford's football club and cricket grounds.
With views over Seymour Park, the Heaton Group will transform the brownfield site into a 16-storey scheme of 174 one- and two-bedroom apartments, along with 91 parking spaces at ground level.
Originally designed by Leach Rhodes Walker, Studio KMA architects has reworked the proposal and is delivering the scheme with The Heaton Group.
Urban Green Manchester will cater for a truly post-pandemic living experience, understanding more residents will be working from home and looking for alternative spaces to work.
Managing director, John Heaton, said: "This is our third Manchester scheme and a great opportunity for the business.
"The location of this site is superb, with a 10-minute walk to Chorlton or Media City and a 10-minute tram ride into the city centre. With such significant development being carried out in the area, we are confident that Urban Green will be a welcome neighbour to the vision of this new and vibrant neighbourhood."
The site also borders the Trafford Civic Quarter Masterplan, which covers the regeneration of a 120-acre site taking in Trafford Town Hall, the former Kellogg's site including the University Academy 92 (UA 92) campus, stretching up to the A56/Chester Road and White City retail park.
The Trafford Civic Quarter Masterplan will capitalise on the potential of the Trafford Bar tram stop, citing opportunity for significant modern workplace development as part of a mixed-use and vibrant neighbourhood.
It also highlights defining and expanding the high street character at the Talbot Road and Seymour Grove junction, with a possible green route alongside the tram line.
Further into Stretford, The Heaton Group has recently completed the redevelopment of The Bank, on Kings Road, another project the architect and developer have teamed up to deliver.
Dave George, director at Studio KMA, said: "We're delighted to continue to work with John and his team, and we look forward to future collaborations in Manchester and the surrounding boroughs."
The Bank was originally known as Derby Hall, which was home to Stretford Conservative Club for many years before its conversion to retail premises and, later, a bank. Since the bank closed in 2016, the site has stood empty, but now boasts 13 luxury apartments and a large commercial unit to let on the ground level.