First purpose-built community endoscopy unit opens in Manchester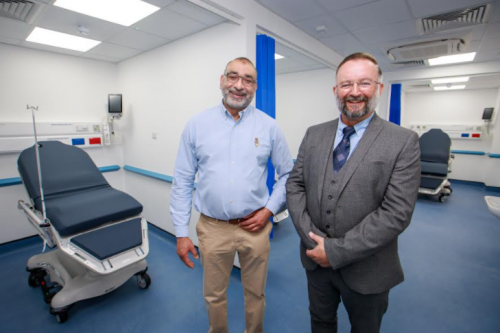 A pioneering centre for the speedy diagnosis of conditions needing investigation by endoscopy has opened in Manchester.
EndoCare Diagnostics has taken 8,000 sq feet on Orbit Developments' Parkway Business Centre, off Princess Parkway, joining a number of other pharma and medical brands who have converted office space into high tech, high spec consultative and diagnostic environments for patients.
The community development is the brainchild of chief operating officer Jason Hughes and consultant gastroenterologist, Dr Waqar Ahmed and aims to build a recognisable brand for high quality diagnostic services, delivered by the best in class consultant and care teams and achieving faster turnaround times.
Early priorities include helping local NHS Trusts deal with excessive waiting times post-pandemic – which can put patients at serious risk – and helping to re-establish the national diagnostic six week waiting time standard.
EndoCare has made a multimillion-pound investment in Orbit's Parkway 4 property, which has included the services of a specialist interior design team to convert the ground floor into a facility similar in size to a large community hospital with state-of-the-art diagnostic equipment throughout.
At its peak EndoCare will employ a core team of 30 staff capable of providing 23,000 scopes a year.
Jason said: "We chose Parkway because of its track record in accommodating medical businesses and the fact that it was accessible, close to major road networks north and south, public transport and Manchester city centre. We also liked it for its proximity to communities that are often difficult to reach, so we can help more people get the diagnosis they need."
Dr Ahmed, who has worked alongside Jason to develop the concept from the beginning, said there is no shortage of ambition for the future: "We have created one of the best purpose-built endoscopy units in the UK and a first for the North.
"We are very proud of it. In time we plan to open more centres across Greater Manchester and beyond. We have the blueprint now."
Adam Jackson, Orbit's leasing director, said the fit-out in just nine months was amazing: "The transformation from office space to a high spec medical facility is a credit to everyone involved – we wish Jason and the team every success."