People: LSH Auto; Inprova Group; N Brown Group; No Brainer; IoD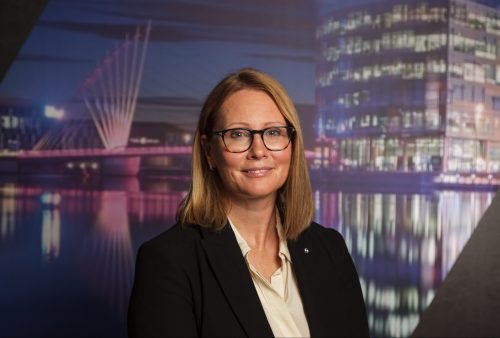 X

Register for free to receive latest news stories direct to your inbox
Register
LSH Auto has announced the key North West appointment of Tracy Ellam as operations director.
Tracy joins the business with more than 25 years' experience in the UK retail motor industry, many spent working with the Mercedes-Benz brand.
Most recently Tracy was commercial director of business intelligence and technology specialist Mazepoint. Before her move in 2017, she was regional director UKI and Southern Europe of ASE, managing 24 automotive brands and the market offices in Spain, Portugal, France and Italy.
Her previous positions include regional financial controller roles with Mercedes-Benz Retail Group and the Mercedes-Benz divisions of Pendragon and Jardine Motors.
In her new role Tracy will be responsible for finance, sales administration, CXC and group marketing at LSH Auto, which has Mercedes-Benz dealerships across the North West and the Midlands. In 2019, the business also launched a full digital platform to enable customers to browse online, book a test drive from their home, buy online and choose either click and collect or home delivery.
Tracy said: "I'm looking forward to returning to automotive retail and putting my experience in business intelligence to good use, especially at such an exciting time of change in the industry.
"My career path has given me a unique skillset and I'm excited to use data from within the business to benchmark performance and drive profitability. I'm also thrilled to be working with the Mercedes-Benz brand again and joining one of the largest dealer groups for Mercedes-Benz cars worldwide.
"The values of the business are very much aligned with my own. I'm passionate about championing diversity and am encouraged to see this already being embraced by board members and colleagues at LSH Auto. I've also been impressed by the forward thinking approach to technology within the business and the team's focus on delivering excellent customer service."
Tracy will report directly to Martyn Webb, managing director LSH Auto, who said: "Tracy will be a key member of the board of directors, working with myself and the wider business to strengthen and grow our performance. Her knowledge and experience will be a huge asset for our team and our mission to deliver continuous improvement. I am delighted to welcome Tracy to the LSH Auto team as we prepare for future retailing in 2022 and beyond."
::
Warrington-based procurement services provider, Inprova Group, has appointed Richard Godsland as finance director and John Bellamy as category manager for construction.
Inprova provides procurement solutions to nearly 1,000 organisations in the housing and local authority sectors. It runs Procurement for Housing, which manages the purchase and supply of more than £0.2bn-worth of goods and services for 900 UK social landlords every year.
The business is procurement partner to Building Better, an alliance of 29 housing associations and local authorities increasing the use of modern methods of construction (MMC), and it also manages spend control software provider Valueworks. In 2020, Inprova set up Illumar, an automated data management solution, built specifically for the social housing sector.
Richard Godsland joins from Salford-based build-to-rent developer Placefirst where he was group finance controller and oversaw the business grow from £2m to £25m turnover in just six years. He is a global chartered management accountant with more than 15 years' experience in the retail and construction industries.
In his new role as finance director, Richard Godsland will be responsible for optimising the finance function at Inprova through effective use of technology, communication, processes and systems. This will facilitate strategic and financial guidance, ensuring Inprova's financial commitments are met.
John Bellamy has more than 20 years' experience in procurement, having held buying roles in aerospace, automotive and retail, dealing with diverse categories of spend. More recently he delivered training for the Chartered Institute of Procurement and Supply (CIPS).
As category manager for construction at Inprova, John will support social housing providers to identify and adopt opportunities to use modern methods of construction (MMC) alongside traditional methods, to help them move towards a zero carbon future at pace.
He will work with social landlords to improve quality standards and living conditions for their residents, while reducing whole life costs and increasing supply chain transparency.
Richard Godsland, finance director at Inprova said: "I am delighted to join the Inprova family, and have been impressed by the drive, culture and ambition.
"Their overarching business purpose is to have a positive impact on people's lives by creating value through strategic procurement and the opportunity to enhance this through initiatives such as net carbon zero and increased data management is very exciting."
John Bellamy, category manager for construction at Inprova, said: "My main motivator has always been to make a tangible difference to people's daily lives and working at Inprova provides an environment whereby that is the number one concern.
"Social housing needs to find a viable and sustainable way of overcoming current supply chain problems while ensuring that new homes can be built at pace. Helping to meet these challenges by transforming how the industry adopts new, innovative opportunities is the challenge that I am relishing."
Steve Malone, CEO of Inprova, said: "Housing associations and councils are facing multiple competing pressures around zero carbon, building safety and COVID catch-up. Richard and John, with their significant experience in construction and procurement, will bring real insight to Inprova and play a key role in helping our members meet the challenges ahead."
::
N Brown Group, the Manchester-based inclusive fashion and homeware digital retailer, has announced the appointment of Nuno Miller to the executive management team as the group's new digital chief operating officer (COO).
Nuno will join the group this month and help to drive its ongoing digital transformation.
Throughout his 20-year career, Nuno has successfully delivered change across multiple industries, including the retail, fashion, luxury and technology sectors, and will bring his wealth of knowledge to N Brown as it continues to invest in its digital capabilities.
He joins from the multinational fashion group, Sonae Fashion, where he is currently the chief digital and information officer. Before joining Sonae, Nuno spent three years as the chief information officer at farfetch.com where he was a member of the executive leadership team and responsible for the luxury fashion retailer's technology platform.
In his new role, Nuno will oversee the group's digital transformation which includes leading on the development of the company's new front-end websites, which are set to replace current customer facing sites, as part of the refreshed strategy announced in June 2020.
The introduction of the new websites will be an important step on N Brown's technology roadmap as it moves away from the legacy web technology stack, improves stability and accelerates the pace of future change.
CEO Steve Johnson said: "I am delighted to welcome Nuno to N Brown. He brings a wealth of relevant experience from across the industry and his passion for agile methodologies and mindset is perfectly suited to how we work. I look forward to working with him as we execute our technology roadmap and deliver our strategy of creating an improved experience for our customers."
Nuno Miller said: "I am very excited to be joining N Brown, a business that I have respected for many years as a truly inclusive retailer. I'm looking forward to working with the team to drive the group's digital transformation and improve its customers' digital experience."
::
North West PR, SEO and content marketing agency, No Brainer, has made two new senior hires: Digital PR specialist Victoria Attwood and former North West business editor at Business Live, encompassing the Manchester Evening News and Liverpool Echo, Tom Houghton.
Ella Howatson also joins as the agency's first digital apprentice.
Victoria Attwood, joins from digital marketing agency Cedarwood Digital as account director. She brings more than eight years' experience to the role and will help drive the agency's digital PR offering.
Tom Houghton joins the agency as senior news and content manager.
The agency has also welcomed its first apprentice, with 18-year-old Ella Howatson joining the team while working towards a QA Digital Marketing qualification.
No Brainer co-founder and managing director, Gary Jenkins, said: "Victoria's extensive knowledge of digital PR, SEO, and content marketing paired with Tom's keen eye for a story make for the perfect additions to our growing team. We're so proud to have Victoria and Tom join us, and to be attracting this calibre of professionals who want to work alongside us and grow with us. I'm confident they'll both bring something special to the agency."
He added: "Being in a position to invest in young talent like Ella is really rewarding, too, and she is relishing the opportunity to forge a new career with us, rolling up her sleeves and doing an amazing job so far.
"We're really proud to be championing apprenticeships as more and more young people consider on-the-job learning as an alternative to university."
::
The Institute of Directors (IoD) has appointed Dan Visser to its team of ambassadors in Cumbria.
Dan is director of sales and marketing at Langdale Leisure, where he has been a member of the senior management team for 14 years.
Dan was part of the team that launched Brimstone Hotel in 2016, a luxury spa destination in the Lake District National Park near Ambleside. He engages with stakeholders to ensure the business contributes positively to the community and environment.
He is also a non-executive director and vice chair of the official destination management organisation Cumbria Tourism, which aims to maximise the potential of the region's visitor economy. He is also a trustee for the Lake District Foundation.
IoD ambassadors ensure that everything the IoD does places the member first. They enable greater connectivity, create influence and drive professional development opportunities while giving a local voice to the Institute.
Dan said: "The Cumbria visitor economy is the lifeblood of the region and I want to devote as much passion and energy as possible to protecting and promoting this unique part of the country. As an IoD ambassador I will help local directors to access the connections, professional development and influence that they need to boost their business operations and the wider Cumbrian economy."
Andy's appointment follows the arrival this year of Jen Cormack to lead IoD Cumbria. Jen is sales and marketing director at Windermere Lake Cruises.
Jen said: "I'm delighted that Dan has joined our team, as he has such passion for the region and its business community. We are on the lookout for more ambassadors. If you are passionate about business and keen to build your profile as a leading voice for the IoD, we would love to hear from you."