Record audience numbers for Manchester International Festival, despite pandemic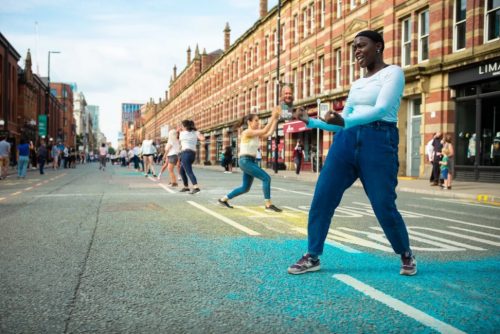 A report to Manchester City Council's executive reveals that this year's Manchester International Festival (MIF21) delivered record audience numbers, significant economic impact, and much needed wellbeing benefits, despite the ongoing backdrop of a global pandemic.
As one of the first major cultural events post-lockdown, MIF21 had a key part to play in helping kickstart Manchester's cultural recovery programme, and its dynamic programme of art, dance, theatre, and music events helped attract both local residents and people from further afield back into the city.
Against the unprecedented backdrop of the pandemic the festival saw 68 events take place across 18 days, including 18 original commissions from leading international artists, and additional special events.
A socially distanced festival due to COVID-19 meant there were a limited number of tickets available for MIF21 events compared with previous festivals. However, with the large number of free and online events programmed in this year it was possible to reach a record number of audiences locally, nationally, and internationally.
With the health and safety of audiences and participants at the forefront of planning, this year's festival programme also maximised the use of outside spaces.
There were 36 artworks and events in the public realm during the festival, which meant that audience reach was much larger than in previous years, and outdoor festival events were estimated to have been seen in person by 1,462,244 people.
At the same time, the festival also managed to reach audiences that were not able to travel to Manchester, through an expanded programme of online live and interactive content. This included specially created films by artists, digital interpretations of exhibitions, broadcasts of music and theatre productions, and a video game.
A further 1.2 million people from 187 countries engaged with this expanded digital programme during the festival, putting total audience figures this year both in-person and online at well over two million (2,662,244).
The festival also featured the first event at The Factory – the world-class new arts space to be operated by MIF – drawing 1,000 people over a weekend and giving audiences a flavour of what to expect when it opens in 2023.
Support for local artists was a key priority identified for this year's festival, building on a range of support programmes developed for them during lockdown. As the city and its cultural venues began to emerge from the lockdowns of the previous 18 months, the festival provided employment for hundreds of freelancers and artists.
MIF21 also had environmental sustainability at its heart with a headline ambition for the organisation to be on a committed path towards zero carbon activity by 2025.
Along with the council, MIF invested in making grid-connected electricity available from the National Football Museum to Festival Square in Cathedral Gardens. The works are permanent, meaning that not only could the festival run stages and cabins from grid connected electricity – rather than diesel generators – but all events happening on Cathedral Gardens in future will have access to this power source.
For the first time, no additional skips were hired for waste management during the festival and the majority of project materials and items were re-used either through community groups, donations, or re-use networks.
The amazing Big Ben Lying Down installed for the festival duration on Piccadilly Gardens saw plastic containing 30% recycled content used for its book bags and structural wrap. The material – Sustane – is part of a closed loop of production, and materials were returned to the manufacturer to be recycled after use.
Other environmental measures put in place this year included the continuing promotion of green travel measures, and ensuring that all cups, cutlery, and food serve-ware at Festival Square were compostable and sent to anaerobic digestion for processing – thus diverting them from landfill or incineration.
Local residents were at the heart of many of this year's festival events and MIF21 played a significant role in bringing people together – enabling them to reconnect after a period of sustained separation.
Nearly 6,000 people overall took part in MIF21 activity either as participants in festival events or as one of the 440 Greater Manchester residents who volunteered to support the delivery of the Festival.
Although the effects of COVID-19 necessarily meant that the economic impact of the 2021 festival was lower than previous years, it's estimated, nevertheless, that this year's festival had an economic impact of £19.5m – a far from insignificant amount after a year of repeated lockdowns and closed venues.
Sir Richard Leese, leader of Manchester City Council, said: "For Manchester International Festival to have not only put on a festival this year, but to have grown its audience several times over from what it has been in the past is a testament to everyone involved and to the whole city for getting behind it.
"Our long standing support for the arts, matched with a peerless cultural offer – thanks in no small part to the thousands of artists and creatives who have called Manchester their home over the years – is what helps shape and make Manchester a place people want to be.
"The festival plays a pivotal part in this and MIF 21 did not disappoint, helping in this most exceptional of years to once again secure Manchester's position in the spotlight on the world's stage."
John McGrath, artistic director and chief executive of MIF, said: "MIF21 was certainly one of the most challenging things we have ever taken on as an organisation – collaborating with artists all across the world, most of whom couldn't travel, ensuring COVID safety for audiences and teams, and planning everything amidst a global emergency – but the results have made it all very worthwhile.
"The enthusiasm and gratitude from audiences in Manchester, who told us how much they needed this moment of joy and coming together, the creativity of artists and production teams who worked so hard to make this ambitious programme happen, and the word of mouth internationally, have all demonstrated the importance of creativity to our city.
"We all needed our festival more than ever, and I'm delighted that we succeeded."