North West business briefs: Peel L&P; Ainscough Crane Hire; Red Run Activewear; Source PR; St Helens Chamber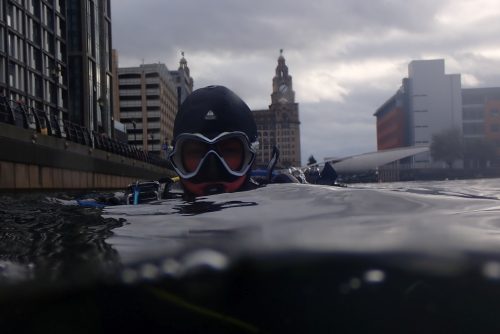 Scuba diving business, Palaemon Divers, and sister company, Scuba Escape, the world's first scuba diving escape experience, has opened a new facility at Princes Dock, Liverpool Waters. Palaemon Divers offers scuba diving lessons and PADI courses at Princes Dock for complete beginners right up to professional level.
The start-up scuba business, founded by scuba diving instructor Leanne Clowes in April this year, has also taken two units in The Quay, No.12 Princes Dock, to facilitate a Five Star PADI diving centre and scuba shop, due to open in January 2022. Leanne's other business, Scuba Escape, which she runs with diving partner and PADI course director Clare Dutton, is currently based at a private quarry in North Wales. But, in 2022, Leanne and Clare will launch the underwater escape experience at Princes Dock.
Leanne said: "A year ago I was working for a recruitment firm in the city. Now, I have turned my hobby in to two brilliant businesses and I am spending every single day doing what I love. To top it all off, I can now share my passion for diving with others who live and work in the city and are looking for a new challenge and an escape into another world. I first dived in Princes Dock a couple of years ago and was completely shocked by how much life is in there. It is a very safe space to learn to dive and is a much more realistic than a swimming pool. There's nothing better than diving in outside waters.
Liza Marco, asset manager at Peel L&P's Liverpool Waters, said: "It's wonderful to have more business moving into Princes Dock and making use of the fantastic open water facilities that we have here at Liverpool Waters.
"Princes Dock is a unique urban location with hotels and apartments offering waterside views across the Mersey, where some of the world's largest cruise ships dock. It's a place where residents, visitors and city workers can kick back and enjoy a wide range of amenities and activities, from eating waffles at Moose and drinking coffee at Bean, to open water swimming with WeSwimRun and, now, scuba diving with Palaemon Divers, offering people the opportunity to discover life beneath the water.
"Palaemon Divers has made a real commitment to Liverpool Waters, and we are very proud to support them as they grow their business and help to attract more people to come and enjoy the outdoors in a safe, open water environment."
::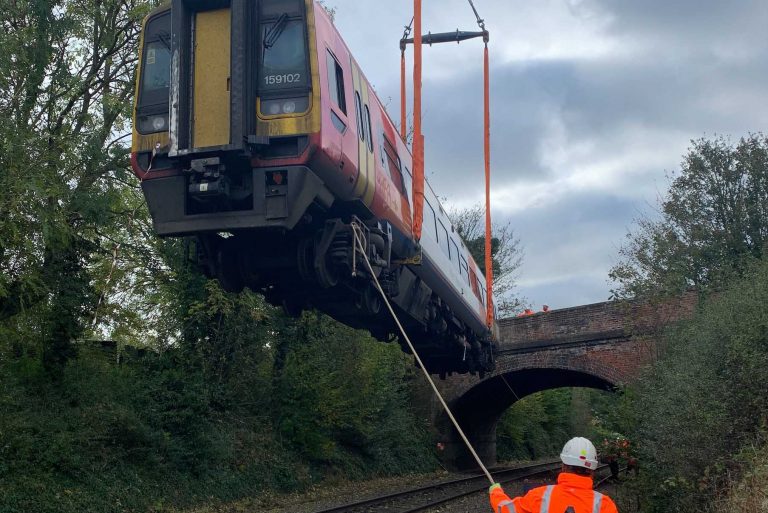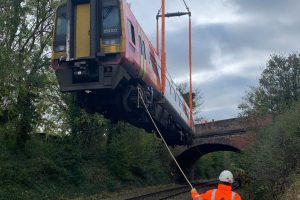 Wigan-based Ainscough Crane Hire has deployed its expertise in providing urgent lifting solutions to support its client, Network Rail, in the aftermath of the recent Salisbury train crash.
Two passenger trains collided on the approach to a tunnel near Salisbury station at approximately on October 31. Ainscough Crane Hire was contacted by Network Rail several hours after the crash, and were requested to attend the site first thing the following morning. Ainscough's technical contracts manager for heavy cranes, Dave Baxter, travelled from the North West and was in Wiltshire by 7am to meet the Network Rail team.
After it was confirmed that the five carriages that had to be removed from the tracks could not be jacked or lifted by a rail crane in isolation, Ainscough prepared a lifting proposal that would see an 800t mobile crane in conjunction with a rail crane recover and remove the rail carriages. The five carriages were lifted onto lorries where they were transported to The Long Marston Rail Innovation Centre, prior to being unloaded by additional Ainscough cranes ahead of further inspections. The operation was completed on Sunday, November 7, with the cranes having derigged by Monday.
Ainscough's team for the project included Dave Baxter, crane operators Ashley Winter and Danny Carrick and the lift team of Mark Brown, Andy Melling, and Nigel Lindley. Andrew Spink, heavy cranes operations director for Ainscough Crane Hire, said: "This is the sort of job we hope we never have to work on, as doing so means there has been an incident which has put people's safety in danger.
"Such incidents are thankfully rare in the UK, but we as a business stand ready to support our colleagues in the rail industry whenever we are needed. Therefore, when the call came through from Network Rail regarding the Salisbury crash, we immediately set to work in exploring the best lifting solution to clear the tracks and allow the repairing of the railway line and signalling equipment."
::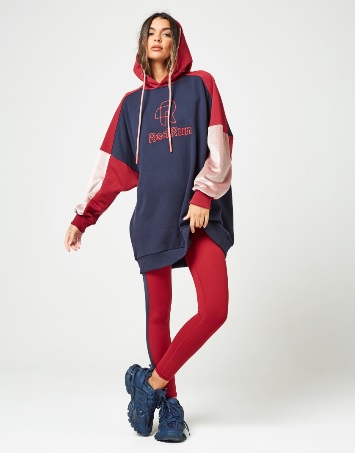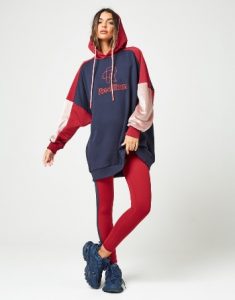 One of Liverpool's most exciting new activewear brands, Red Run Activewear, is launching its first retail store at Royal Albert Dock Liverpool, today (November 22).
Having launched in 2020 during lockdown, in just one year the brand has gained a loyal customer following with nearly 12,000 followers on Instagram, is stocked in Tessuti in Liverpool One, and enjoys sell out success when new collections are launched, with the last capsule collection selling out in just 15 minutes.
The passionate team of women behind the brand consists of experienced designers and production managers with more than 15 years' experience within the fashion industry, which has led to the team working in fashion capitals including London, Paris, Milan and New York. After identifying a gap in the market for sustainable women's active streetwear, the team wanted to offer stylish, comfortable clothing that is perfect for training, or for everyday wear to suit busy lifestyles.
The fabrics are carefully sourced with a priority on sustainably manufactured, premium fabrics, resulting in long lasting, luxurious and thick activewear which lets the skin breathe and keep cool throughout training. The activewear range includes everything from stylish wool beanies and 100% organic cotton caps, to a short waterproof jacket made from 100% recycled nylon, and a 2-in-1 reversible body warmer which is the must have addition from the Parisian Night collection.
The dock shop will be the brand's first retail store, located on The Colonnades, a short walk from the hugely popular Lost Soles, with an urban luxury feel keeping in line with the dock's iconic industrial aesthetic.
::
Cheshire PR, social media, and digital agency Source PR has dispatched 21 gift-filled shoeboxes to be delivered to children across the world who otherwise likely wouldn't receive a gift for Christmas.
The collection consisted of shoeboxes put together by team members, alongside contributions made by residents of the Tattenhall community. Donations from locals ranged from complete filled and wrapped presents to unique hand knitted gifts and toys to fill up the boxes. Boxes were dropped off at Tilston Parochial Primary School, ready to make their way to children across the world in time for Christmas.
The donation was made under the Operation Christmas Child project, an initiative of charity Samaritan's Purse. Since 1990, more than 186 million children in around 160 countries have been gifted a shoebox present through Operation Christmas Child. Each included a hand knitted teddy or toy, thanks to a kind donation from The Helpful Knitters.
Louis Hill, managing director of Source PR, said: "This year we encouraged our team to take part in the Operation Christmas Child shoebox appeal as it's for a really great cause, and they didn't disappoint. I'm proud of the generosity by not just those at Source, but also of the wider Tattenhall community, too. We feel as though we've truly captured the spirit of Christmas this year."
Source PR, based on Tattenhall High Street, services clients in Chester, the North West, and the wider country. Operating for more than 15 years, the company works with the likes of Miller Homes, Collegiate AC, and BPA alongside a range of both consumer and corporate clients.
::
St Helens Chamber is holding a Meet the Kickstart Employer event for local young people aged 16-24 claiming Universal Credit to come along and meet local employers – with 92 vacancies on offer on the day.
The event is taking place on November 24, from 2pm-4:30pm at St Helens Chamber, and eligible local people are encouraged to come along and talk to local employers in attendance to increase their chances of submitting a successful application.
Laura Brogden, head of career development at St Helens Chamber, said: "We have some amazing employers offering Kickstart vacancies at the moment, and there's plenty of opportunities for young people to get some valuable paid experience on their CV. We are encouraging any eligible young people considering starting a Kickstart placement to come along and meet the employers. By showing your interest and making the effort to come and see the employers you are really setting yourself apart from other candidates – and have a unique opportunity to get in front of the hiring managers."
Kickstart vacancies are six-month paid placements which are funded by the Government. Employers taking part in the scheme work closely with St Helens Chamber to get their candidates all the training and support they need to succeed. The chamber has already seen success with Kickstart placements, with many employers offering their Kickstarters permanent roles or apprenticeships within their company.
Hannah and Jamie, Kickstarters at Sood Marketing, completed their placements and were offered full time apprenticeship roles with their employer. Both felt the Kickstart scheme gave them the chance to find out what they enjoyed and where their skills lay, while gaining plenty of experience. Jamie said: "My Kickstart placement allowed me to try lots of different things in my marketing role. I could work across the business and experience different things, the variety in the role has been really useful for me to find where my talents lie."