Plans in for two residential towers as part of Great Jackson Street masterplan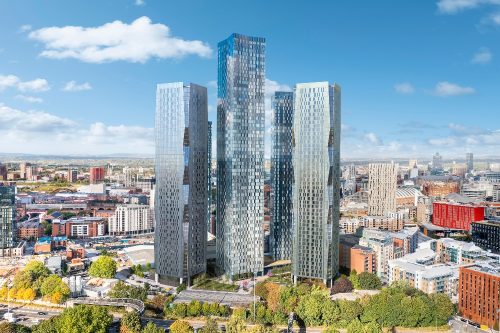 Manchester property-developer, Renaker, has submitted plans for the development of two 51-storey residential towers providing nearly 1,000 new homes as part of the Great Jackson Street masterplan.
The developer has proposed 988 new homes with a mix of one, two and three-bedroom apartments.
Located near Deansgate at the southern end of the city centre core, each proposed building boasts its own extensive residents' amenity space including co-working space, gym and lounges.
Separate private underground car and cycle parking will also be included within a two and three storey basement.
Externally, each building will have a private residents garden, accessed directly from the ground floor amenity space, along with extensive public realm.
The delivery of a high-quality public realm, including the improvement of the street level environment, delivers on the objectives set out as part of Manchester City Council's Great Jackson Street Strategic Regeneration Framework.
Renaker appointed Simpson Haugh as architect on the development, with both towers having the same distinctive aesthetic, featuring chamfered edges incrementally increasing and decreasing every 5 storeys, creating a dynamic vertical movement up the tower.
Renaker has also ensured the towers' designs matches the wider skyline and landscape of the masterplan area, whilst the position and orientation of the proposed towers create a strong relationship with Deansgate Square.
A Renaker representative said: "We are delighted to have submitted these exciting proposals for this currently under-utilised site at Great Jackson Street.
"This planning submission represents another significant step in our journey to revitalise the Great Jackson Street area, and deliver, subject to approval, the aspirations of Manchester City Council's Great Jackson Street Strategic Regeneration Framework, through the creation of high quality new homes set within two striking unique towers, along with extensive public realm."