Stalled apartments scheme set to re-start following new appointment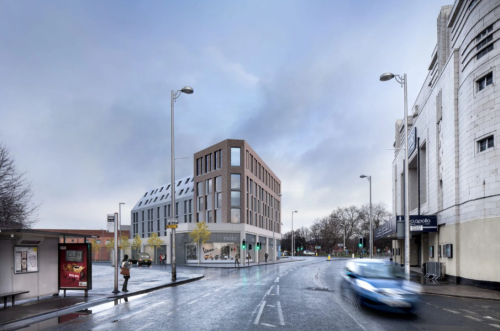 A stalled multimillion-pound housing development of 45 apartments has been revived after RECOM Solutions was appointed as the main contractor to complete the project.
The six-storey SONA scheme, opposite the O2 Apollo in Ardwick, Manchester, is being delivered as a build-to-rent development comprising one-, two- and three-bedroomed apartments with extensive communal spaces for residents.
It is aimed at key workers and young professionals.
Trafford Park-based RECOM has been appointed by CERT Property, which acquired the partially-completed scheme in October 2020 from a consortium of private investors.
Building work had stalled after the previous contractor suffered financial difficulties.
RECOM has experience of taking over distressed building projects and successfully completing them on time and within budget.
Director, Jason McKnight, said: "We are delighted to be working with CERT on this project. We have been undertaking a lot of due diligence on the original build and are collaboratively working with the design team to progress the project to completion.
"It is located at a prime site near the O2 Apollo and Manchester Royal Infirmary, and will be a fantastic asset for Ardwick."
He added: "The project has been stalled for some time now and we are thrilled to be involved to bring it to completion."
Stephen Oster, head of acquisitions and development at CERT, said: "With our previous contractor entering administration earlier this year, we took the opportunity to review and enhance the design of the project while working to appoint a first class contractor in RECOM.
"The entire project team is working tirelessly to ensure SONA is delivered to its full potential, and we're delighted to see this development firmly back on track."
RECOM is initially undertaking external structural works and enabling works at the site, and is procuring works packages for other aspects of the development.
The project is due for completion by the end of 2022.