People on the Move: Addleshaw Goddard; Banc; Recom Solutions; PWA Planning; EY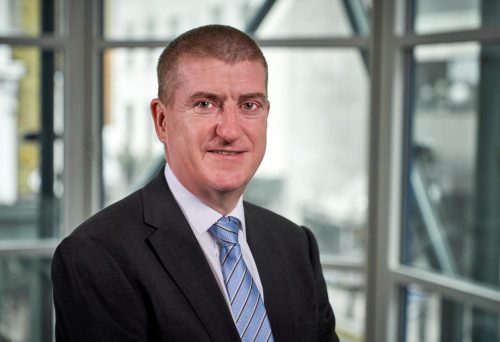 Addleshaw Goddard has confirmed that John Joyce has been re-elected managing partner for a four-year term, starting on May 1, 2021, following an uncontested election.
John was first appointed managing partner in May 2014.
He said: "It has been a real privilege to lead the firm for the last six-and-a-half years and to have helped to make such strong progress in developing and improving our business across numerous fronts, both in the UK and internationally.
"I am really pleased to have been given the opportunity to continue to lead the firm through what will undoubtedly prove to be a period of ongoing uncertainty, but the strong business that we have created and the way in which we have pulled together during the pandemic gives me real optimism for the future."
Under John Joyce's leadership the Manchester-based firm has retained and greatly improved its position and opportunity with many significant clients.
It said it has gained a strong reputation for innovation and understanding of clients' needs, developed a strong sector focus and successfully expanded its footprint into new territories, first in Scotland through a successful combination with HBJ and then in Germany – its first office in continental Europe.
In addition to increasing global partner headcount by 50% and lawyer/business services capacity by 40%, and a rise in the number of female partners from 22% to 30%, the firm has also recorded six years of consecutive revenue growth, rising from £171m to £288m, an increase of 68%, posted six years of profit growth, rising to £102m in 2019/20, almost 100% higher than 2013/14, and benefited from increasingly strong cash balances – net cash closed at £84m in 2019/20, up from a £16m deficit in 2013/14.
Charles Penney, Addleshaw Goddard senior partner, said: "John is a highly-respected leader dedicated to making our business attractive to the best clients and to the best people and he has the overwhelming support of our partners from all our offices across the UK, Europe, Asia and the Middle East to lead our firm over the next four years."
::
As part of expansion leading into 2021, Manchester digital business Banc said it is excited to announce two new hires to the client services team.
Client services director, Antony Simon, said "As Banc continues to grow, the need for experienced client handlers becomes increasingly important. We don't just strive to produce the best results possible, but to do so with a level of service that meets and exceeds our client's expectations.
"The recruitment process is never easy, though. We had several high-quality applications, with Helen and Lauren really standing out. It's great to have them both on board and our clients are already benefiting from their skill and experience."
Taking on the role of digital account manager is Helen Adams who joined Banc in March 2020.
Helen previously worked at Accord Marketing, managing key accounts over a three-year period in both London and Manchester offices. Helen achieved a First Class Media degree at Goldsmiths, and has subsequently accumulated more than six years of marketing experience across all sectors in both full service, and digital agencies.
She said "Starting a job in this age of Zoom planted a doubt that I may struggle with connecting to my new colleagues or with grasping internal processes. I'm such a sociable person. It has truly been the opposite – I can't say a bad word about a single member of the Banc team, all of which have been incredibly helpful.
"The systemic protocol at Banc is professional, sensible and seamless and I can't wait to see what the future holds for my role and, of course, Banc."
Lauren O'Brien is taking over the senior account executive role. She joined Banc in March 2020, having previously worked at The Hut Group, Siemens and Capital Properties.
Each role Lauren has held, including her placement from university, has been in marketing. She has now accumulated eight years of marketing experience.
She said: "I have found Banc to be hugely supportive and welcoming, during the difficult time of the pandemic. I have worked from home throughout my time with Banc and I have found the team totally committed to delivering excellence and great service for our clients."
::
Recom Solutions has recruited five trainees as the construction project management specialist continues to expand its team in line with its rapid growth.
The latest arrivals take staff numbers at Trafford Park-based Recom to 25.
Phoebe Shore and Cairn Lees have joined as trainee project managers. Phoebe is undertaking a degree in construction project management and Cairn has an MSc in architecture.
Ryan Taylor, Liam Dinsdale and Maia Webster have been recruited as trainee construction project managers.
Ryan graduated in construction project management at the University of Salford earlier this year. Liam and Maia are studying for the same degree as sponsored undergraduates.
Recom, which was founded in 2015 by directors Jason McKnight and Joseph Dillon, undertakes construction project management and main contracting work across a range of sectors, including healthcare, education, retail and leisure, commercial and residential.
It also provides consultancy services to assist in the delivery of projects. These include design, risk, quality, health and safety and sustainability alongside passive fire.
Recom is the main contractor for a new £5m Hindu Temple in Oldham, where work is under way. Other Recom clients include Barry's Bootcamp, Timpson, Pot Kettle Black, Urban Village Bars, KAMPUS, Multiply, the University of Manchester and the NHS.
Jason said: "Having developed our own careers from a sponsored background, Joseph and I feel it is essential to provide opportunities for talented and ambitious young professionals.
"All five newcomers are extremely capable and are gaining hands-on experience in a fast-paced environment.
"They have already shown they are rising industry stars and, indeed, some are managing projects with other members of the team.
"Bringing through new talent and developing them to our working practices and culture is a major part of our strategy as we look to take Recom to the next level."
Recom recently created three new senior roles as it positions for its next phase of growth.
Jordan Stent was promoted to head of construction. James Holmes and Mike Kelly joined the firm as head of operations and head of the passive fire division, respectively.
Jason said further recruitment is planned, with new roles for construction project managers, passive fire surveyors and passive fire installers.
::
North West planning consultancy PWA Planning has appointed experienced planning consultant Graeme Thorpe as an associate.
Graeme joins from Leith Planning where he was group planning manager.
Prior to this he spent more than 15 years in senior planning roles with Burnley Borough Council, Ribble Valley Borough Council and Rotherham Metropolitan Borough Council.
Paul Walton, founder and director of PWA Planning, said: "Graeme is an enormously experienced town planner with bags of experience in our core sectors and is, therefore, a great addition to our team.
"His time in a number of local authority planning roles, and knowledge of managing complex planning applications in both urban and rural locations, will be invaluable to our clients."
Graeme said: "PWA has forged a strong reputation for guiding clients through the planning process and helping them to get development moving.
"Like myself, many of the team have a broad range of expertise in both private practice and within local authorities. I'm looking forward to helping our clients to meet their planning and development goals."
During his time at Burnley Borough Council, Graeme was the authority's principal planner and gained extensive experience managing planning applications for major residential, commercial, leisure, renewable energy, and heritage-related developments.
Graeme is a graduate of Sheffield Hallam University and holds a degree in Planning Studies, a diploma in Town Planning, and an ILM Award in Leadership and Management.
He has been a member of the Royal Town Planning Institute for more than 13 years.
::
EY has appointed three new overseas seniors and six new student trainees to bolster its Liverpool team and strengthen its growing audit practice.
Yousuf Shahid, Gaurav Agarwal and Bilal Mustafa join as seniors in EY's audit team from Pakistan and India where they worked on a wide range of clients from financial services, power and utilities, telecommunication, manufacturing, construction, education and not-for-profit.
In addition to these senior hires, the Liverpool office has also expanded its team with six new graduates and apprentices, who joined the team in September.
Emily Dicks, Amber Dickson, Same Fishwick, Katherine Morris, Dan Smeaton and Joe Smith all join the team at Liverpool and will now begin their training with the firm.
Jenn Hazlehurst, office managing partner for EY in Liverpool, said: "It's fantastic to be welcoming a raft of new appointments to the team here in Liverpool. Yousuf, Gaurav and Bilal bring a wealth of international experience with them and will be a great fit to the team, allowing us to strengthen our audit practice still further and support our clients across the region.
"Also, a huge welcome to our new graduates and apprentices who started in September. We recognise that many young people across Liverpool and the wider region are facing a challenging labour market at the moment. That's why it's important that our apprenticeship and graduate schemes provide students and school leavers with a great opportunity to gain hands-on experience, while also enhancing their skills and gaining a qualification."
These recent hires follow the appointment of Liz Jones as an associate partner to the Liverpool office, last month.
Born and raised in Liverpool, Liz has been with EY for more than five years and is based in the firm's assurance practice. Her audit work is focused on the North West's private companies and she has specific experience working with PE-backed businesses across the region.
Jenn added: "It is a fantastic achievement for Liz to be promoted to associate partner and recognises her outstanding focus on audit quality as well as her drive to provide our clients with exceptional client service. Liz is hugely committed to the Liverpool market and will be a great addition to our leadership team."