MMU's state-of-the-art Institute of Sport now complete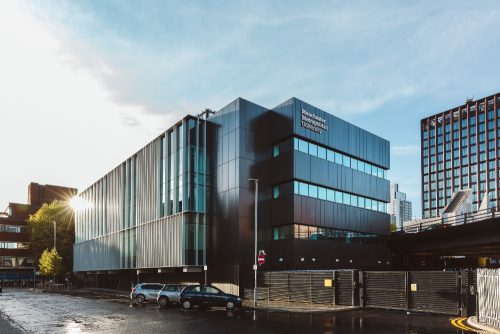 The former home of Manchester Metropolitan University student union has been transformed into a new state-of-the-art Institute of Sport.
The overhaul included stripping out and partly demolishing parts of an existing building at 99 Oxford Road in the city centre.
Until March 2015, it was used for student union offices but was vacated when a new purpose-built office was completed.
Due to open for teaching in January, The Institute of Sport building is home to the latest technology and equipment for the advanced study and research of sport, including an MRI scanner and extreme climate environment chamber.
The new design has been created by architect BDP while Eric Wright Construction completed the works.
The wider project team included Deloitte, Curtins, Gardiner and Theobald and Hoare Lea.
Andrew Fallon, Director of Estates, Facilities and Capital Development at MMU, said: "Manchester Met has ambitions to be one of the best universities in the UK for sport. This new facility will help us towards reaching that ambition, giving academics, students and athletes access to state-of-the-art facilities with the best technology and equipment.
"With the handover now complete, staff have already moved in and the facility will open for teaching in January 2022."
He added: "This was a challenging project to completely rejuvenate an existing building and we have been impressed with the way that Eric Wright Construction and the professional team has performed, working the new design around an existing structure on an extremely tight site.
"The Manchester Metropolitan University Institute of Sport is a great example of what can be achieved when older buildings are repurposed, and we are delighted with the result."
Director of Eric Wright Construction, James Eager, said, "We are proud to have taken a 1960's structure into the 21st century and created a world class building that will provide fantastic facilities for Manchester Met and its students for many years to come.
"Not only have we delivered the project during the height of a global pandemic to exacting specifications on time and on budget, but we have also seen the carbon reduction benefits of re-using an existing structure. This has been a magnificent achievement and shows the positive benefits of two-stage tendering and early contractor engagement."
Jeremy Hartley, Group Managing Director at Eric Wright Group, added: "The Manchester Metropolitan University Institute of Sport is a great example of what can be achieved by working in a close, collaborative partnership.
"The whole team is incredibly proud of this superb building, and we are grateful to the University for selecting Eric Wright as its main contractor on this landmark project for Manchester."