People: AHR; H&H Land & Estates; Vincents Solicitors; JV North; mmadigital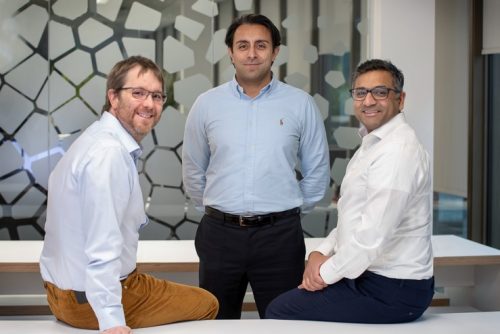 Architecture and building consultancy practice AHR has announced the promotion of three new directors.
Robert Hopkins and Imran Kassim are based in Manchester and Gurminder Sanghera is based in Leeds.
Anthony Langan, managing director of architecture, said: "As key team members at AHR, Robert, Gurminder and Imran have delivered design exceptional solutions across all sectors of construction and their promotions are very well-deserved."
Robert is passionate about creating environments that enhance the health and wellbeing of occupants. Robert has been spearheading AHR's long established commitment to sustainability and last year was appointed as AHR's head of sustainability.
Robert said "Through innovative design, we can create spaces that protect our environment and encourage a sustainable future. As architects, we focus on creating spaces that enhance the lives and wellbeing of users. With the climate emergency we all need to embrace this, from how we live, to how we work and how we learn. I am thrilled with this opportunity to continue to champion this internally and realise the ambitions of our clients."
Imran has been paramount in directing AHR's offerings at the forefront of Modern Methods of Construction (MMC) design and leads the delivery projects across the practice, in a number of sectors including education, health, residential and civic.
He said: "I am honoured to be part of a practice which provides not only excellent levels of design quality but also exemplar levels of client service. To lead extremely talented people at AHR using the latest technology is an exciting prospect, which will help us continue to provide intelligent solutions to the health, education and housing challenges that face our communities and society."
Langan added: "I am confident that the trio will strengthen the breadth and depth of the management team and I am excited to work in partnership with them as we continue to grow the practice together."
::
As it continues to expand its land agency division, H&H Land & Estates has appointed Rachel Bagshaw to head the land agency team in south Cumbria. In this newly created key role within the company Rachel, based at the Kendal office, will work closely alongside managing director Colin Tomlinson and the H&H Land & Estates teams across the North of England.
Having worked in the area for many years, Rachel brings with her both a wealth of land and estate management experience and knowledge of the South Lakes. Trained as a land agent and RICS qualified, for the past 10 years she was the estate manager for the Holker Estates Company in South Lakeland, before becoming the land and property director there in 2018. Prior to this she was an associate with Bidwells Chartered Surveyors in Cambridge.
During her career she has worked across the spectrum of land management, including residential, commercial and agricultural lettings, contract farming arrangements, sporting rights, woodland and moorland management, strategic business planning, environmental and woodland schemes, commons associations, and the promotion of residential development sites.
Rachel said: "H&H Land & Estates is a very progressive organisation, and I am very excited to head up the South Lakes land agency team and to work with the existing excellent team there to further develop and grow the business."
With a large portfolio of clients Carlisle-based H&H Land & Estates says it is one of the leading firms of independent rural property advisors operating across the North of England and Scottish Borders.
Colin Tomlinson said: "Rachel has the ideal and varied experience to head the South Lakes team and grow our presence."
::
Vincents Solicitors has expanded its private client team in Garstang and increased support for its highly specialised Court of Protection work. Lisa Lodge, head of the Garstang branch and joint head of the private client department, has welcomed three new starters to her team and is continuing to recruit to the growing probate department.
Solicitor Dan Pinder, legal assistant Mary Greenway and probate clerk Virginia Webster have all become part of the Garstang team, one of Vincents' specialist high street hubs for private client work.
Dan Pinder will support clients wanting to contest or defend a will, or who are seeking help for any contentious probate matters. He is also a specialist in the creation of Family Trusts and Personal Injury Compensation Trusts.
Virginia Webster will support Garstang-based probate specialist Amy Whitehouse and work closely with the firm's wider probate team. While Mary will work alongside Lisa Lodge on the firm's sensitive Court of Protection cases.
Lisa Lodge said: "Our private client department is busier than ever before with people making and amending wills and putting their LPAs in place. The probate team has also seen an increase in work, dealing with the estates of those who have sadly passed away. I think the pandemic has really focused people's minds on making sure they have their will in place for if the worst happens, and also that they have outlined their wishes in an LPA to ensure things are looked after if they are hospitalised for an extended period or, ultimately, lose capacity."
Dan Pinder joins the firm from Simpson Millar in Liverpool. He asaid: "Vincents is a progressive firm, somewhere I can enhance and develop my skills working alongside experienced colleagues on a wide variety of interesting cases, and deliver great results for my clients."
Legal apprentice Mary Greenway started with Vincents as an administrator in 2018 working out of the firm's Penwortham branch before moving into the commercial property team at head office in Preston. She successfully applied for the internal promotion to the Court of Protection role and will undertake an in-house training programme to qualify as a legal executive.
Probate assistant Virginia Webster has stepped up to the probate team from a previous role working at the Garstang office as the firm's Yorkshire Building Society cashier. Vincents has enabled YBS to retain a presence in the town by providing a counter service from its branch in Rope Walk.
::
Housing consortium JV North has appointed specialist support to help members navigate the multitude of challenges facing affordable homebuilding.
Jayne Lomas has a wealth of experience in social housing having worked with Birmingham City Council, Great Places Housing Group and Homes England.
The appointment comes after Wythenshawe-based JV North commissioned a comprehensive review into some of the biggest challenges delivering new homes. These include responding to the Building Safety Act, striving for net zero and making carbon reductions, planning for forthcoming changes to building regulations, and delivering modular housing at scale while improving efficiency, quality of design and standards.
Jayne Lomas said: "I am looking forward to working with JV North in what is a challenging time for the sector with a real drive for change and increased performance, but one that I know the consortium is already addressing."
JV North chairman, Wayne Gales, said: "Jayne's appointment will bring significant expertise and added value to the consortium at what is a crucial time whereby there are a lot of policy revisions being made and new challenges to embrace while the need to address the housing crisis continues unabated."
::
Didsbury-based mmadigital, lead generation specialists for the legal sector, has appointed two new executive hires to help steer its ambitious growth plans.
The appointments come on the back of the news that the business has secured private equity funding thanks to an investment round led by Rockpool Investments.
Mark Cappell has a long and successful track record in the technology sector with extensive experience working with private equity firms in growth situations. He has been CEO of five private equity-backed companies and has added in excess of £300m for investors.
As non-executive chairman, Cappell will provide strategic business advice to accelerate future acquisitions, fuel innovation and drive overall business growth. He said: "It is obvious that mmadigital is embarking on a very exciting period of growth with further investment secured and ready to be exploited. With such bright prospects, there couldn't be a better time to join the business and share my insights and expertise."
Steve Evans has a wealth of experience working with private equity firms and funders across the professional, business and financial services sectors. Prior to joining mmadigital, he held senior finance roles at Love Energy Savings, thinkmoney and One Advice Group, and spent a decade in the legal sector.
In his role as chief financial officer, Steve will be responsible for optimising financial performance and protecting the long term interests of stakeholders as the business goes through a critical phase of growth. He said: "mmadigital has quickly established itself as a leader in lead generation in the legal sector, and I see tremendous opportunities for the company to diversify. I look forward to helping the team prepare for further expansion into new areas."
Dez Derry, mmadigital's CEO and founder, said: "I am incredibly pleased that Mark and Steve are joining us at what is a significant period of growth. This is the perfect time to expand our leadership team as we look to bolster our expansion efforts and diversify our offerings. Both Mark and Steve have broad strategic and commercial expertise gained with a number of leading companies, and their input will be vital as we bring the company to the next level.
"We have further significant appointments on the horizon which marks the start on an exciting 2022 for us."