Creating a connected work culture in a post-COVID world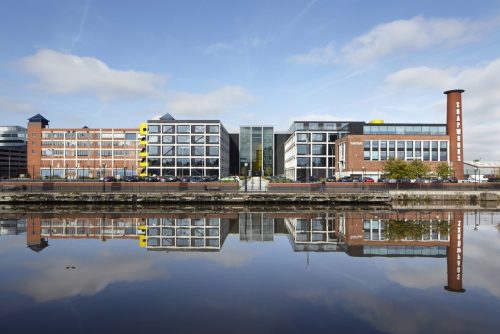 By Jonathan Kini, Managing Director, Direct Consumer and B2B, TalkTalk
With rules set to be relaxed around the current COVID 'Work from Home' guidance, the role of the workplace couldn't be more important.
Attitudes towards the office have changed, and it's vital that regional businesses adapt (and collaborate) if Greater Manchester is to cement its position as a global tech hub.
Since the opening of our TalkTalk HQ at Soapworks in Salford, we have seen a continued influx of tech businesses drawn to Greater Manchester. Despite the pandemic, this growth is based on a strong local talent pipeline, an innovative culture and the quality of life on offer here in the region.
But competition is fierce, so to continue this level of tech growth in Manchester, we really need to create office spaces, regional infrastructure and industry-wide initiatives that nurture the best tech talent.
And I believe, as a region, we have many of the foundations already in place.
First, we have world leading office spaces that provide a platform for organisations to grow and develop. However, in the way that offices have adapted to hybrid working, workplace cultures need to modernise, too.
Our own Soapworks base was designed from the ground up with employee wellbeing in mind, and the changes we've introduced over the last two years have created a more flexible space which focuses both on collaboration when people are in the office and supporting those who are working from home.
It's become a cliché to say everything changed in March 2020 – but we can't hide from the fact that it changed the lay of the land and forced us to be more innovative, creative and connected in ways we had never experienced before.
We can't rest on our laurels – we know in 2022 we need to continually review our workplace approach to meet the needs of our colleagues. All organisations must recognise the need to continue adapting and evolving, while maintaining the collaboration and shared spirit which powers any successful enterprise.
Our office strategy isn't set – it's an evolving culture and we listen to our staff needs and team dynamics. Achieving a balance here is challenging – which I'm sure we all know as we navigate another month of 'you're on mute' – but essential to future success.
Secondly, Greater Manchester now has increasing access to world leading internet speeds, which will help all companies – regardless of size or scale – embrace the digital revolution. As demand continues to show no sign of slowing down, we've invested in network resilience.
In September, TalkTalk Business revealed it had significantly boosted the reach of its Fibre to the Premises (FTTP) offering over the past year, with the number of businesses and homes across the UK able to access rising by 170% between July 2020 and July 2021.
Thirdly, there is a strong tech talent pool here in Greater Manchester and a thriving tech environment. No longer is London the main goal for graduates, professionals and brands alike. Nor does it need to be.
New companies are launched here every week, and we are now seeing the public sector – including Ofcom and the Department for Digital, Culture, Media and Sport – opening offices in the city.
This year, we need to focus on increasing and, crucially, diversifying this talent pool. Over the last year, new initiatives such as the Government's Kickstart Scheme, which created almost 100 vacancies for young people across TalkTalk, have supported diversity at a challenging and uncertain time.
And we need to keep up the momentum. At TalkTalk we are particularly focusing on our Women in Technology campaign to listen and learn from leading women. We launched it last year and looking forward to widening this conversation to bring more opinions and recommendations into the mix.
If we are to reap the benefits of Manchester's potential, we need to see progress on all of these areas. There's never been a better time to start or grow a business and attract talent here – and I'm optimistic that 2022 will be remembered as the year we not only bounced back … but started something big.