People: MHA Moore and Smalley; Hilary Meredith Solicitors; Roma Finance; Texere Publishing; M247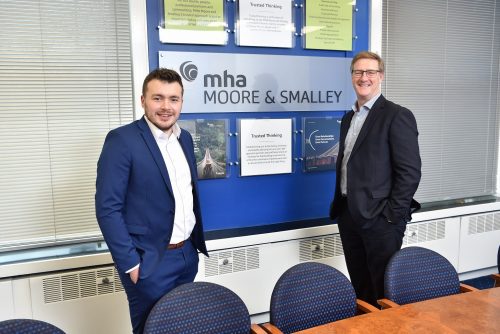 North West accountancy and business advisory firm MHA Moore and Smalley has strengthened its tax team with a new senior appointment.
Ben Gill has joined the company as private client tax senior manager. Over the past five years, Ben has held roles at EY and Lancaster Knox where he advised high net worth individuals on a wide range of complex private client affairs.
He specialises in several areas of tax planning including overseas matters, such as residence and domicile, capital gains tax, inheritance tax and wider family succession planning.
Tony Medcalf, tax partner, MHA Moore and Smalley, said: "As part of our strategy for bringing in niche specialists to our tax advisory practice, the continued development of our private client offering for high net-worth individuals, family businesses and business owners more generally, is very much to the fore.
"Ben is a welcome addition to the tax team and his specialist background in advising on private client tax matters, allied to his drive and commitment to client care, will add to MHA Moore and Smalley's strong capabilities in this area, as we continue our growth trajectory across the North West."
Ben will work across the North West, servicing current clients and growing the team's client base.
He said: "After starting initial conversations with people at the firm, I quickly realised the team ethos and commitment to growth and people development was a proposition that I knew I wanted to become a part of. I'm also keen to learn and expand my network of other professional advisors through MHA."
Ben is currently studying to become a member of the Chartered Institute of Taxation.
::
Gabrielle Moseley, from Hilary Meredith Solicitors in Wilmslow, has been appointed as a magistrate.
Gabrielle joined the firm in 2018 as a legal assistant and works on catastrophic injury claims. Prior to joining she graduated from Edge Hill University in 2016 and went on to study the Legal Practice Course at the University of Law in Manchester.
She said: "While still at school I developed an interest in law and applied for my work experience at a local solicitor's firm. I was also lucky enough to have the opportunity to have work experience at the Crewe Magistrates' Court, including spending time with the magistrates themselves and observing them in the court.
"This fired my interest in the law and an ambition to become a magistrate. I expect that the experiences I will have will give me a better understanding of the difficulties within the local community and how the way the law is applied may ultimately have a positive impact. I anticipate that becoming a magistrate will be a fulfilling way to serve my community by upholding the law and delivering justice."
Hilary Meredith-Beckham, chair of Hilary Meredith Solicitors, said: "We are exceptionally proud of Gabrielle. She is passionate about the law and justice, and will make an excellent magistrate. We will support her in any way we can."
On completion of her training Gabrielle will sit at Cheshire Magistrates' Court for a minimum of 13 full days or 26 half days a year, or as and when required.
::
Roma Finance has appointed Samantha Williamson to bridging & development specialist.
Samantha, who has been a senior underwriter with a strong track record across bridging and development, will be tasked with enhancing the Roma experience, sharing her expertise and supporting property investors in reaching their end goal.
Over the years she has helped many first time and established investors and developers create wealth from property.
Manchester-based Roma is focused on developing relationships and providing support and expertise to the market. This focus is proving popular in the market and the business has experienced multiple record-breaking periods of new and repeat business within the past year.
Samantha said: "I am very excited for this next move within Roma, the business capabilities and variety of projects we work on ensures no two days are ever the same. My experience with my own property portfolio and previous roles will be vital in this new challenge and allow Roma to deliver a further improved experience."
Steve Smith, national sales manager for Roma, said: "We have demonstrated strength and growth over the last 12 months and we are dedicated to providing education and specialist support to our partners and customers. Samantha is a true asset and valued member of the Roma team and will play a pivotal role in this next phase of education and growth."
::
Texere Publishing has announced the appointment of Peter Harkness, an experienced media entrepreneur, as non-executive chairman of the company.
Peter Harkness is currently non-executive director of Globaldata, the £1.7b market cap business information group. For more than three decades he has been director or chairman of several successful businesses, mainly in the media sector. He has published newspapers, consumer magazines and medical journals and has also led successful private equity investments in media monitoring and telecoms research. Peter has spent a total of 18 years on the boards of quoted companies, including Datamonitor, Walker Greenbank and Chrysalis VCT, and has twice been a PLC chairman.
This is not the first time that Peter has assumed the role of chairman for Knutsford-based Texere Publishing having previously held the role from 2012-2014 where he oversaw the successful launch of the company along with a number of its brands.
Peter said: "Although I left Texere as a non-executive director several years ago, due to pressure of other projects, I have always kept in touch with the founders, Andy and Tracey. I admire them a lot and am delighted with the way they and their talented executive team have developed Texere into a leading independent scientific publisher and digital content provider. I am delighted the team has asked me back and look forward to being part of their next exciting stage of development."
Andy Davies, CEO, said: "2022 is Texere's 10th anniversary and we are delighted to mark this milestone by welcoming Peter back as chairman. Peter brings with him a vast knowledge of the media and scientific publishing industry and we are excited to have him on board as we look to expand our business."
::
As part of its ongoing senior appointment drive, global connectivity and cloud services provider M247 has appointed Stephen O'Brien as its new head of marketing.
He brings a wealth of strategic digital and product marketing knowledge having previously held positions as director of special projects at Canon, global digital director at Blackberry and separately advised companies including ITV, Samsung, Siemens and Tesco on their digital transformation and optimisation.
Stephen will lead M247's existing marketing team, supporting the company's UK and European operations and will work closely with Stephen Bates, recently appointed as chief sales and marketing officer, on taking M247's latest products and services to market.
O'Brien said: "With the evolution of M247's products and services and the addition of new innovations to satisfy the complete customer need, it is vital that our proposition to the market is clear and that customers are able to do business with us with ease and reap the benefits of our solutions. I am looking forward to working with the team to continue building on M247's success as we enter this new exciting phase."
Stephen Bates said: "We have had some great success over the past six months in attracting experienced and highly skilled people to some of the key roles within our business and Stephen is no exception. The knowledge he brings to the role will be sure to further enhance our offer to the market for the benefit of both new and existing customers."