Green light for £100m city centre office block, at second attempt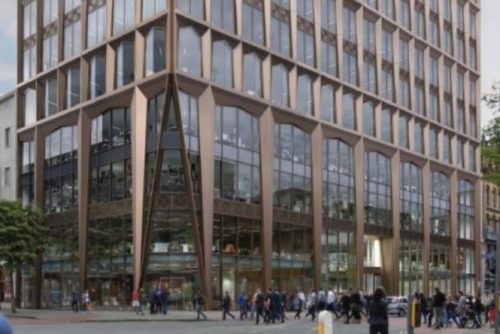 A £100m office development in central Manchester was approved by the city council's planning committee this afternoon (January 20).
The 17-storey block on the Speakers House site on Deansgate, which proposes more than 135,000 sq ft of office space and 5,000 sq ft for a ground floor restaurant and shop, was initially considered in January 2021.
But the scheme, by applicant Kames Property Income Fund, was refused on the grounds of loss of amenity for the residents of neighbouring No. 1 Deansgate, who said office workers would be able to look into their apartments, and fears of overdevelopment of the site.
This was despite a recommendation from council officers for approval.
Following this the applicant consulted with No. 1 Deansgate residents last October, presenting several alternative proposals, and officers, once again, recommended approval, with council notes on the scheme saying: "Officers have worked in a positive and proactive manner based on seeking solutions to problems arising in relation to dealing with the planning application. Appropriate conditions have been attached to the approval."
Speaking for the applicant, Chris Sinton, from CBRE, said the scheme will support 1,000 jobs, as well as 400 direct, and 900 indirect jobs during construction, adding: "It will contribute positively to Manchester's post-COVID recovery."
However, Deansgate Labour councillor Marcus Johns supported objections by No. 1 Deansgate residents, and also insisted the scheme would cause unacceptable harm to nearby heritage assets such as St Ann's Church, Barton Arcade and the Royal Exchange. He added: "It's unchanged since the committee last rejected it."
Cllr Joan Davies also spoke against the application, saying it would possibly suit somewhere next to the Liverpool One shopping centre in Liverpool where there is ample space, but not 39 Deansgate. She said: "All the issues have been considered and we said no, and I don't think anything has changed.
"It does feel intrusive if it is opposite to an apartment block built with a degree of openness. I think it will damage the residential amenity of that building."
She also raised the issue of intrusiveness for female residents in No. 1 Deansgate, saying: "I feel there is a slight gender element of looking into people's homes."
However, moving the vote, Cllr Paul Andrews spoke in favour, saying: "It's about that site and what we do with that site. I don't want to leave it empty for year after year after year."
The committee voted by seven to four in favour.
Councillors also approved an application to develop 237 new homes on Rochdale Road, within a part 11-, part 13-storey building, and two blocks of three-storey duplexes, as well as a commercial element and basement car parking.
The applicant is Lymm-based Portwood Developments, a subsidiary of Mulberry Homes.
Objections to the scheme, ranged from loss of sunlight, and poor architectural design to a lack of resources such as medical centres, community centres, and police officers to support the area's increase in residential schemes.
Cllr Jon-Connor Lyons said: "I do welcome the development, generally, but I am disappointed this application doesn't include affordable housing."
Planning officer, Dave Roscoe, responded: "We examined the viability and this scheme cannot sustain an affordable housing contribution."
The application was approved by 11 votes, with one abstention.