'Looming tombstone' denied planning approval over community concerns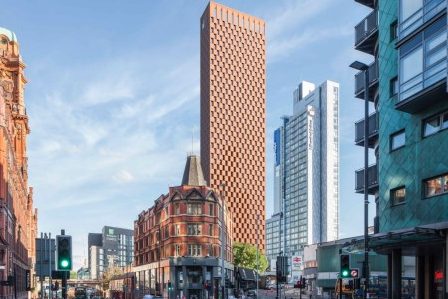 A controversial student accommodation scheme dubbed by one councillor a 55-storey "looming tombstone" has been denied planning approval.
The proposed development, near Manchester's Oxford Road train station, was unsuccessful in its application to Manchester City Council planning committee yesterday (January 21), as was another city centre scheme, a proposed 17-storey office block on Deansgate which was denied planning permission.
Fourteen councillors voted to deny approval for the £130m student scheme, and one abstained, despite planning officers indicating they were 'minded to approve' it. Councillors voted that a site visit should take place before reconsidering the proposal further.
The 55-storey skyscraper, in Hulme Street, will offer high-end student accommodation, comprising 853 units, as well as SME incubator space, as proposed by applicant GMS (Parking).
It will overlook Oxford Road Station and will be one of the tallest buildings in the city.
But Mike Halley, who represented 495 residents of the nearby Macintosh Village, led objections to the scheme on the grounds that it would result in a large influx of students and potential for an increase in crime rates.
There were also claims that the developer's estimate of a three-year build programme would, in fact, be more likely to be six years.
Also, councillors heard that approval for the scheme would probably result in an injunction by local residents.
Speaking against the proposal, Labour councillor William Jeavons called for the planning committee to visit the site, saying that 495 objections from existing residents should be seen as a shout of 'no'.
He said the height, design and increase in student numbers would alter the nature of the community, adding that the University of Manchester does not support the proposals and, had even highlighted that its students could not afford to live in the development, which he called a "looming tombstone".
The committee voted that a site visit should be organised to assess the local community and the impact the tower could have on it.
Councillors also rejected an application for a proposed 17-storey office block on Deansgate.
The building would have more than 135,000 sq ft of office space and 5,000 sq ft for a ground floor restaurant or shop.
It would replace an existing 40,500 sq ft office building acquired by developer Kames Property Income Fund last year for £11m.
Chris Sinton, of CBRE, speaking on behalf of Kames, said the development represented a £100m investment and would deliver £2.3m-worth of business rates per annum.
He said the scheme would regenerate the area of Deansgate near St Ann's Square, and was "acceptable in planning terms and should be approved".
However, Roisin Sally, who lives in the adjacent One Deansgate residential tower, was one of more than 100 people in the building objecting to the height and mass of the proposed block.
One Deansgate is a glazed building and she said residents would suffer loss of privacy, forcing them to install blinds which would reduce daylight into the building.
Labour councillor Jon-Connor Lyons moved that the application be refused.
There were concerns over the height of the scheme which could lead to a loss of amenity for neighbouring residents, and that the public benefits did not outweigh the impact on the heritage of the nearby St Ann's Square and Barton Arcade.
Ten councillors voted for Cllr Lyons' proposal, four against, and there was one abstension